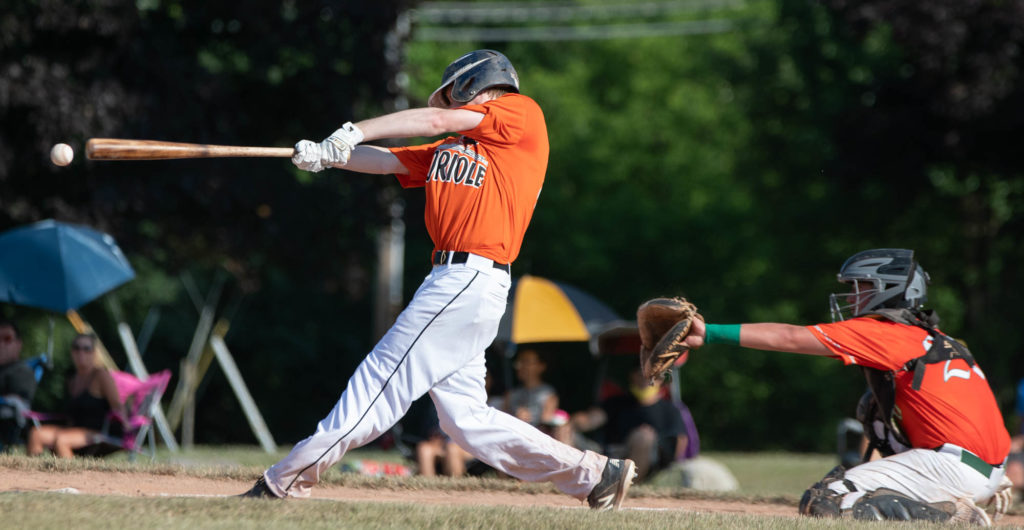 DP ORANGE 7
ORIOLES 0
Will Taylor (McQuaid) and Nick Ianniello (Penfield) combined to pitch the shutout. Taylor struck out six and allowed two hits over five innings of work. After surrendering a one-out single in the second, the left-hander held the Orioles without hit for the next 3.2 innings. Ianniello came on to start the sixth and closed out the game with three strikeouts. He worked out of a one-out, runners on second and third jam in the sixth getting a double play on a fly ball to right field when a runner was thrown out at the plate.

Aiden Stewart (McQuaid) led the attack for DP Orange with two RBI and two runs scored out of the leadoff spot. He reached on a hit by pitch to start the first and later scored when Jack Zawacki (Pittsford Sutherland) reached on an error. Zawacki went 1-for-4, scoring one run and knocking in two. Edward Hall (McQuaid) drove in two runs with a double capping off a three-run first inning. Stewart highlighted a four-run sixth when he brought home two with a triple. Zawacki added an RBI double in the frame, and Keeler Thomas (McQuaid) brought in a run with a single. Sean Flannery (Monroe Community College) and Jim Marasco (Finger Lakes Community College) both had two hits for the Orioles.

BLUE JAYS 11
MONARCHS 6
DJ Berry, Noah Campanelli (St. John Fisher), and Patrick Bigham (Fredonia) collected two RBI apiece as the Blue Jays won for the second time in as many games. Bigham went 1-for-2 and got the scoring started with a two-run single in the bottom of the first. Hayden Smith (North Eastern) plated one with a double in the bottom of the second, and Carter Damiano scored on a wild pitch to push the lead out to 4-0. Berry brought in two with a single and later scored in a four-run fourth when the Jays pushed their lead to 9-5. Tyler Holmes (Hartford) finished 2-for-3 with two runs scored, an RBI and a stolen base. Amaury Samalot (Alfred State) walked twice and scored twice. Nolan Hicks went 2-for-3 with a stolen base and a run scored.
Ryan O'Mara (Niagara U), Mack Duffy (Clarkson U), Tanner Frank (Finger Lakes Community College), and Ryan Smith (Ithaca) all pitched for the Blue Jays. Frank hurled the fifth and sixth striking out two and giving up no earned runs. O'Mara started and struck out two over two perfect innings of work. Smith closed the game out, striking out the side. Ryan Specht (Niagara County Community College) plated two for the Monarchs in the third with a double. Ryan Hill (Monroe Community College) accounted for all three runs in the three-run fourth inning plating two with a single and scoring off a Frankie Fernandes (Monroe Community College) double. John Gassler (New York U) fanned the side in order in the fifth for the Monarchs.