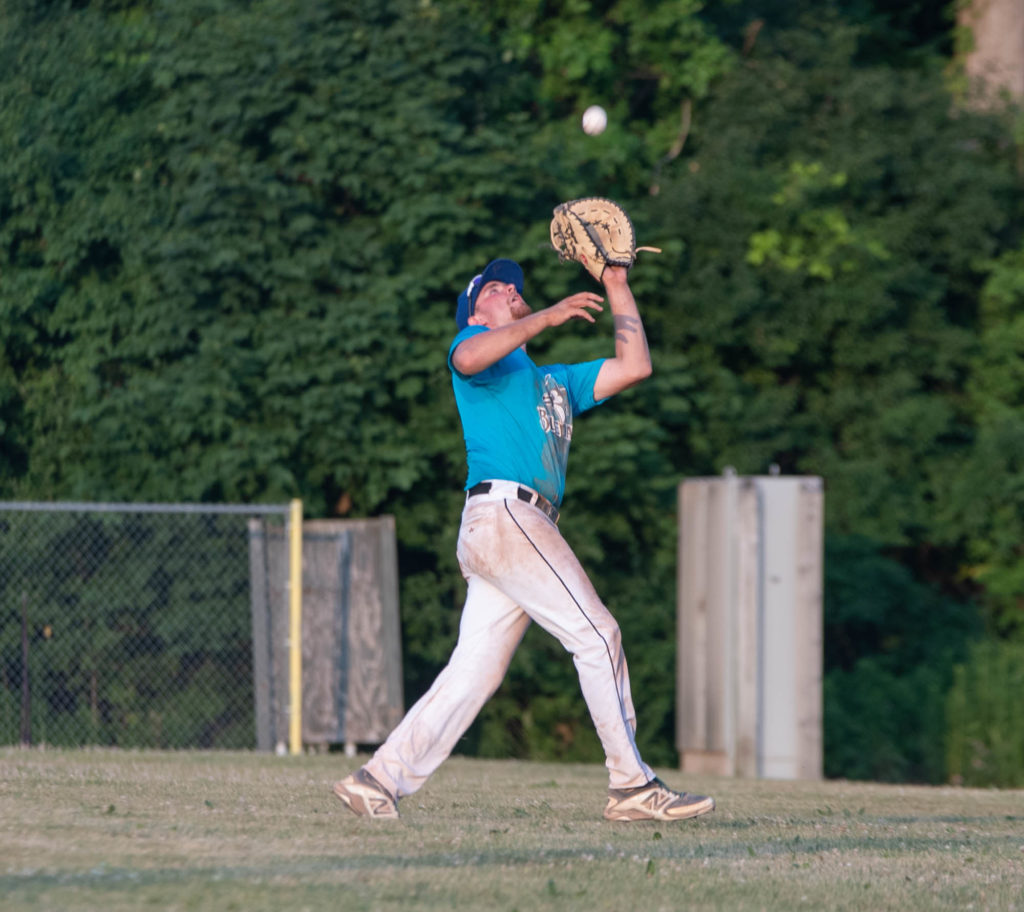 MONARCHS 0
BLUE JAYS 9
With a 2-0 lead from the inning prior, the Blue Jays exploded for six runs in the third to put the game out of reach for the Monarchs.

Noah Campanelli (St. John Fisher) and DJ Berry connected on back-to-back singles to open the inning . Tyler Holmes (Hartford) followed with a two-run double. After an error and a seven-pitch walk to load the bases, Patrick Bigham (Fredonia) and Ryan Smith (Ithaca) also hit singles back-to-back to increase the lead to six. An error the following play allowed two more Blue Jays to cross the plate.

In the bottom half of the inning, Dylan Hillabush (Brockport) prevented the Monarchs' retaliation with a strikeout to escape a bases-loaded jam.

Bigham smacked another bases loaded RBI-single in the fourth to push the score to 9-0. The infielder finished the game 2-for-4 with two RBI and a run scored.

The Blue Jays lead in the bottom of the second started with a leadoff single from Jeff Wilson (LeMoyne). Two outs later, Ryan Smith reached first on a walk and Amaury Samalot (Alfred State) drove in Wilson on an RBI-single. Shane Hake (Elmira) followed up with another RBI-single to put the Jays ahead 2-0.

Nine of 14 players that took the field registered a hit for the Jays. Campanelli and Wilson both scored twice while Jason Story (Utica) crossed home after reaching base on a walk.

Five Blue Jay pitchers held the Monarchs to zero runs and five hits over seven innings. Winning pitcher Alec Teska (St. John Fisher) and Hillabush both threw two innings, gave up one hit and struck out three. Hayden Smith (North Eastern) faced eight batters over two innings, gave up two hits and struck out two. Tyler Smith (MCC) pitched the seventh, gave up one hit and set another down on strikes.

After scoring nine runs on nine hits in the first four innings, the Blue Jays were held to one hit for the remainder of the game. Monarchs' Nick Serce (Alfred State), Joey Puglia and Hayden Ewell each threw an inning, struck out two apiece and conceded no walks.

Lucas Jackson, Ryan Hill (MCC), Bobby Sellers (Alfred State), Gavin Moore (Alfred State) and Serce each collected a hit for the Monarchs.

DP ORANGE 8
ORIOLES 6
DP Orange scored five runs in the first inning to push past the Orioles in game two of ICBL's opening day. Keeghan Cummings (Pittsford Sutherland), Jack Zawacki (Pittsford Sutherland) and CJ Phelps collected a hit apiece and DP took advantage of three errors to grab a lead it did not surrender.

Six of 10 Orange batters registered a hit by the fifth inning. Zawacki was the only player to get multiple hits. Seven Orange runners scored. Braden Consaul and Keeler Thomas both collected an RBI. Carter Clark (Hilton), and Edward Hall both registered a hit in the game as well.
Max Stuver (McQuaid) threw four innings of three hit, one run and four-strikeout ball.
The Orioles made its comeback in the seventh. Jon Catapano (Grand Valley State) hit the league's first home run of the year to cut Orange's lead to five.
Two consecutive walks and an error juiced the bases. Wild pitches trimmed Orange's lead to two but wasn't enough to take the lead.
Catapano went two-for-two with two runs, a RBI and a walk. Patrick Sherron (Monroe CC) went two-for-four and scored a run as well. Phil Ferranti (Mercyhurst) drove in the only other run for the Orioles.