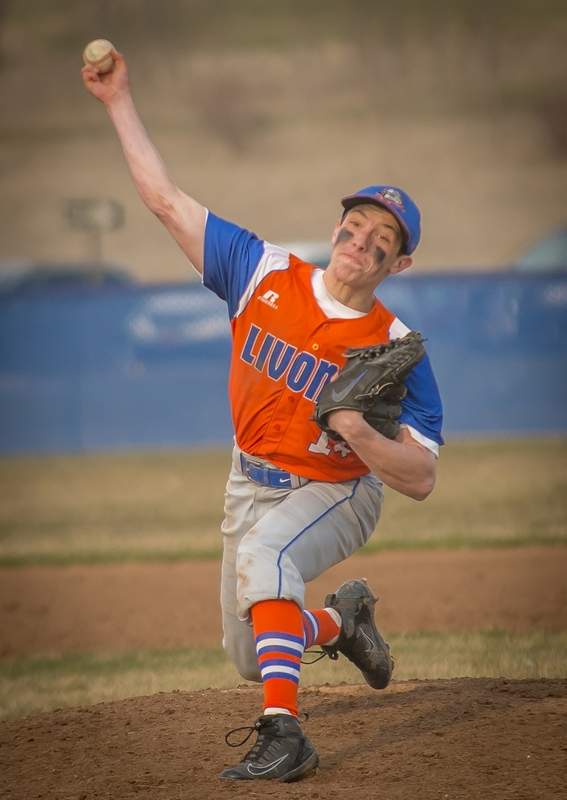 By IAIN HIGGINS
Noah Fasso led Livonia with his arm and bat as the Bulldogs won 18 games and advanced to the Class B1 sectional semifinals as the top seed last season.

At the dish, the 5-foot-9 senior paced the club in batting average (.500), hits (31), home runs (two), on-base percentage (.624), runs batted in (41), slugging percentage (.790) and triples (four). Fasso finished tied for second in doubles (four) and fourth in plate appearances (89) as well. He scored 31 runs, drew 22 walks, swiped 17 bags and was hit by a pitch.
On the mound, Fasso tied for the team lead in appearances (10). The 5-foot-9 senior posted a 2-2 record with a 3.23 earned run average in 34 2/3 innings. He fanned 41 of the 155 batters he faced and recorded a save as well.
Fasso's pitching was the highlight of his sophomore year. In 10 appearances, he was credited with a 6-2 record and a 2.98 earned run average. Fasso fanned 53 batters across 49 1/3 innings and held opponents to a .165 batting average and .302 on-base percentage. He hurled three complete games, including his only career shutout on April 13, 2018 in a 6-0 win over Hornell.
At the plate, Fasso produced a .310 batting average with a .423 on-base percentage and nine RBI. bringing in nine runners.
Livonia's 18 victories included wins over Class C2 sectional semifinalist Geneseo, B2 sectional champion LeRoy, C2 sectional champion Bolivar-Richburg and two wins over Class B2 sectional semifinalist Dansville.