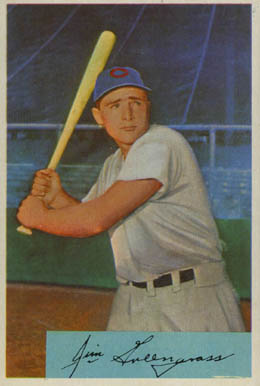 By BILLY HEYEN
In 1954, the Dodgers still played in Brooklyn and the Cincinnati ballclub was known as the Redlegs. On a June 22 meeting that year at Ebbets Field, the Dodgers were certainly favored behind the left arm of starter Johnny Podres.
Addison High School-alumnus Jim Greengrass had something to say about that, though. Batting fifth for the Redlegs that day, Greengrass went 3-for-4 with two home runs, three RBI and four runs scored. It was the first of two multi-HR games in his five-year MLB career, and it carried Cincinnati to a 13-1 win on June 22, 1954.
His first time up that Tuesday, Greengrass worked a walk on five pitches. His next time, he singled to centerfield off Podres on a 1-2 pitch, the last he'd see from the southpaw that day.
The Redlegs chased Podres in the third, bringing in reliever Bob Milliken. Greengrass faced him in the fourth with nobody on and went deep to centerfield. Greengrass' only out of the day came his next time, when he struck out looking against Milliken.
In the eighth, facing another reliever in Ben Wade with a runner on first, Greengrass pulled a home run to the relatively deep left field at Ebbets Field, which was 348 feet down the line. That marked the first time in his MLB career that he'd hit two home runs, with the second coming on August 11, 1954, less than two months later.
Greengrass had his career-best season in 1954, finishing with 27 home runs and 95 RBI after hitting 20 out and driving in 100 the year prior. He also hit above .280 in both 1953 and 1954, something he wouldn't do again across 1955 and 1956 with Cincinnati and Philadelphia.
Signed at 16-years old out of Addison High School in 1944 by the New York Yankees, Greengrass spent a number of years in the minors (and two in military duty) before eventually being traded to Cincinnati in 1952. He made his big-league debut that September.
By the end of the 1954 season, Greengrass developed blood clots in his right leg. He was suffering from a condition called phlebitis, a vein inflammation, something that recurred across the next two years of his career before he retired in 1961 following five more seasons in the minors. He hit 124 minor league home runs in his career to go with 69 in the majors.
After his retirement, Greengrass worked as a scout, then for more than a decade with Lockheed Martin in Georgia, followed by more than a decade with the Cobb County Warrant division. Greengrass died in Georgia on Sept. 9, 2019, at the age of 91.
Greengrass was one of two players from Addison High School to play in affiliated baseball, according to Baseball Reference. The other was Gary Rollins, who spent a year in the New York Mets' organization in 1965. Addison is located nearly two hours south of Rochester, in the southernmost reaches of Section V.
Jim Greengrass MLB stats