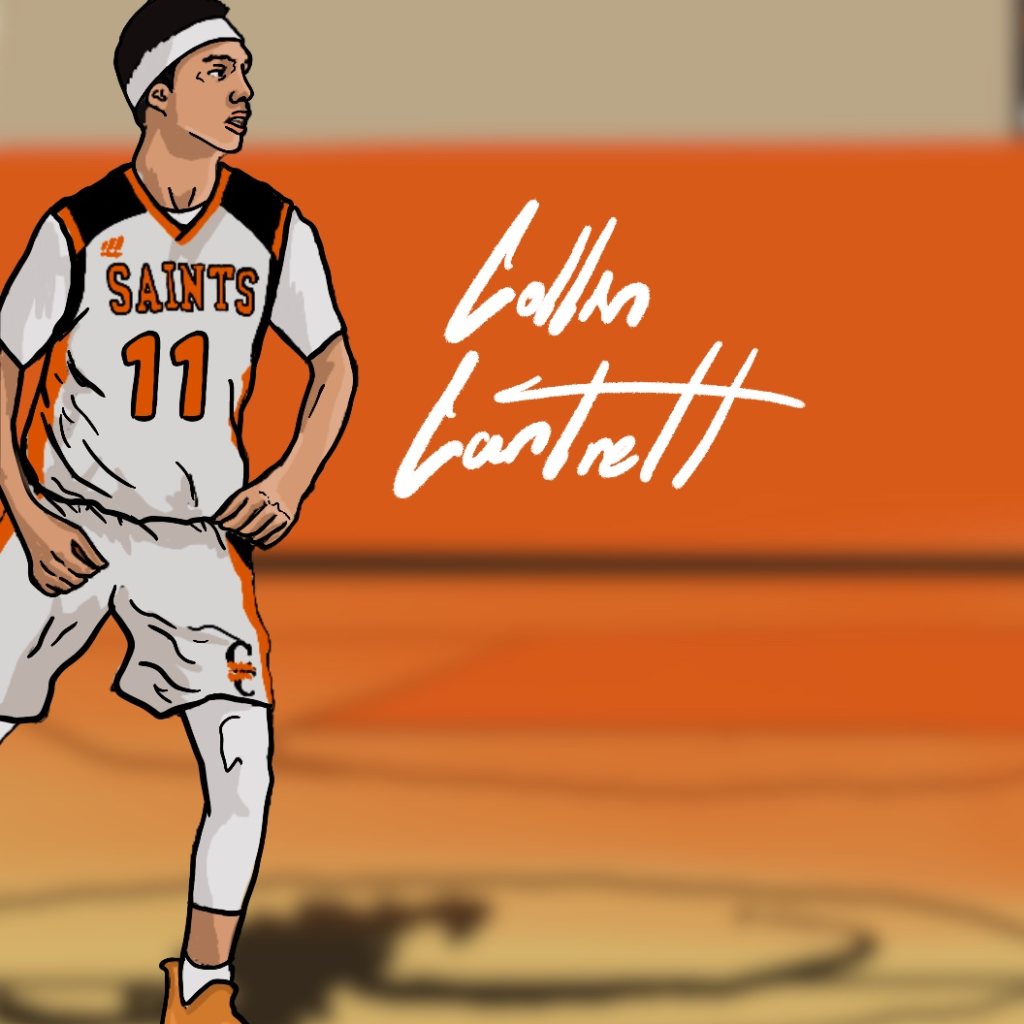 By BILLY HEYEN
The night Eastridge won its first sectional title in 56 years, @CollinCantrellArt posted a drawing on Instagram. It depicted the Lancers' sectional MVP, Tony Arnold, surrounded by his name and an Eastridge logo.
At all levels of sports, graphic designers and artists have gained prominence in recent years as athletes and schools look to expand their brand to social media. Section V has its own unique case, though: Collin Cantrell is a senior basketball player at Churchville-Chili, a contemporary to many of the athletes he draws.
"I've thought about it a lot," Cantrell said. "It's something really interesting to me. I've gotten to work with and build a lot of good relationships with so many of these guys."
Cantrell, a 5-foot-11 guard, got minutes for an 8-14 Saints team this winter. But his future isn't in basketball. A drawer all his life, Cantrell created his art-specific Instagram account in 2018 and has drawn a number of current and former Section V stars since, including Arnold, Hilton's Tahj Hill and Leadership's Maurice McKinney. Cantrell will attend Monroe Community College in the fall but hopes to find an educational stop to continue his artwork after that.
"I want to make something big out of it," Cantrell said, "because to me it's something I love, so I wouldn't have to work at it."
Assist from @KPoromon to Collin Cantrell gives @CCCSDathletics a 26-18 lead with 2:38 until half and forces a Brighton timeout. @PickinSplinters pic.twitter.com/whv7Ul46eZ

— Billy Heyen (@BillyHeyen) February 27, 2020
Cantrell points to his mother and grandfather as his drawing roots. He remembers when he was younger that he'd often spot both of them drawing or doodling. It drove Cantrell to do the same, including making doodles during school.
Even early on, there was a heavy sports feel to what Cantrell drew. Be it Blake Griffin, other NBA players or basketball shoes, Cantrell's two passions aligned. He liked to draw, and he drew what he liked, which expanded into the realm of his favorite TV shows, too.
"Art was really always something I did, not something I focused on as much but definitely like a hobby," Cantrell said.
When Cantrell was in middle school, he posted a drawing of LeBron James on his personal Instagram account and received a lot of positive feedback. That drove him to continue honing his craft. Eventually, Cantrell's friend Kelvin Reaves Jr. wanted a drawing to announce his decision to attend Alfred. After Reaves shared that, the greater Rochester community began to reach out about Cantrell's work, he said.
"As soon as I saw his artwork, it just caught my eye," McKinney said. "What's crazy about it, he's from Rochester. You don't have a lot of kids that know how to do that in Rochester."
Cantrell's process is pretty standardized at this point. When an athlete contacts him, they'll discuss how they each envision the final product. The athlete sends along a couple photos that Cantrell can use for reference. Then Cantrell sits down at his iPad, opens up Procreate and gets to work.
The total drawing process takes anywhere from two to five hours, Cantrell said. That includes multiple stages of sketching, line refining, coloring and shading. Cantrell likes to send the pieces along as he goes through the steps, to ensure the creation hits the mark. Cantrell normally can turn around an athlete's request in a few days, he said.
"That's what I like about Collin," McKinney said. "Collin is all about what his people like and what his people want, not just what he feels like doing."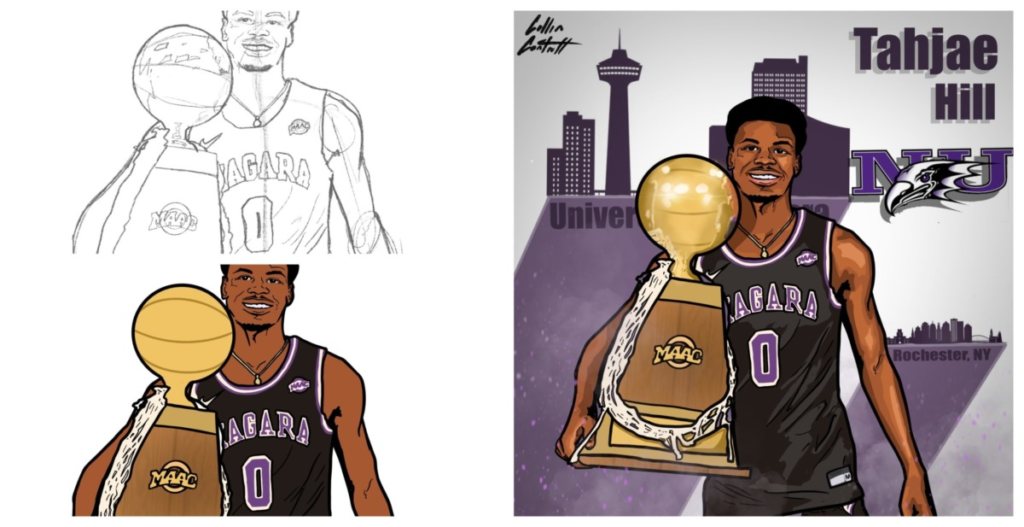 In December, Churchville lost to Hilton and Hill in its season opener by three points. But Cantrell's artwork doesn't hold grudges. About a month later, he completed work on a drawing of Hill in the Niagara uniform he'd recently committed to play for.
McKinney and Leadership scrimmaged Churchville before the season, and a few days later, McKinney stumbled across the page of Cantrell's artwork. He knew he wanted a drawing of himself. When Cantrell delivered, McKinney was floored.
"I was like, 'How? How did you just make that?'" McKinney said. "… You see a lot of ranked players with one, a lot of NBA players with one, so it was a wow moment to have a good-looking cartoon."
Cantrell has lived in Rochester his whole life, but it's only through his artwork that he's discovered how close-knit a community it can be. He's building relationships with athletes that he's competed against for a long time, and he's feeling the support from his hometown.
Each time Cantrell opens the drawing app on his iPad, it's that support and those relationships that fill his mind. They're what keeps him drawing.
"That's really what inspires me," Cantrell said. "I try to use that in every piece to remind myself that there's people that enjoy it, people I can do it for, and it keeps me motivated."