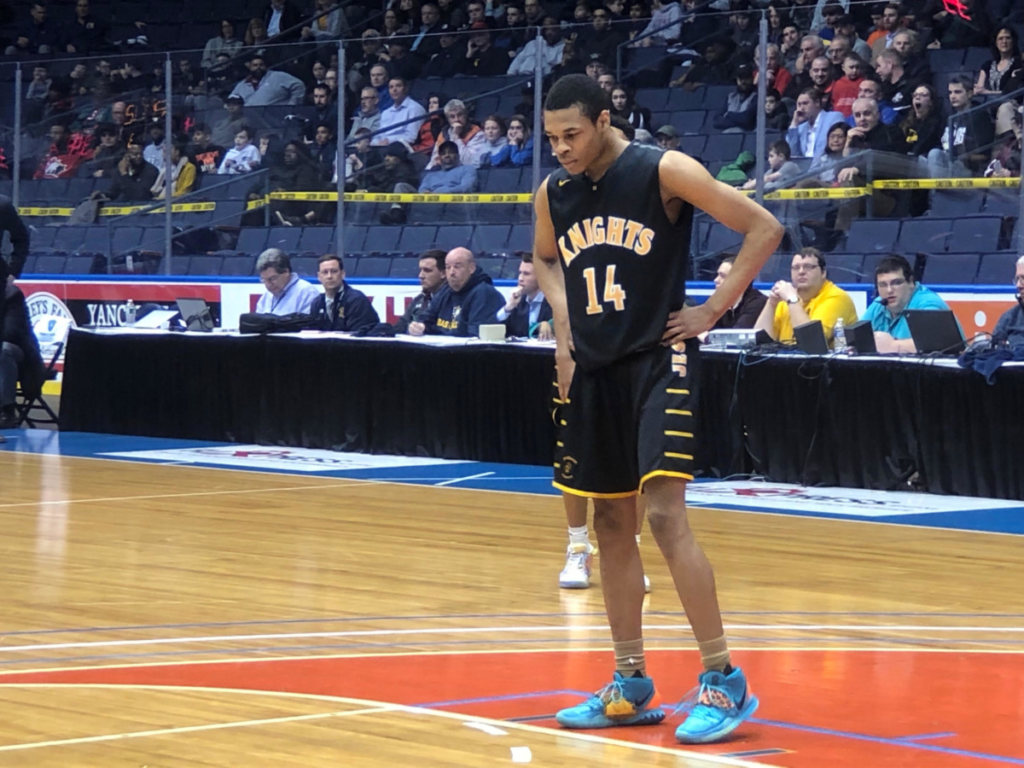 By BILLY HEYEN
ROCHESTER, N.Y. – Earlier this season, Jermaine Taggart was shooting about 60 percent from the free-throw line. He knew that wasn't good enough. So he repeatedly stayed late after practice and worked with McQuaid head coach Jack Leasure on his foul shooting.
One of those post-practice sessions culminated in 31-straight makes for Taggart. So when he stepped to the line with a chance to take a late lead Tuesday night, Taggart calmly drained three high-arcing foul shots.
"You put in the work, and you deserve to be in that moment," Leasure said.
Final foul shot for @JTaggart02, the eventual game winner for @mcquaidbball. @PickinSplinters pic.twitter.com/WDDzJhpnFq

— Billy Heyen (@BillyHeyen) March 4, 2020
Taggart's free throws made the final difference as four-seed McQuaid upset top-seed Victor, 61-60, in the Section V Class AA semifinals on Tuesday night at Blue Cross Arena. Taggart finished with a game-high 26 points to extend his senior season. The win gives the Knights a chance to defend their back-to-back sectional titles, along with a rematch of last year's final against UPrep.
"It's a cool opportunity for our guys," Leasure said. "… Try not to get caught up in that, just prepare for each practice, each game, and hopefully we can play really hard in the next game."
MORE: UPrep secures sectional final rematch with McQuaid
The interior battle between Victor's Connor Williams, CJ James and Phil Nwugwo against McQuaid's Taggart, Reuben Daniel and Darren Blocker had the potential to decide Tuesday's game. In the first half, Taggart imposed his will. He worked the baseline against Victor's 2-3 zone, relying on passing from Keith Warren and Kobe Long to get his buckets.
It usually worked, too. After opening the scoring on an offensive rebound, Taggart scored again in the paint, three times from the foul line and twice on dishes from Warren.
"We just found a weakness and kept going at it," Taggart said.
Same connection, and 1, 25-21 McQuaid. Taggart has 12. pic.twitter.com/kYYNJc1YCs

— Billy Heyen (@BillyHeyen) March 3, 2020
Williams and James scored inside for Victor in the first half, too. Twice, Williams received entry passes over the top on the right block from James for easy right-handed finishes. James attacked a number of times from the left side of the floor, finishing with his right hand four times for eight first-half points.
"Those big boys up front really competed," Victor head coach Tyler Roberts said. "They're big for us, and I know Taggart's a great player for them."
Taggart continued controlling the game in the third quarter. He started off with a jumper from the short corner before finishing through contact on the right block for an and-1.
A Taggart assist to Keith Warren, who finished with 13, temporarily tied the game at 37 in the third quarter. At that point, though, Taggart went quiet and Victor surged.
James and Williams both finished through fouls on the interior for Victor. Then Matt Caggiano and Chase Dickens each scored in transition. The surge put Victor up 58-52 with about two minutes left.
"I'm looking at all the seniors, and we're just like, 'No, it's not gonna happen,'" Taggart said. "We're not gonna end it. We've put in so much time and hard work in the gym that we just couldn't afford that."
The battle-tested McQuaid had the answer. Long made two foul shots, then a Warren steal sent Long back to the line for two more to pull within two.
With 33.4 seconds to play, Warren drove right and finished off glass to tie the game.
"People don't really realize how great (Warren) is for our team," Long said. "He can be a floor general. He can get you buckets at any time."
Keith Warren ties it at 58 with 33.4 to play. @PickinSplinters pic.twitter.com/11oWe91prG

— Billy Heyen (@BillyHeyen) March 4, 2020
It would be size once more giving Victor the lead, as Williams made a righty hook with 20 seconds left to go up two. McQuaid missed its initial try, but Taggart and Blocker secured a held ball, and the possession arrow pointed to McQuaid.
On the ensuing inbounds, the ball was thrown to the top of the arc before being swung to Taggart in the right corner. He hadn't shot a 3 all game, but this time, he stepped back beyond the corner arc and was fouled. Taggart made two foul shots before a Victor timeout, then one more after to take the lead with five seconds to play, paying off the extra practice hours and then some.
"It feels very rewarding," Taggart said. "… It's all just about confidence at the end of the day."
The Blue Devils had a chance to win on a Caggiano floater that didn't quite fall. In the celebrations at midcourt, Taggart leaped his fullest once more, this time for a chest bump with Joe Cairns.
Long and Taggart have done this twice before, with 2018's title coming as a five-seed and 2019's as a three-seed. They've entered tournaments flying slightly under the radar only to stake their claim as the best team in Section V. Despite that, they still weren't the obvious favorite this year.
"We just won two championships, how can you not be talking about us?" Long said.
That's just fine with Taggart and Long, with Long saying that the "regular season means nothing." It's their senior season now, and they don't want it to end yet. Thanks to Taggart's play Tuesday, they'll get at least one more game.
"You can't get better than Jermaine Taggart," Long said.