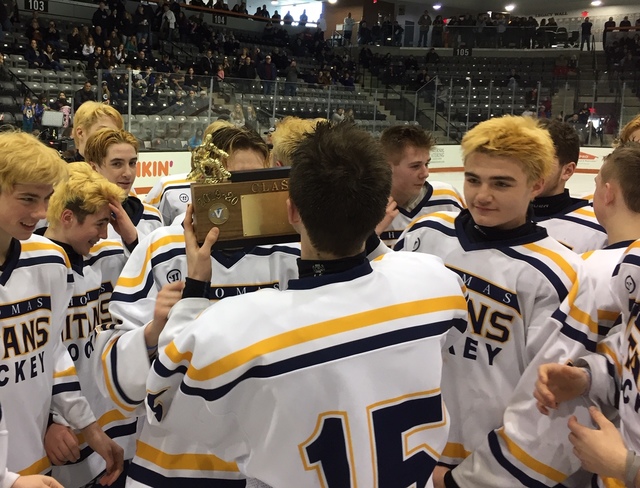 By KEVIN OKLOBZIJA
The final seconds were ticking off the clock, and before the buzzer even sounded, the Webster Thomas Titans en masse began their sprint toward goalie Connelly Springer for the victory celebration.
Trailing 2-0 after one period, the Titans stormed back to win 4-2 on Sunday afternoon, their second consecutive Section V Class A hockey championship.
But one player took a detour to the on-ice party.
Brandon Gierczak, who scored the winning goal, first skated across the ice to the Canandaigua bench to console Braves leading scorer Carter McWilliams.
With the scored tied 2-2, McWilliams suffered a shoulder injury on an open-ice check just under six minutes into the third period and was unable to return.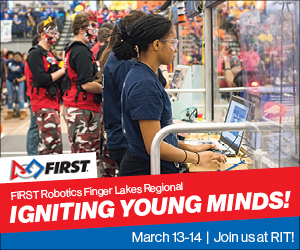 Gierczak scored the winning goal 95 seconds later and the Titans were never threatened.
While helping Thomas to a second straight sectional title was a thrill, Gierczak was saddened to see his friend and former youth hockey teammate injured.
So before celebrating with his teammates, he made sure he expressed empathy to McWilliams.
"We played together on (Rochester Coalition) 15's and 16's and we had a very tight group," Gierczak said. "I felt terrible he got hurt. I love him like a brother."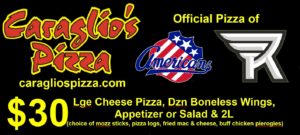 The gesture says a lot about the Thomas senior.
"Hockey's a small world and what he did was awesome," Titans coach David Evans said. "Brandon told me on the bench that before he joined the pile he wanted to go over and make sure Carter was OK."
His show of care was duly noted by the Canandaigua coaching staff.
"That's all class," Braves coach David Taft said. "It's more than just a game."