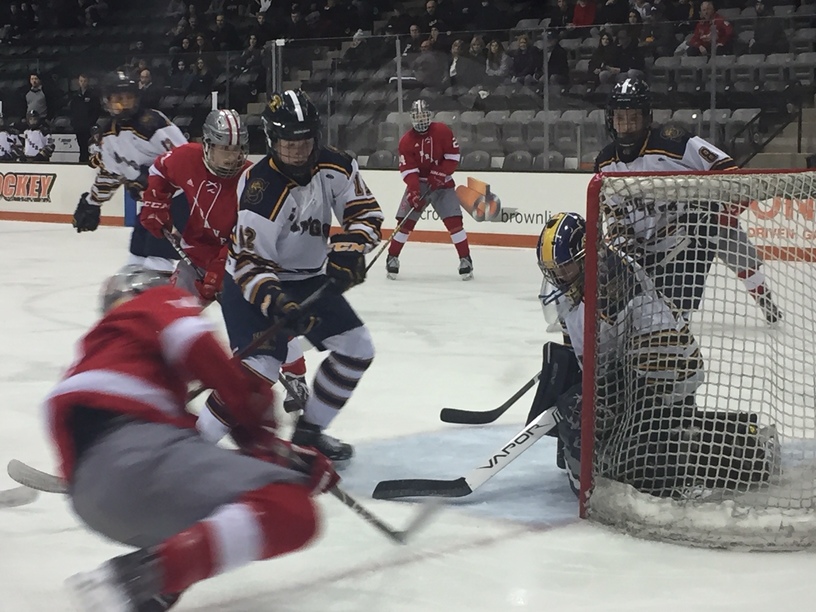 By KEVIN OKLOBZIJA
All season, the mantra from the Canandaigua Academy coaching staff has been unwavering.
They've uttered the same three words over and over and over. And over again.
"We've just preached going 1-and-0 shift to shift, period to period, game to game," coach David Taft said.
Thus, when Spencerport stormed the Canandaigua zone shift after shift in the first period of Tuesday night's Section V Class B semifinal and outshot the Braves 13-4, there was no panic.
And no change in the message, either. "Just 1-and-0 and a clean slate going into the second period," Taft said.
But then senior Carter McWilliams pretty much blew up the 1-and-0 thing. More like 3-and-2. As in three goals and two assists over the final two periods as the third-seeded Braves stunned second-seeded Spencerport 5-0.
Canandaigua (15-5-1) will play Webster Thomas (18-2-2) for the Section V championship at 1 p.m. Sunday at RIT's Gene Polisseni Center.
"They sky's the roof for this team," said McWilliams, who has amassed 33 goals, 37 assists and 70 points in 21 games this season. "We have a talented group and when we're all working hard it's just a scary team to play against."
The Rangers put a little scare into Canandaigua early. A mere 54 seconds into the game, Joey Cuzzupoli was roaring down the slot on a breakaway. Goalie Cade Chesler calmly made a glove save.

Well, he looked calm in doing so. The senior admitted he felt some nerves when the game began, "but once I saw that first breakaway and gloved it, I knew I was on."
Indeed, Chesler was brilliant. He made 33 saves in posting the shutout, his second of the season. His clutch play in the first period prevented Spencerport from building what could have been a significant lead.
"You don't score on them when you have a lot of chances and that's what happens," said Rangers coach Ryan Ford, whose team finished 18-4. "And give them credit, that's a good team and their goalie made some huge saves."
McWilliams then turned the momentum, firing a shot short side to give Canandaigua a 1-0 lead 6:57 into the second period.
Just 3:01 later, Matt McMullen swatted in a McWilliams rebound for a 2-0 lead. Then McWilliams danced around the defense in the left circle and zipped a laser wrister into the top right corner of the net for a 3-0 cushion at 11:56.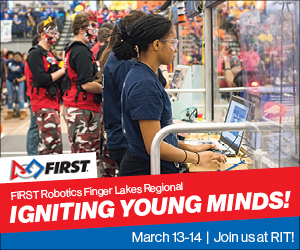 "That deflated our balloon," Ford said of three-goal second period.
Any hopes of a comeback ended early in the third period. McWilliams set up Anthony Holtz for a power-play goal at 1:12, then scored his hat trick goal 1:24 later.
While the senior forward is one of the elite scorers in Section V, the Braves didn't necessarily have a No. 1 goalie. Both seniors, Chesler and Caleb Meyer, were given quality minutes, Taft said.
Chesler was given the start Tuesday and he excelled.
"I can't say enough about our goalie," Taft said. "That kid's really waited his whole career to have his moment and he had it tonight."