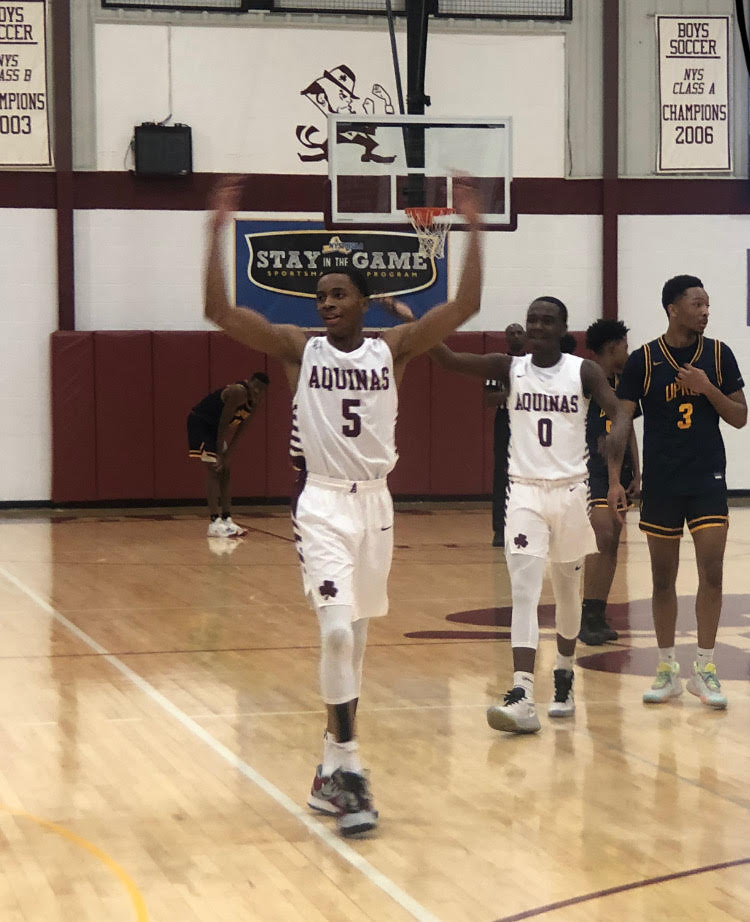 By BILLY HEYEN
ROCHESTER, N.Y. — Wesley Henderson's desperation heave at the shot clock buzzer with about a minute remaining Wednesday could've spelled disaster for Aquinas. It could've led to a run-out and layup or dunk for UPrep which would've tied the game. It could've been the tipping point to a fifth-straight Li'l Irish loss.
Instead, Myles Blackwood crashed toward the rim from the top of the key, unimpeded by any defender. He grabbed the ball in his right hand and rose up to finish off glass for two points and a four-point lead. Henderson's miss wasn't a tipping point to a loss — it led to a near dagger in a win.
"It was just all about our mentality," Henderson said. "We just had to keep thinking about this one game. We lost to them earlier in the season, so we were just thinking about this game so we could come and close it out."
This Blackwood bucket put AQ up 66-62 with about a minute left. @pickinsplinters pic.twitter.com/PieoKyWYXT

— Billy Heyen (@BillyHeyen) February 20, 2020
Aquinas (11-9) snapped its four-game skid in a 68-66 win over UPrep (14-5) on Wednesday night. The Li'l Irish were led on Senior Night in scoring by three non-seniors, Henderson (19 points), Jack Bleier (18) and Myles Blackwood (16). With the next game for each of these teams being a sectional contest, it was the home underdogs who found a way to head to the postseason on a high note.
"Whenever you get a chance to go into the playoffs on a good note with some good vibes, it helps practice the next day," Aquinas head coach John McCauley said. "It's just an all around good, good feeling. This was a huge win for us tonight. Huge win."
Despite not a ton of scoring from Aquinas' seniors, it was two senior shooters who kept the Li'l Irish in the game early. Jack Scanlon drained a 3 from the right wing. He was followed by a left corner 3 from Jack Forsythe, who rarely plays but started in his final home game.
Forsythe ran back down the floor after his swish with three fingers raised to the sky. Seconds later, he drew a charge that brought senior point guard Gabe Miller rushing over to high-five him.
"I really want to credit our seniors for getting us off to a good start," McCauley said. "Jack Forsythe, Jack Scanlon, Gabe Miller. Those guys came out, and they gave us a good start, which we haven't been doing the last three, four games, either."
On his Senior Night, Jack Forsyth just hit a 3 and drew a charge for @AQBoys_Hoops . @PickinSplinters pic.twitter.com/OuLKRWKTJ5

— Billy Heyen (@BillyHeyen) February 20, 2020
Bleier was crucial in the final minutes of the first quarter, scoring eight points in the frame including the final basket off an offensive rebound.
End of one: @AQBoys_Hoops 16, UPrep 12. @jack_bleier scored the last bucket with about a minute left, and he's got eight. @PickinSplinters pic.twitter.com/481Tp6I4wt

— Billy Heyen (@BillyHeyen) February 20, 2020
Aquinas could've come unhinged in the second quarter. UPrep's Melvin Council Jr., who finished the night with 28 points, went off. It started with a 3-pointer from the left wing, then an alley-oop dunk from Kayshawn Ross. 
Council went on to score a three-point play off an offensive rebound, a step-through layup, a left wing 3 and a buzzer-beater to go to halftime having scored 16 in the frame and 20 in the half. The Griffins led by nine at the break.
"Tell you what, they don't get better than him," McCauley said. "He can beat you from 3, he can beat you from driving the basket, he can beat you right hand, left hand. He has no weakness in his game whatsoever."
This is Melvin Council Jr. beating the halftime buzzer to put UPrep up 38-29 and give him 20. @PickinSplinters pic.twitter.com/Z1Kizm4Syt

— Billy Heyen (@BillyHeyen) February 20, 2020
Aquinas didn't have a lot of options in terms of defensive adjustments. The Li'l Irish have embraced a 2-3 zone with both of their biggest players, Steve Mahar and Shannon Sims, out injured. They simply had to be more aware of Council, along with boxing out to deny second chances, Bleier said.
"We figured this out now," Bleier said. "No big? Now we know how to play our ball, play small."
As the zone stepped up in the third quarter, so did the Aquinas offense. What was a nine-point halftime deficit turned into a one-point lead for the Li'l Irish after three. Bleier scored eight points in the frame, and Henderson added nine on three 3s.
"If I was feeling my shot, I was gonna take it," Henderson said. "I hit a couple 3s before, and then as it got into crunchtime, I was like, 'You know what? Since I was hitting my shots early in the game, I might as well hit 'em this time, too.'"
Bleier hits a 3, then Wesley Henderson swishes and Aquinas forces a UPrep timeout. 38-35 Griffins now. @pickinsplinters pic.twitter.com/vg2QW9QLN3

— Billy Heyen (@BillyHeyen) February 20, 2020
The teams traded baskets for much of the fourth quarter, with UPrep breaking out a full-court press that Aquinas handled enough to find easy baskets. That included 10 fourth-quarter points for Blackwood.
"(Blackwood) brought more energy," Bleier said. "He was more alive during the game. We started giving him the ball. We started running plays for him. He just started being aggressive, and that's what we need from him."
With less than two and a half minutes to play, Henderson hit his fifth and final 3 to put Aquinas up two. Blackwood grabbed his offensive rebound with about a minute left, and then after he missed two foul shots, Blackwood dove on the floor to secure a jump ball with the possession arrow favoring Aquinas. Two final free throws for Blackwood essentially secured the victory for Aquinas.
After the final buzzer sounded, it was obvious what the win had meant to the Li'l Irish. Bleier met his father at center court for a hug. Multiple fans slapped up Henderson as he walked along the sideline. McCauley was greeted by his young children.
Aquinas had secured the win it needed to go into sectionals riding high. There was only the potential for very little change in seeding (although a win gave Aquinas an outside shot at a first-round home game), and besides, that's not what the Li'l Irish were concerned about. After a winless drought, they'd found a way, against a good team, to win again.
"This game right here gave us back our confidence, gave us back our swagger," McCauley said. "Now we're going into sectionals really believing that we can beat anybody."