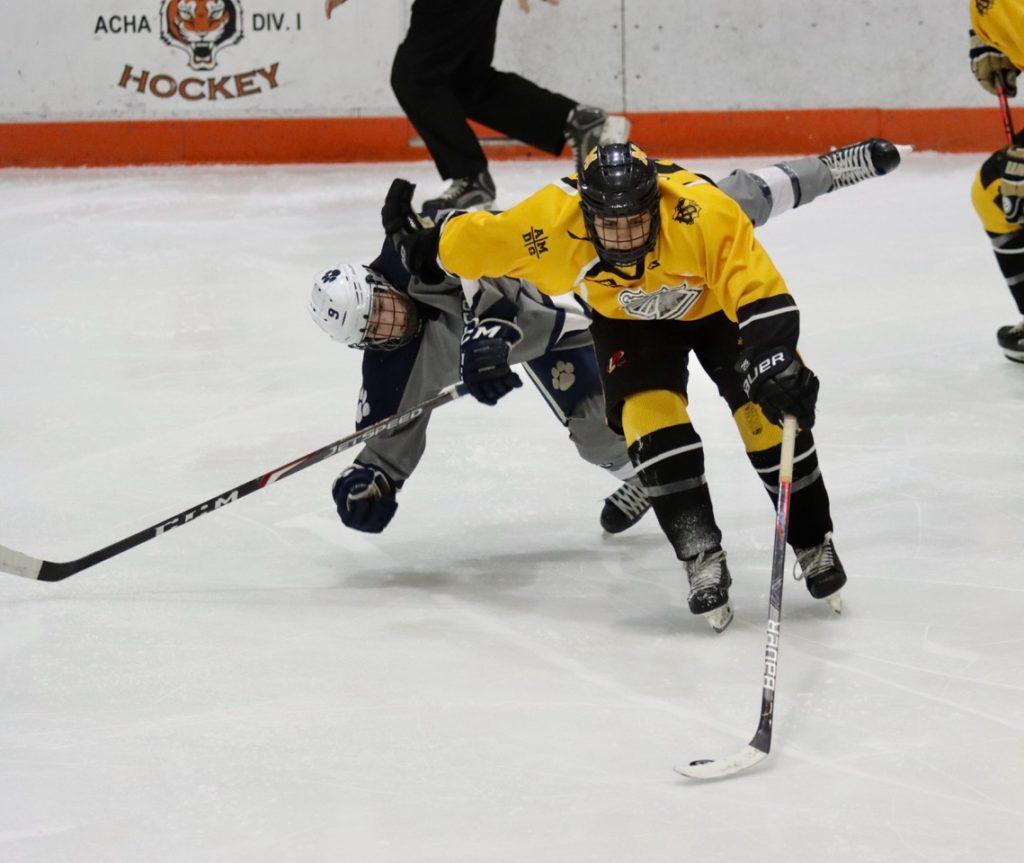 BRIGHTON/HFL/ER (9-10-2) 4
HILTON (5-14-2) 2
Brighton/HFL/ER will play Fairport (2 seed) in the quarter finals on 2/20.
GATES/WAYNE/EI/WHEATLAND (16-5-0) 3
GREECE STORM (2-19-0) 2
Gates/Wayne/EI/Wheatland's Aiden Bolam scored the game-winning goal early in the third period as the Spartans came from behind in a back and forth battle. Taber Monks put the Storm ahead initially on a look from Andrew Balch 7:23 into the first period. Greece couldn't stay hot moving into the first intermission, giving up a penalty shot just 34 seconds after Monks' goal. Trevor Schmidt slipped the puck past Greece goalie Matt Reap to tie the game at 1-1. Reece Carlo-Clauss scored unassisted a minute into the second to give the Storm control again. The Spartans' Anthony Polisseni answered 12:51 into the period, assisted by John Reagan. Gates/Wayne/EI/Wheatland's Aiden Bolam had the lone goal in the third period, connecting with Blake Fennell to put the Storm away for the season. Spartans goalie Charles Healey saved 29 for 31 shots, and Storm goalie Matt Reap saved 35 for 38. Gates/Wayne/EI/Wheatland will play Victor (1 seed) in the quarter finals on 2/20.
WFL PANTHERS (3-13-0) 1
WEBSTER SCHROEDER (9-12-0) 6
Webster Schroeder will play Pittsford (4 seed) in the quarter finals on 2/20.
RUSH-HENRIETTA/SOTA (4-16-1) 2
MCQUAID JESUIT (9-8-4) 9
Connor Brydges, Giuseppe Fiorillo, and Luke Masaschi combined for ten points as McQuaid advanced to the sectional quarter finals. The Knights relentlessly peppered Rush-Henrietta/SOTA goaltender Keegan Waldo, who stopped 45 of 54 shots. McQuaid's goalies dealt with much less. David Battisti stopped 12 of 14 shots, and Quinn Sullivan stopped 1 of 1. The first period remained even after 15 minutes as each side put up two goals. Luke Masaschi opened up scoring for McQuaid with back to back goals, assisted by Connor Brydges, Mark Tachin, Giuseppe Fiorillo, and David Battisti. Kaitlin Cowie answered for the Royal Comets, assisted by Jordan Coleman. Cowie returned the favor minutes later, finding Coleman who potted the tying goal. The next two periods proved to be fatal for the Royal Comets as McQuaid scored seven straight. Brent Donlon, Giuseppe Fiorillo, and Conor Palmer produced goals for McQuaid in the second period, with Ben Pearson, Giuseppe Fiorillo, Connor Brydges, and James Evans contributing assists. Denis Brown, Connor Brydges, Mark Tachin, and RJ Sember scored for McQuaid in the final period, and Brent Donlon, Luke Masaschi, Connor Brydges, Bode Wehle (2), and James Evans assisted. McQuaid will play Penfield (3 seed) in the quarter finals on 2/21.
CLASS B
AQUINAS (4-15-2) 4
GENESEE ICE DEVILS (6-13-2) 2
Aquinas' Christian Mangone netted a career-high four goals to push the Li'l Irish to the sectional quarter finals. Netminder Lenny Perno saved 34 of 36 on the night and killed five penalties without letting up a goal. Mangone opened up the scoring with just over a minute left in the first period, assisted by Anthony Terrana and Marcos Davila. He came back from intermission to score two more unanswered goals with help from Josh Gimeli and Bryce Schaubroeck. Genesee finally found footing with two minutes left in the second as Cooper Hamilton scored, connecting with Nate Ryan and Adam Risewick. Gavin Schrader scored for Genesee halfway through the third, assisted by Zach Eschberger and Cooper Hamilton, but Christian Mangone put the Ice Devils away with his fourth goal of the night two and a half minutes later. Mangone connected with Anthony Terrana and Kevin Howse on the final goal. Ice Devils goalie Ian Kemp finished the game 16 for 20. Aquinas will play Webster Thomas (1 seed) in the quarter finals on 2/20.
GENESEO/LIVONIA/AVON (3-17-1) 3
BROCKPORT (8-12-1) 8
Michael Holding and Jeremiah Rausch combined for seven points in Brockport's first round win. Holding scored early in the first on a look from Luke Leach, and Evan Bovee put Brockport up by two shortly after, connecting with Dominic Viola and Michael Holding. Brockport went on to score four more unanswered goals after the break, with Tucker Trask, Jonathan LoMonaco, Michael Holding, and Jeremiah Rausch all tallying goals. The Lakers finally answered 11:42 into the second period. Losha Cicero put Geneseo/Livonia/Avon on the scoreboard with help from Josh Matthews and Michael Oldziej. Michael Walton scored for the Lakers 29 seconds later, assisted by Christian Rumfola and Ryan Haugh, as Geneseo/Livonia/Avon looked to mount a comeback. Brockport wouldn't have it, and Jeremiah Rausch found the back of the net halfway through the third period on a look from Jonathan LoMonaca. Damian Gamble followed suit, with help coming from Luke Leach and Zack Geitner. Derrick Wigley put one more in net for the Lakers, helped on the goal by Ryan Haugh and Michael Walton, but it wasn't enough to counter Brockport's early scoring run. Brockport's Joseph Volpe stopped 21 of 24 shots. Geneseo/Livonia/Avon's Lucas Stewart stopped 15 of 23. Brockport will play Spencerport (2 seed) in the quarter finals on 2/21.