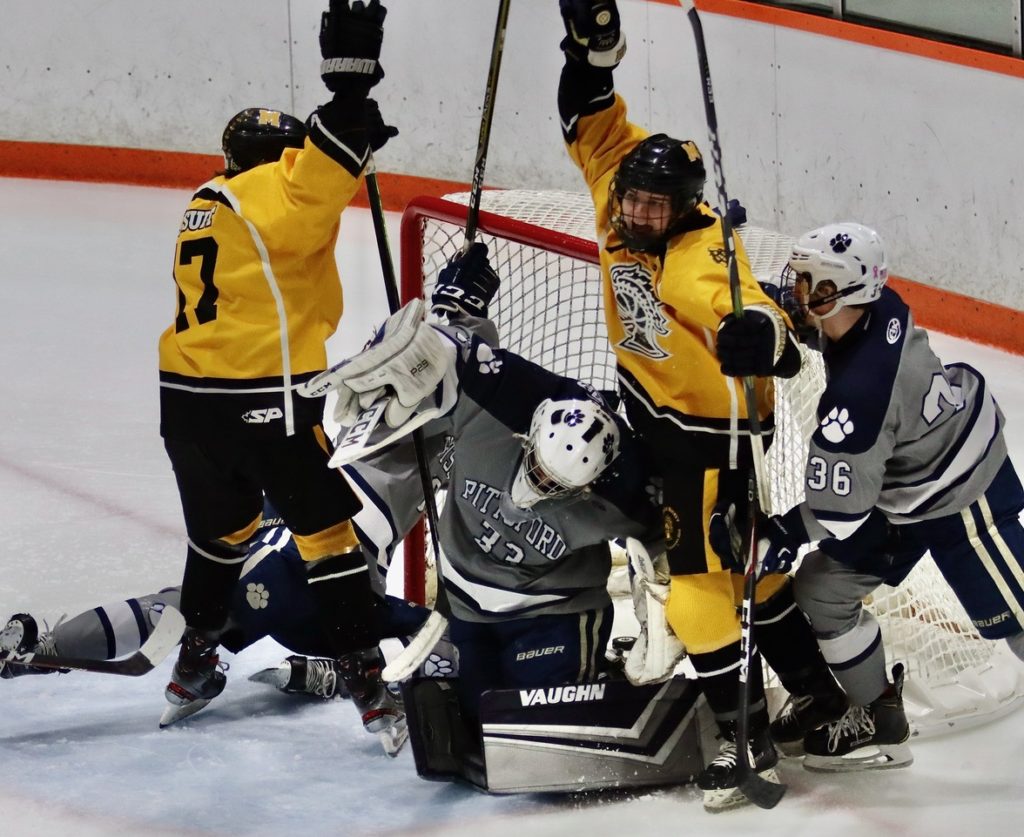 FRIDAY
WFL (3-11-0) 4
AQUINAS INSTITUTE (3-15-2) 5
Despite losing to WFL 7-5 earlier in the season, Josh Gimeli notched his second goal of the night with a minute left in overtime to end Aquinas's season with a win. Gimeli's first tally gave the Little Irish a 4-3 lead with three minutes remaining in the third. His counterpart, Christian Mangone also scored twice and assisted on Connor Mangone's lone goal in the second period. Bryce Schaubroeck added three assists while Tyler Day and Anthony Terrana each dished out one for Aquinas. After assisting on two tallies in the first period, WFL's Zack Mattice evened the game up late in the third on a feed from Sean Bucklin. Lucas Springer, John Mittiga and Bucklin accounted for the rest of the Panther offense with a goal and assist each. Lenny Perno stopped 34-of-38 shots for Aquinas and Lucas Hooker made 29 saves in the overtime loss.
MCQUAID JESUIT (7-8-4) 3
PITTSFORD (9-8-3) 4
Brian Judge tallied his 19th and 20th goals of the year to close out Pittsford's season with its third win in five games. With under two minutes remaining in regulation, Judge broke the 3-3 tie on a dish from Will Masaschi. After a scoreless first period, Ronin VanDamme and Brady Wambach assisted on each other's second period tallies. Judge scored his first of the game shortly after Wambach's power-play goal to increase the lead to 3-1. Alex Tidd made 15 stops on 18 shots faced and Brandon Penrose collected an assist for Pittsford in the win. Owen Kopacz was responsible for McQuaid's first tally and Giuseppe Fiorillo trimmed the lead to one before the end of the second on an unassisted effort. Four minutes into the third, Joel Braunschweig tied the game at three. Rowan Palen earned two assists while Ben Pearson and Kopacz each added one. David Battisti made 20-of-24 saves for the Knights.
HILTON (5-13-2) 2
WEBSTER SCHROEDER (8-12-0) 7
Five different players found the back of the net for Webster Schroeder as the Warriors managed to close out its season with its first win in six games. Cole Bollin and Evan Alfano led the charge with two goals apiece. Caden Cranston followed with a goal and three assists. Joseph Lemieux capped off a three-goal first period from Schroeder with his 15th of the season. Jack Underwood also registered a first period tally for his fifth on the year. Matthew Tyler made 20 stops on 22 shots for his third victory of the season. Ryan Darrow, Timothy Weisensel, Samuel Obi, Albert Brennen and Alfano each added an assist for the Warriors. Zach Fichtner and Dom Goodenow both scored early power-play goals in the second and third period, respectively, for Hilton. Luigi Borelli, Josh Radler and Goodenow all collected an assist apiece.
PENFIELD (12-5-3) 4
GREECE (2-17-0) 2
Chris Smith scored four goals to help Penfield close out its season on a four-game win streak. Trailing 1-0, Smith registered his first of the night in the 10th minute to tie the game, but Brent Shallenberger gave the Greece Storm a 2-1 advantage before the end of the first. Smith proceeded to score three unanswered with two in the second, one on the power-play, and one in the third to cushion Penfield's lead. Jake Fox and Owen Fox accounted for two assists apiece while Sean Smith and Nathan Audi collected one each. Senior goalie Brandon Holmes stopped 24-of-26 shots for his 10th win of the year. Spencer Phillips opened scoring for Greece in the second minute on touches from Connor Martineau and Anthony Hinds. Andrew Balch added an assist and Matt McDermott turned away 36-of-40 shots faced.

FAIRPORT (16-3-0) 4
VICTOR (17-3-0) 1
Jake Mueller scored two goals to lead Fairport to its seventh consecutive victory and hand Victor its second loss in 12 games. Earlier in the season Victor took the first matchup by a 2-1 score. Unassisted, Mueller opened scoring in the 12th minute and Colin Herington doubled Fairport's lead on the power-play before the end of the first. Travis Knicley tallied the only goal in the second to push the score to 3-0. Following Mueller's fifth of the season, Victor's Andrew Haugh got the Ice Devils on the board with a power-play tally late in the third. Caleb Kaiser and Robbie Crowley split four assists while Herington added one for the Red Raiders. Tyler McMillan stopped 27-of-28 shots in the victory as well. For Victor, Nick Peluso and Steven Armstrong each earned an assist. On the other end, Pieter Bartelse made 17 saves on 21 shots in the loss.
SATURDAY
WFL (3-12-0) 2
CHURCHVILLE-CHILI (14-5-1) 7
Dylan Clark's hat trick and Mitchell Marsh's four assists propelled Churchville-Chili to its seventh win in eight games. The junior forward doubled his season total with seven goals in his past three games to finish with 14 on the year. Down 2-1 in the second, Keegan Metcalfe and Julius Horvath both scored on separate power-plays to give the Saints a lead they wouldn't surrender. Clark completed his hat trick with two goals in the third while Colin Hess and Adam Polito both added one to the lead. Aiden Flaherty (3), Nick Bowen (2), Hess (2), Horvath (1) and Clark (1) all registered assists for Churchville. Ethan Breton, Tristan Harris and Liam Letters were each given a period in net, but the win was given to Harris when the Saints took the lead. For the Panthers, John Mittiga scored back-to-back goals to give WFL the lead after Clark's first tally to open the game. Sean Bucklin, Zack Mattice, Brady Zugec and Dylan Delucia all earned assists between his two tallies. Teddy Christensen-Cook turned away 36-of-43 shots against in the loss.
GREECE (2-18) 2
MCQUAID JESUIT (8-8-4) 3
Coming off a loss from the night before, Luke Masaschi registered a hat trick to help McQuaid end its season with a victory. Entering the second knotted at one, Masaschi scored twice to complete the hat trick and build the Knights' lead. The Greece Storm trimmed the deficit to one on Andrew Balch's seventh of the year, but came a little too late as McQuaid went on to win 3-2. After Masaschi's first of the night in the 10th minute, Taber Monks tied the game for Greece with little time left in the first period. Mark Tachin and Connor Brydges both collected two assists while Giuseppe Fiorillo and Ben Pearson both added one apiece for the Knights. Quinn Sullivan only needed to turn away 18-of-20 shots to hold onto the victory. For Greece, Alex Nasca earned two assists while Connor Martineau and Balch both finished with one. Netminder Joe Willis stopped 39-of-42 shots in the losing effort.
SPENCERPORT (17-3-0) 3
WEBSTER THOMAS (16-2-2) 8
Seven different players lit the lamp for Webster Thomas as the Titans concluded their regular season in dominant fashion. Kevin Gabalski led the offense with two goals and two assists. Liam Forsyth, Jack Stappenbeck and Teagan Spang all finished with a goal and assist apiece. Zack Wolfe, Dylan LaChance and Cade Spencer rounded out Webster's scoring with a goal apiece. Spencerport's Jason Uebelacker and Luc Fedele combatted the Titan's three-goal first period to keep the lead in reach entering the second. AJ Giannavola added a goal to his league-leading total of 38 in the second period. Nate Kernan, Kyle Vent, Will fisher, Rory McCabe and Cullen Hennessy each collected an assist for Webster. For Spencerport, Mark Neu collected two assists while Joey Cuzzupoli, Giannavola and Uebelacker each finished with one. Cody Yancey made 12-of-15 saves for the Titans and Rachel Brase turned away 23-of-31 shots for the Rangers.