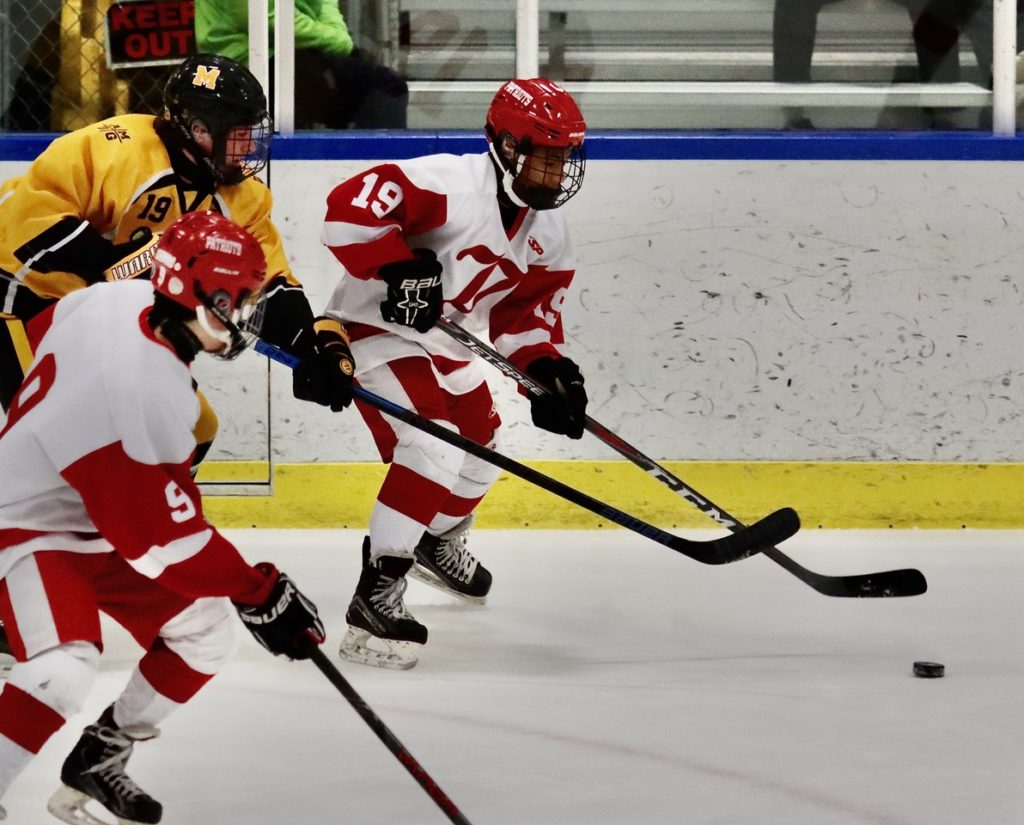 MONDAY, February 10
CANANDAIGUA (14-4-1) 5
GATES/WAYNE/EI/WHEATLAND (14-5-0) 3
Canandaigua's Carter McWilliams netted a hat trick and an assist to put the Braves back on track following their only two consecutive losses of the season. Dominick Spychalski and Matt McMullen notched four points total on a goal and an assist each for the Braves. McMullen scored the empty netter to put the Spartans away. The Spartans went 3-for-11 on power plays, with Trevor Schmidt scoring in the first and Ethan Knauf and John Reagan in the third. Reagan was involved in every Spartans scoring play and tallied three points for the night. Charles Healey stopped 18 of 22 for the Spartans. Caleb Meyer made saves on 29 of 32 shots including numerous penalty kills for the Braves. 
HILTON (5-11-3) 2
GREECE STORM (2-15-0) 1
Hilton's Jackzin Flagg hit the overtime game winner to bring the Cadets their first win in seven games. Flagg also assisted on Zach Fichtner's second period goal, coming 11:43 into the period. Greece's Jake Palma scored shortly after off a look from Anthony Hinds, tying the game ahead of the scoreless third period. Flagg's unssisted goal came 1:44 into overtime. Both goalies recorded season high save numbers, with Hilton's Chris Sidoti stopping 44 of 45 and Greece's Matt Reap stopping 44 of 46.
TUESDAY, February 11
FAIRPORT (15-3-0) 5
GREECE STORM (2-16-0) 1
Colin Herington and Sam Hoyen combined for four points to lead Fairport to their sixth straight win. Herington was the first to score for both sides, finding the net a minute and a half into the second period. Matt Krug and Sam Hoyen collected assists. Herington scored again early in the third, this time with no help. The Red Raiders' Ryan Klice, Max McNally, and Travis Knicley all added to the score in the final period, with the only answer coming from Greece's Brent Shallenberger six minutes into the contest, assisted by Aidan Candalari and Casey Cole. Fairport allowed only 10 shots on goalie Tyler McMillan. Greece's Joe Willis contended with more, saving 31 of 36 shots. 
WEBSTER THOMAS (15-2-2) 3
WEBSTER SCHROEDER (7-12-0) 1
The Titans' Cullen Hennessy, Zack Wolfe, and Cade Spencer netted two points apiece to give Webster Thomas their third win in five games and go two for two against cross-town rival Webster Schroeder for the season. Three goals came within two and a half minutes of each other in the first period. Spencer scored five minutes in on a power play, connecting with Hennessy and Wolfe. Thomas' Jack Stappenbeck followed with another a minute later. Schroeder's Joseph Lemieux answered 56 seconds after that. The second period cooled down, with Thomas' Zack Wolfe scoring the only goal, assisted by his fellow point leaders Cade Spencer and Cullen Hennessy. Both teams would remain quiet in the third. Thomas' Connelly Springer stopped 22 of 23 shots. Schroeder's Matthew Tyler stopped 19 of 22.
GATES/WAYNE/EI/WHEATLAND (15-5-0) 4
GENESSE ICE DEVILS (6-12-2) 2
Trevor Schmidt and Ethan Knauf combined for six points, earning the Spartans their seventh win in nine games. Scoring started in the second period, with Gates' Jacob Franklin scoring back to back powerplay goals, capitalizing on a boarding major on the Ice Devils. Trevor Schmidt added to Gates' numbers with another goal coming 8:36 in, assisted by Ethan Knauf and John Reagan. Genesee outscored the Spartans in the third period, with goals coming from Derrick Fedus and Zack Eschberger, but it wasn't enough to catch the Spartans second period lead. Charles Healey stopped 22 of 24 for the Spartans and Ian Kemp stopped 35 of 39 for the Ice Devils.

PITTSFORD (8-8-3) 7
HILTON (5-12-2) 3
Three players on the Panthers' roster collected three points against Hilton as Brian Judge netted a hat trick and cousins Gunnar and Ronin VanDamme tallied one goal and two assists apiece. Pittsford won for the third time in five games. Judge netted the only first period goal with help from Brady Wambach and Will Masaschi. The Panthers opened up in the second, scoring five times. The VanDammes both scored in period two. Brian Judge scored his second goal on a power play, earning both Gunnar and Ronin VanDamme an assist. Judge completed his hat trick with 40 seconds left in the period. Brecken Catalano scored for Pittsford five minutes into the third period. Hilton's Luigi Borelli scored shorthanded on a look from Noah Supernault, but it was too little too late with less than four minutes left on the game clock. Pittsford's Alex Tidd went 15 for 18 between the posts, and Hilton's Chris Sidoti went 25 for 32.
VICTOR (17-2-0) 3
PENFIELD (11-5-3) 4
Four Penfield skaters found the back of the net and goalie Brandon Holmes blocked 28 of 31 in a tight game to earn the Patriots their fourth win in five games. Nathan Audi, Chris Smith, and Jake Fox earned two points each for Penfield with a goal and an assist. Penfield scored three times in the first period, with goals coming from Nathan Sobko, Nathan Audi, and Chris Smith.  Bennet Prince and Jake McCandless kept Victor in the race, bagging a goal apiece. Penfield's Jake Fox widened the scoring margin 12:19 into the second period, assisted by Chris Smith. Victor's Steven Armstrong scored right away on a power play 21 seconds into the final period, assisted by Andrew Haugh and Nick Peluso. It wasn't enough to turn momentum around for the Blue Devils, Armstrong's goal was the final scoring play of the game. Victor's Pieter Bartelse stopped 19 of Penfield's 23 shots, and Brandon Holmes stopped 28 of 31 for the Patriots. 
IRONDEQUOIT (14-5-1) 4
CANANDAIGUA (14-5-1) 2
Jack Feola netted two goals to led the Eagles to their tenth win in eleven games. Canandaigua's Anthony Holtz opened up the game with the initial goal 6 minutes into the first, assisted by Carter McWilliams. Irondequoit was relentless through period two, putting four unanswered goals into the twine. Jack Gramlich scored 5:36 after the second period puck drop, and Jon Keyes scored just 11 seconds after that. Jack Feola followed up with two back to back goals, assisted by Bruin Giudice for the first and Jack Gramlich and Tucker Velepec on the power play for the second. The Braves' Carter McWilliams was the lone scorer in the final period. Canandaigua failed to capitalize on four power plays, while Irondequoit scored on one of three. Vaughn Letta saved 27 of 29 shots for the Eagles. Canandaigua's netminders divided the game in half, with Caleb Meyer saving 15 of 18 and Cade Chesler saving seven of eight.
RUSH-HENRIETTA/SOTA (4-15-1) 4
GENESEO/LIVONIA/AVON (3-15-1) 3
Rush-Henrietta/SOTA's Jordan Coleman and Nick Cowie earned four points each to give the Royal Comets the edge in a tight game, their first victory in ten games. An even first period saw goals from Ryan Haugh 45 seconds in for the Lakers, assisted by Jon Edmunds and Josh Matthews. Edmunds found glory himself just over a minute later, connecting with Ryan Martucio and Shane Melead. The Royal Comets answered with a goal from Nick Cowie, assisted by Jordan Coleman and Nick's sister Kaitlin. Coleman then scored shorthanded going into the intermission on a look from Nick Cowie. Nick Cowie returned the favor 7:19 into the second, finding his sister Kaitlin Cowie for a goal of her own. The Lakers' Michael Walton kept things even, scoring with 8 seconds left in the second period. Jordan Coleman and Nick Cowie bagged their four points together as Coleman fired the game winner after connecting with Cowie. Both goalies contributed to the close game. Keegan Waldo stopped 23 of 26 for the Royal Comets, while Lucas Stewart stopped 17 of 21 for the Lakers.
BRIGHTON/HFL/ER (8-10-2) 1
CHURCHVILLE CHILI (13-5-1) 6
Five players found the back of the net for Churchville Chili and Dylan Clark scored twice, boosting the Saints to their seventh win in eight games. Colin Hess, Julius Horvath, and Mitchell Marsh recorded two points apiece for Churchville Chili as well. Horvath scored less than three minutes after puck drop unassisted, nabbing the only points for either side in the first period. Dylan Clark followed with two consecutive goals in the second. Matt Yager scored on a look from Jude Cole at the end of the second for the Barons, breaking up the Saints scoring streak. It wasn't enough to stop the red hot Saints, who put up three goals in the final period to put Brighton/HFL/ER away for good. Nick Bowen (assisted by Max Williams), Ryan Jong (assisted by Trey Eberhart on the power play), and Mitchell Marsh all potted goals for Churchville Chili. Jackson Heider blocked 12 of 17 for the Barons before being replaced by Madeline Eaton, who stopped 5 of 6. Ethan Breton blocked 34 of 35 for the Saints. 
BROCKPORT (7-12-1) 0
NOTRE DAME-BATAVIA (12-7-1) 2
Notre Dame Batavia won their third game of the last four thanks to two point efforts from Alexander Totten and Wyatt Krolczyk. Alexander Hunt blocked all 19 shots to earn the shutout. After a quiet first period, Alexander Totten linked with Jedidiah Reese and Wyatt Krolczyk to bury a goal on the power play 5:21 into the second. Brockport had no answer through the second and third, and Krolczyk ended the night with an empty netter. Joseph Volpe saved 25 of 26 for Brockport.
WFL PANTHERS (3-10-0) 0
SPENCERPORT (17-2-0) 6
Spencerport claimed its ten straight wins thanks to AJ Giannavola's two goals and two assists, giving him 66 points for the season. Rachel Brase earned the shutout for the Rangers with 19 saves. Giannavola's two goals came in the first period, with Mark Neu, Andrew Simoncelli, and Luc Fedele contributing assists. Chris Hammerle scored in the first as well, assisted by Joey Cuzzupoli and Ryan Ploufe. Spencerport kept up the assault in the second period. Jason Uebelacker had back to back goals within three minutes of each other, assisted by Luc Fedele and AJ Giannavola. Joey Cuzzupoli scored the last goal of the night on a power play with just over a minute remaining in the period. No goals came from either side in the final period. Lucas Hooker stopped 29 of Spencerport's 35 shots.
WEDNESDAY, February 12
GENESEO/LIVONIA/AVON (3-16-1) 2
AQUINAS (2-15-2) 2
Geneseo/Livonia/Avon's Lucas Stewart and Aquinas' Lenny Perno were instrumental in keeping both teams fighting through overtime in Wednesday night's tie. Stewart blocked 26 of 28 shots and Perno stopped 25 of 27. Aquinas' Christian Mangone, who tallied two points, opened up the scoring with a goal 5:51 into the first period. Mangone found Josh Gimeli halfway through the second period, who put Aquinas up two on the Lakers. Brady Bishop answered for the Lakers 15 seconds later unassisted. The Lakers scored again as Michael Walton connected with Ryan Haugh for the tying goal. Overtime was inconclusive thanks to the Stewart and Perno between the posts.