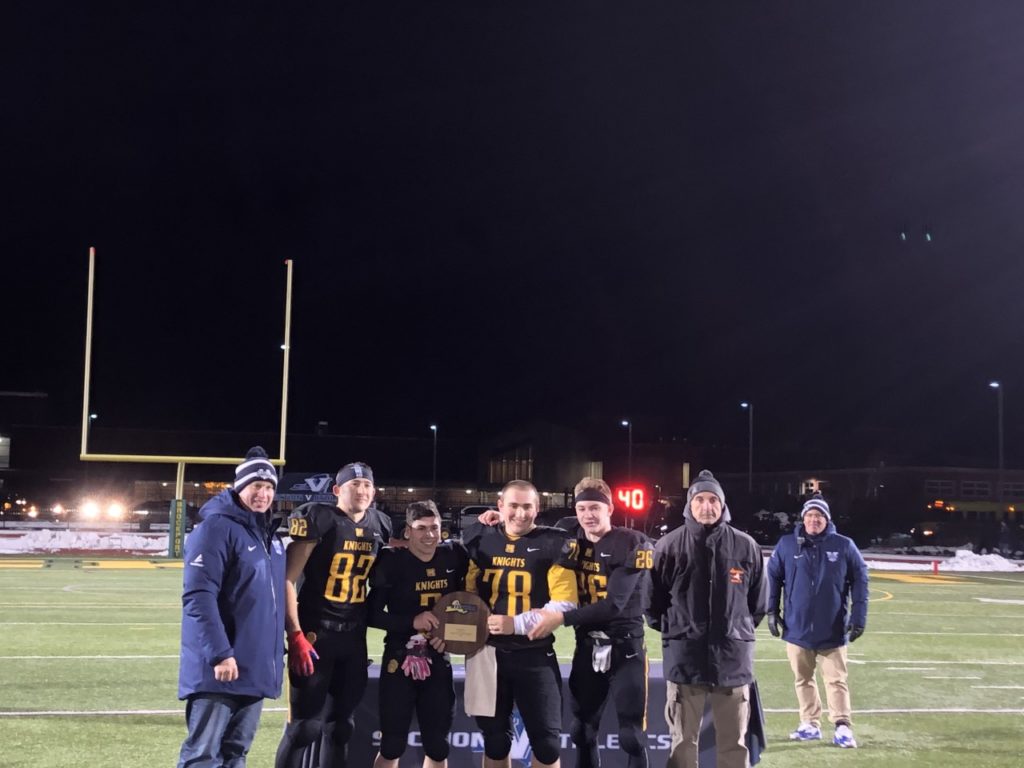 By JOHN LIKANJE
McQuaid was one of two Section V champions who qualified for the state tournament this upcoming weekend in Syracuse. Here's how the Knights match up with their opponent:
MCQUAID JESUIT KNIGHTS (11-0) vs. CICERO-NORTH SYRACUSE NORTHSTARS (8-3)
How they got here: McQuaid (No. 4 NYSSWA), the top seed in the Section V Class AA playoffs, defeated Monroe, 57-0, in its first sectional game. The Knights followed up with a 20-7 win over Pittsford in the semifinals and a 30-27 victory over Aquinas to claim the sectional title. McQuaid advanced to the state semifinals with a 32-28 win over Section VI champion Lancaster.
Cicero-North Syracuse (No. 14 NYSSWA) took down Henninger, 28-6, to open postseason play. The Northstars defeated Liverpool, 35-28, and Utica Proctor, 28-25, to claim the Class AA title. Cicero-North Syracuse made the state semifinals after beating Corning-Painted Post (IV), 24-22, in regionals.
Points scored per game: McQuaid (34.5), Cicero-North Syracuse (22.5)
Points allowed per game: McQuaid (13.6), Cicero-North Syracuse (18.7)
Players to watch: McQuaid – Joe Cairns Jr. QB 926 passing yards; Andrew Passero Sr. RB, DB 734 rushing yards, 11 touchdowns
Cicero-North Syracuse – Jack Collins Sr. RB, LB; JJ Razmovski Jr. QB; Alex Sydney Sr. WR, FS
Coaches: Bobby Bates (McQuaid), David Kline (Cicero-North Syracuse)
How the game will be decided: McQuaid – The Knights will ride the 5-foot-6, 160-pound frame of Andrew Passero as long as he can play. Despite dealing with a hip injury for most of the season, the senior tailback has a combined 68 carries for 316 rushing yards and three touchdowns in the last two games. McQuaid's defense has allowed only eight points in the second half of the last four games combined as well.
What's at stake: A trip to the NYS Class AA final against the winner of New Rochelle (I) vs. Shenendehowa (II).
A 6 p.m. kickoff is scheduled Saturday evening at Cicero-North Syracuse High School.