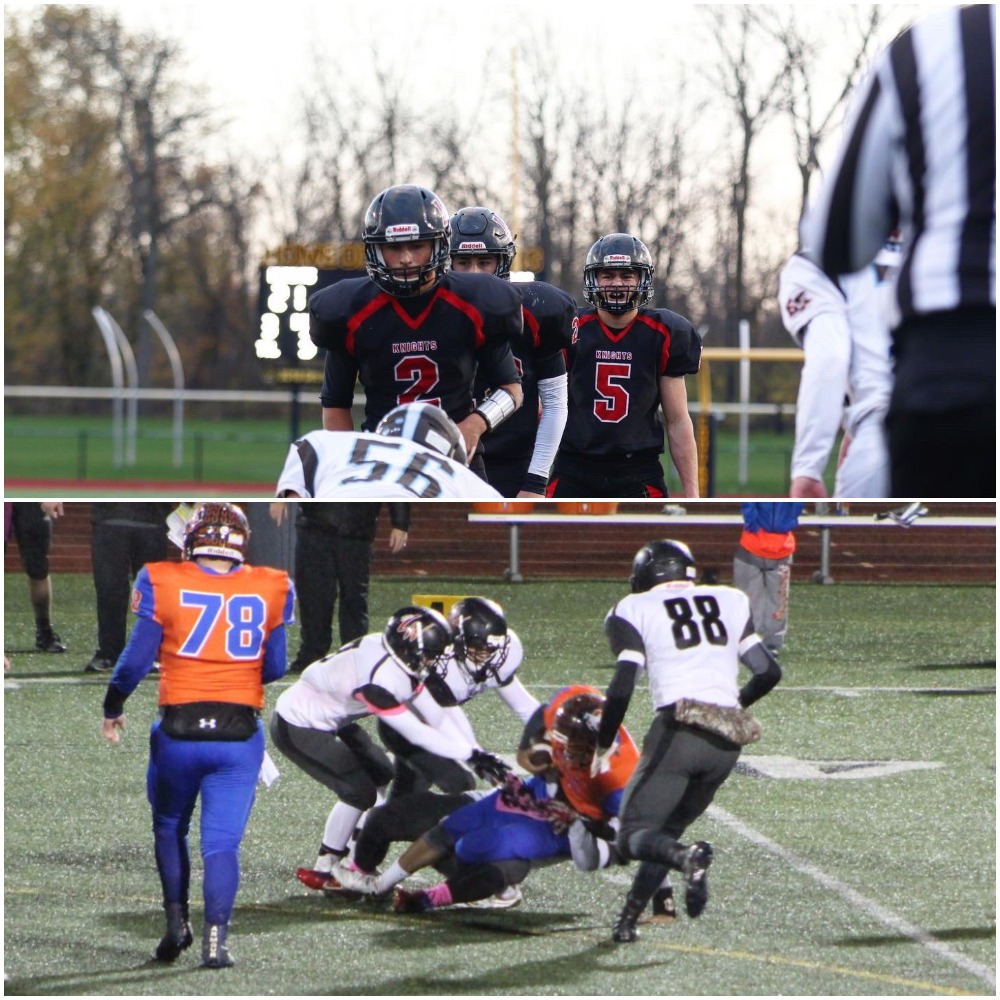 One team is looking to win its first title since 2014. The other wants to win its second straight. LeRoy and Letchworth/Warsaw will meet Saturday to decide the 2019 Section V Class C Football Championship. Here's the breakdown:
No. 1 seed LEROY KNIGHTS (9-0) vs. No. 3 seed LETCHWORTH/WARSAW (8-1)
How they arrived here: LeRoy (No. 6 NYSSWA) defeated No. 8 seed Avon, 19-0, before downing fourth-seeded East Rochester/Gananda, 35-14, in the semis.
Letchworth/Warsaw (No. 10 NYSSWA) beat No. 6 Dansville by a 33-0 score in the quarterfinal round and took down No. 2 Attica, 35-21, in the semifinals.
Points scored per game: LeRoy (30.4), Letchworth/Warsaw (29)
Points allowed per game: LeRoy (9.4), Letchworth/Warsaw (8.8)
Last time they met: LeRoy defeated Letchworth/Warsaw, 7-6, in Week 6 of the regular season.
Trends: LeRoy went from playing in the Connors & Ferris C1 Bowl last season to an undefeated record and the top seed this year. The Knights' defense has allowed only 85 points this season. Letchworth/Warsaw has won 17 of their last 20 contests.
Names to know: LeRoy – Nate Andrews Jr. TE, LB 164 receiving yards, 111 rushing yards, 5 touchdowns, 34 tackles; Andrew Englerth Sr. RB, LB 877 rushing yards, 11 touchdowns, 48 tackles, 2 sacks; Kyler LaCarte Sr. QB, LB 618 rushing yards, 629 passing yards, 15 touchdowns, 1 interception; Cole Rauscher Jr. T, LB 60 tackles, 2 sacks, 1 interception
Letchworth/Warsaw – Joshua Andrews Sr. RB, LB; Nate Degroff Sr. OL, DL; Dalton English Sr. RB, LB; Chad Hallopeter Sr. RB, LB; Mason Johnson Sr. OL, LB; Eddie Stores Jr. WR, DB; Brett Vasile Sr. QB, DB; Austin Williams Jr. QB, LB
Coaches: Justin Mann (Letchworth/Warsaw), Brian Herdlein (LeRoy)
History 101: LeRoy is seeking their 16th sectional title in program history and first since 2014. The Knights won three straight championships twice: 1994-1996 and 2006-2008. Letchworth/Warsaw is seeking their second straight sectional championship.
What they're saying: Mann – "This game is going to be a battle. They are 9-0 for a reason. They are well-coached, physical, have athletes all over the field. They are strong in all three phases of the game. We have to play flawless football on Saturday."
What's at stake: A spot in the NYS Far West Regional against the winner of the Section VI final between Southwestern (No. 2 NYSSWA) and Wilson (No. 9 NYSSWA).
A 5 p.m. kickoff is scheduled Saturday at the College at Brockport.