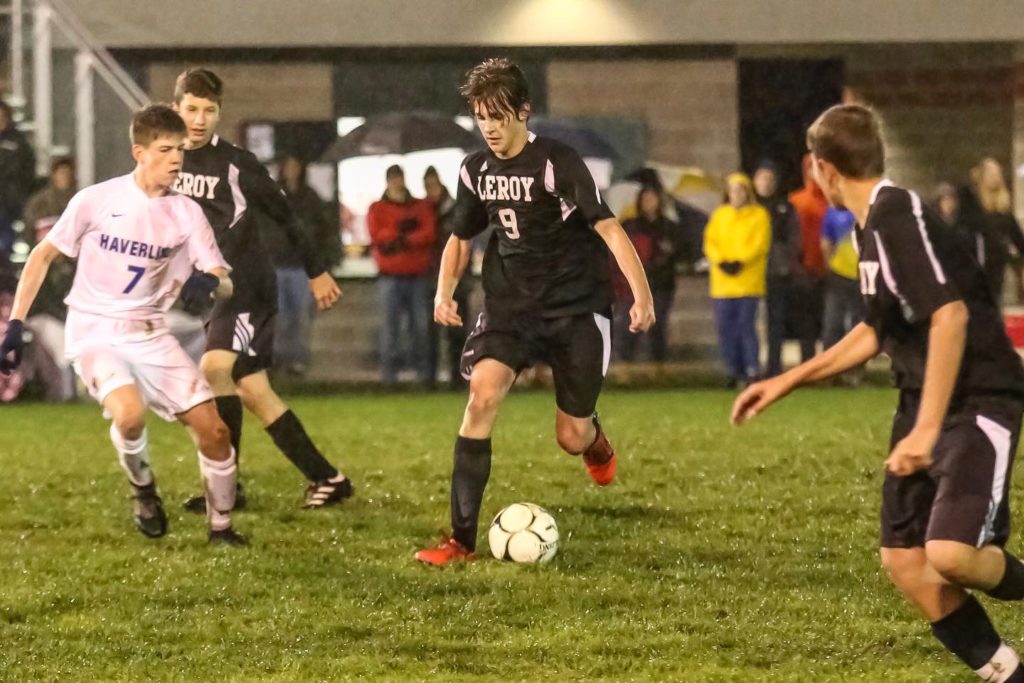 PEMBROKE (2-11-1) 1
WHEATLAND-CHILI (6-6-3) 4
LIVONIA (9-4-2) 1
HORNELL (10-4-1) 2
Chase Freeland took part in both of Hornell's goals to help extend his team's win streak to four games. Freeland picked up an assist on Liam Khork's goal that opened the scoring for Hornell. Freeland later tacked on what would be the game-winner with an assist from Tanner Stutzman. Freeland increased his season totals to 17 goals and 12 assists in the contest, while Stutzman tallies his first assist of the season.
GENESEO (11-4-0) 2
KESHEQUA (16-0-0) 3
Jordon Luther's late goal helped Keshequa (No. 7 NYSSWA Class C) hold off an upset bid and complete an undefeated regular season. Luther's goal came in the 72nd minute with the game knotted at two. Trey Learn picked up the assist on the game-winning tally. Danny Kelly tied the game up for Geneseo just seven minutes before Luther scored. It was Kelly's second goal of the game. His first came in the ninth minute off a feed from Jack Rubeck to give Geneseo an early 1-0 advantage. Ryan Thayer evened the score for Keshequa just before halftime, netting an unassisted goal. Hunter Stephens found the back of the net in the 51st minute with the help of Aidan Wood to temporarily put Keshequa ahead.
BATH-HAVERLING (15-0-0) 3
LEROY (8-8-0) 0
Bath-Haverling (No. 1 NYSSWA Class B) hosts Hornell on Friday looking to complete a perfect regular season.
MOUNT MORRIS (4-11-0) 1
PERRY (9-6-0) 7
Carson DeVinney's hat trick led Perry to its third consecutive victory. DeVinney's two first half goals were aided by Michael John Grover and Mitchell Hockey, while Garret McClurg picked up the assist on DeVinney's second half goal. DeVinney also assisted Hockey's only goal of the game in the second half. DeVinney increased his season totals to 12 goals and 11 assists in the game. McClurg and Grover each added a goal also, with Tyler Uvieno and Dennis VanDuser, respectively, each getting an assist. VanDuser got the assist on Perry's second goal of the game, as Efrain Altamirano got credit for the tally. Brandon Flint scored in the 49th minute for Mount Morris' only goal of the contest.
DANSVILLE (3-11-1) 3
WAYLAND-COHOCTON (4-11-1) 2
Tyler Harris' hat trick led Dansville as it snapped a 10-game losing streak. Harris scored twice in a three minute period in the first half, then less that two minutes into the second half. Only the second half goal was assisted, as Gage Sherer got the helper on the goal. Harris extended his team lead with 12 goals on the season.
BISHOP KEARNEY (7-8-0) 2
MYNDERSE (10-3-2) 3
Griffin Herron scored twice and assisted on Mynderse's third goal as it kept its undefeated non-conference record alive. All three of Mynderse's goals happened in the first half. Herron scored twice in the first 20 minutes. Matthew Reardon assisted on the first tally, while Jake Smith aided on the second. Smith also converted Herron's helper in the 35th minute into a goal. Herron now has 11 goals and five assists this season.
HOLLEY (8-6-1) 1
ALDEN 5
Kohl Morgan scored with just two minutes left in regulation as Holley dropped its third consecutive contest. KJ Biedlingmaier picked up the assist on Morgan's goal. Morgan's goal was his seventh of the season.
MARION (11-5-0) 2
GANANDA (6-9-1) 3
Ayden Neal's three-point game helped Gananda exact revenge on Marion. Neal assisted on two of his team's three goals and scored the other. Dylan Dohse was the first recipient, scoring 12 minutes into the game. Caleb Woodward scored the game-deciding goal in the 55th minute on Neal's second helper of the game. Jacob Rapp picked up the assist on Neal's tally, which happened just five minutes into the second half. Neal now has 13 goals and eight assists on the campaign.
NORTH ROSE-WOLCOTT (3-11-2) 0
EAST ROCHESTER (16-0-0) 10
Ian Szemcsak and Chuck Domm combined to score seven goals as East Rochester (No. 1 NYSSWA Class C) completed a perfect regular season. Szemcsak scored four goals. The first two were assisted by Russell Domm, Chuck Domm assisted the third and Justin Gutierrez aided on the fourth. Chuck contributed two assists from Russell Domm and another from Gutierrez. Russell also scored a goal off a feed from Chuck. Lucas Hirsh scored East Rochester's first goal of the game with the help of Gutierrez just two minutes into the contest. Nathan Jantz scored the ninth goal of the game without an assist. Chuck finished the regular season with 30 goals and 19 assists, while Russell has 15 goals and 29 assists. Szemcsak doubled his season's goal production in the game giving him eight on the season.