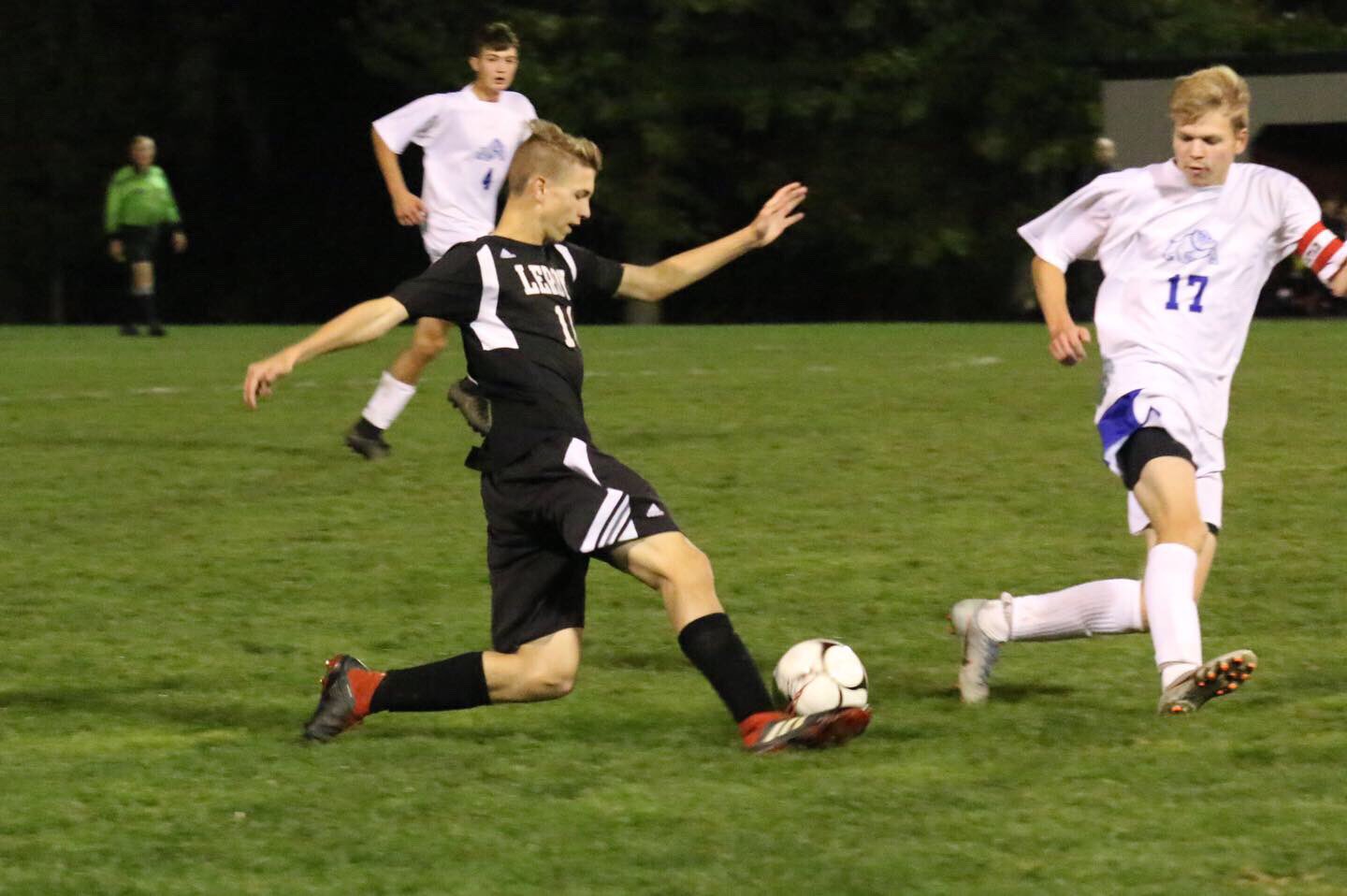 AVON (7-5-0) 3
MOUNT MORRIS (4-10-0) 1
Reverdy Clarke scored two goals and tallied an assist in Avon's third straight victory. Clarke scored his team's second and third goals of the game. Austin Perkins assisted on the Clarke's first goal. Brendan Miron was the recipient of Clarke's assist, which happened just 15 minutes into the contest.
PERRY (7-6-0) 5
CALEDONIA-MUMFORD (3-8-1) 2
Carson DeVinney assisted on four of Perry's five goals in its second victory of the season over Caledonia-Mumford. Dennis VanDuser scored the first of DeVinney's assists. Michael John Grover cashed in on two of DeVinney's dimes. Mitchell Hockey scored Perry's other two goals of the game, with the second being assisted by Tyler Uvieno. DeVinney now has nine assists on the season.
PAVILION/YORK (2-10-1) 0
KESHEQUA (14-0) 7
Aidan Wood scored twice and Jordan Luther had a hat trick to help keep Keshequa (No. 6 NYSSWA Class C) undefeated. Wood scored both of his goals in the first four minutes of the game. Luther and Reese Powers assisted on Wood's tallies. Avery Strobel assisted on two of Luther's three goals, while Nathan Thayer picked up the helper on the third. Ryan Thayer and Brendan White scored Keshequa's other two goals.
DANSVILLE (2-10-1) 2
LETCHWORTH/WARSAW (10-4-0) 3
Nick Thompson's overtime goal lifted Letchworth/Warsaw to its second straight win. Mike Schafer picked up the assist on the game-winner. Thompson also kicked off the scoring for the victors, scoring 18 minutes into the game with the help of Eric Woodworth. Adam Grover scored Letchworth/Warsaw's second goal of the game off a feed from Kaine Tisdale. Dansville got two second half goals from Tyler Harris to even up the score before ultimately losing.
LIVONIA (8-3-2) 2
LEROY (6-7-0) 0
Shawn Minnehan scored a goal and tallied an assist to get Livonia back to its winning ways. Minnehan scored an unassisted goal 15 minutes into the game. He then aided Bryce Hoang's goal 10 minutes later. Minnehan's goal was his fourth of the year and he picked up his first assist.
HORNELL (7-4-1) 6
WAYLAND-COHOCTON (4-6-0) 1
Chase Freeland led Hornell to a win following a loss. Freeland scored four goals and got two assists from Jonas Sciotti and one from In Ashworth and Justin Briggs. Freeland also assisted on Briggs' goal. Liam Khork scored Hornell's sixth goal of the game, with Shawn Rose getting the assist.
GATES-CHILI (3-9-0) 0
HILTON (6-5-2) 3
Cody Cavuoto's two goals kept Hilton unbeaten in the past five games.  Brandon Andracki and Joshua Ranke provided the helpers on Cavuoto's goals. Cavuoto netted his sixth and seventh goals on the year in the contest. Alec Smith netted the second Hilton goal of the game with the help of Isaiah Johnson. All three goals were scored in the second half.
IRONDEQUOIT (3-9-0) 1
BROCKPORT (4-8-1) 3
Nick Van Wie assisted on all three of Brockport's goals to propel it to its second straight victory. Sean Keenan scored each of Brockport's first two goals. Cole Beardsley netted the final goal of the game for the victors. Van Wie got his third, fourth and fifth assists of the season in the contest, while Keenan scored his first two goals of the campaign.
HONEOYE FALLS LIMA (7-5-1) 1
VICTOR (8-4-1) 3
Victor won its third straight game with the help of a three-point performance from Justin Graham. Graham assisted on Victor's two first half goals and scored its only goal in the second. Danny McKinley opened the scoring for the Blue Devils just seven minutes into the game. Max Fiorica followed that up in the 20th minute. Graham's insurance goal came in the 60th minute off a feed from Danill Smirnov. Honeoye Falls Lima's only goal came in the first half off the foot of Valentino Maiola.
GREECE OLYMPIA (6-6-1) 1
EASTRIDGE (6-6-0) 3
Three different players found the back of the net and Eastridge swept the season series with their Monroe County Division IV foe. Dominik Galant opened the scoring just 10 minutes into the contest. Justyn Hiscock followed that up with a goal just eight minutes later. Dylan Hanley racked up his first assist of the game on Hiscock's goal. Hanley got his second on Jalen Russell's insurance goal in the second half. Hanley got his fifth and sixth assists of the campaign in the game.
PITTSFORD MENDON (9-4-1) 2
WEBSTER SCHROEDER (2-10-0) 1
Kevin Sheller scored as Pittsford Mendon picked up its third straight victory. Nurican Sarbudak assisted on Sheller's goal. Jack Underwood scored for Webster Schroeder in the 50th minute.
GREECE ARCADIA (8-5-0) 1
PITTSFORD SUTHERLAND (12-0-1) 4

BISHOP KEARNEY (6-7-0) 4
WILLIAMSON (5-7-1) 0
Evan Stevely scored twice and picked up an assist to lead Bishop Kearney to its second straight victory. Fernando Furioso and Casey O'Gara picked up the assists on Stevely's goals. Furioso scored on Stevely's assist then also added another helper of his own. Caleb Baraka was the recipient of Furioso's second assist. With 25 goals and seven assists, Stevely's 57 is second in Section V.
GREECE ATHENA (9-2-2) 2
AQUINAS (6-7-1) 1
Greece Athena has now gone seven straight games without a loss after Othman Belhseine scored twice in a victory. Belhseine scored in the 30th and 50th minutes and both goals were assisted. Victor Alongi and Brian Piendel picked up the helpers for Greece Athena. Belhseine now has five goals this season. Adam Holt scored for Aquinas off a feed from Gian Malcolm.
ATTICA (1-9-3) 0
BATAVIA (5-6-0) 4
Batavia won its second consecutive game behind two goals from Josh Weis. Weis scored Batavia's second and third goal of the game. Carter Havens assisted on both of Weis' goals. Weis also assisted on Garrick Havens' goal, which was the fourth of the game for his team. Garrick Havens also aided in Batavia's first goal of the game, which was scored by Zeshawn Armstrong.
GREECE ODYSSEY (2-10-0) 1
BYRON-BERGEN/ELBA (12-1-2) 6
Kyle Foeller found the back of the net three times, and Byron-Bergen/Elba (No. 17 NYSSWA Class C) won its seventh straight game. Foeller's first goal came in the first minute of the game. Sam Pringle and Josh Swapceinski racked up assists on Foeller's first two goals, while his third was unassisted. Pringle had two assists in the game, with the second going to Gianni Ferrara. Ferrara also assisted on one of Pringle's two goals. Jerrod Amesbury picked up the other helper.
FILLMORE (12-1-1) 1
WELLSVILLE (4-6-3) 1
Fillmore (No. 8 NYSSWA Class D) stayed undefeated in its past eight games.
ARKPORT/CANASERAGA (5-8-0) 1
AVOCA (11-2-0) 2
Pacey Hopkins connected with Devin Stowe to lift Avoca in overtime. Stowe found the back of the net eight minutes into the first overtime. Hopkins also assisted on Stowe's second half goal. Joe Bauch scored Arkport/Canaseraga's lone goal off an assist from Kaiden Holley.