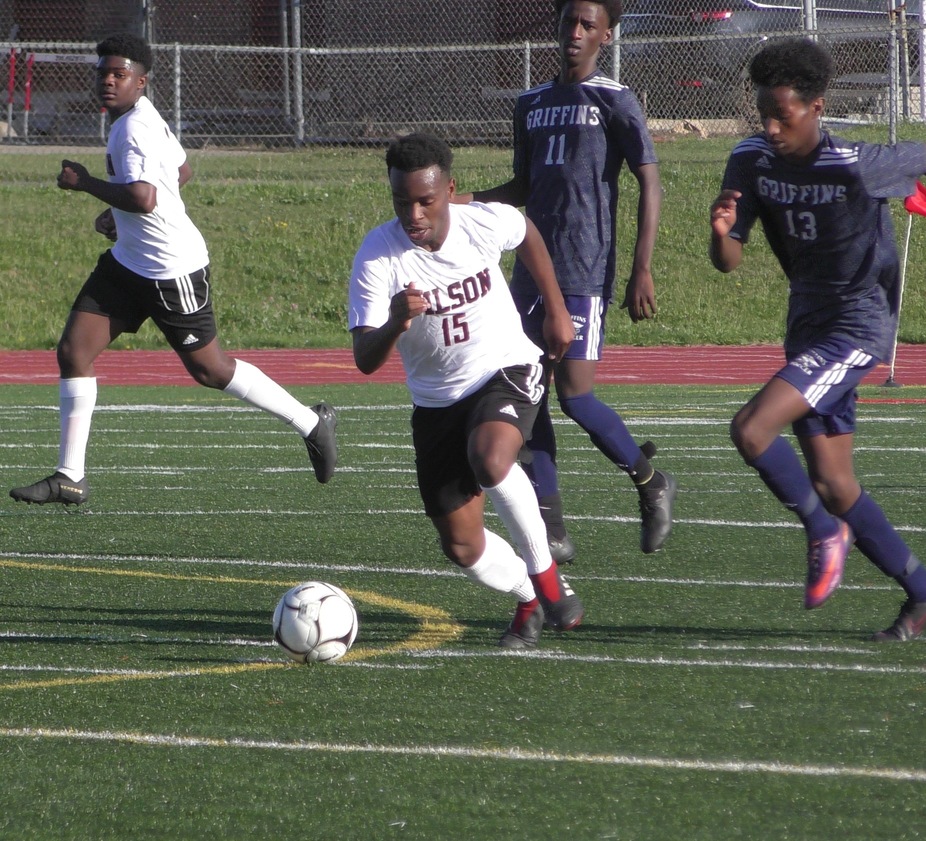 HILTON (5-5-2) 1
BRIGHTON (4-8-1) 0
Cody Cavuoto netted a first-half goal and Hilton's defense notched its fourth straight shutout. The sophomore now leads the Cadets with five goals on the season.
FAIRPORT (8-3-2) 1
GREECE ATHENA (8-2-2) 3
Under Mike Butler's direction, the Greece Athena boys' soccer program has won more than 70 games over the past six seasons. During that time, the Trojans have claimed three sectional titles and one New York State Class A crown. But Butler's XI hasn't been able to beat Fairport. That changed on Monday. READ MORE.
EASTRIDGE (5-6-0) 0
PITTSFORD MENDON (8-4-1) 2
Pierce VanBenthuysen and Dom Tabechian collected a goal apiece as Mendon won for the fourth time in five games. Enron Demiri and HaMin Lee both had an assist. The shutout was the fifth this season for the Vikings.
CHURCHVILLE-CHILI (8-5-0) 1
PITTSFORD SUTHERLAND (11-0-1) 4
Dylan Kladstrup scored two goals and added an assist for the Knights (No. 3 NYSSWA Class A) which have won four straight by a combined score of 12-3. Will Bowen and Aidan Pellegrino had a goal and an assist apiece in the win. Will Field contributed a helper.
AQUINAS (6-6-1) 1
GREECE ARCADIA (8-4-0) 2
Aidan Lewandowski connected on the game winner in overtime from 25 yards out, and Arcadia won its fourth straight. Cooper LaValley scored the other Titan goal with an assist from Elvir Odzakovic. Jon Gatti, set up by Adam Holt, scored for Aquinas in the opening half.
DANSVILLE (2-9-1) 2
BATAVIA (4-6-0) 3
Garrick Havens netted a hat trick including the game winner in the 72nd minute, and Batavia won for the second time in three games. Havens connected on all three tallies in the second half to help the Blue Devils overcome a 1-nil deficit after 40 minutes of play. Andres Mateos assisted on the deciding goal. Jacob Avery gave Dansville the early lead with an assist from Tyler Harris. Harris then scored in the second half. Caleb Pruden had an assist.
SCHOOL #58/WORLD OF INQUIRY (7-5-2) 5
SOTA/NW/NE (0-10-0) 0
Liban Abdi finished with a goal and an assist while Ehlermoo Tong collected a pair of helpers to lead World of Inquiry. Asad Abdi, Joe Mohamed, Pah Di Du and Nay That each had a goal apiece for the Griffins. Mike Dima added a helper.
WILSON MAGNET (3-6-1) 7
MIDLAKES/RED JACKET (4-8-0) 1
Ali Osman collected four goals and two assists as Wilson won for the third time in four games. Jelani Phillips and Saroj Rai started the scoring for the Wildcats. Yaqoob Albutamori added a goal. Napolian Myat and Desire Churiza had two assists apiece. Dandre Service added a helper. Wilson scored all seven of its goals in the first half.
WAYLAND-COHOCTON (4-8-0) 1
KESHEQUA (13-0-0) 2
Jordon Luther landed a shot two minutes into overtime play to help Keshequa (No. 6 NYSSWA Class C)maintain its perfect season. With the game knotted at one, Reese Powers set up Luther for the game-winning goal in the 82nd minute. Powers assisted Aidan Wood in Keshequa's first goal in the 69th minute. The Indians finished with 16 shots and 12 saves on the night.
MOUNT MORRIS (4-9-0) 2
GENESEO (10-3-0) 3
Danny Kelly scored twice and assisted on Michael Walton's tally to lead Geneseo to its third straight win. Walton assisted on Kelly's second marker while James Thomas had the helper on the first. Brandon Flint and Luis Saez had a goal apiece for Mount Morris. Ben Bacon and Joey Pagano both picked up an assist. Geneseo led 3-1 after 40 minutes of play.
BELFAST (8-4-1) 1
GENESEE VALLEY (4-9-0) 5
Trevor Clark led Genesee Valley two goals and one assist. The senior started Genesee Valley's scoring with a goal assisted by Morgan Torrey in the first half. Genesee Valley's Riley Gordan and Cody Schneider each knocked in one to hold a 3-1 lead at the half. Clark, assisted by Trent Scott, and Ryley McKnight, unassisted, finished off the scoring in the second half. Of their 12 shots, five hit the net. Scoring for Belfast in the first half was Matt Weaver, assisted by Christian Lopez.
BOLIVAR-RICHBURG (3-10-1) 0
FILLMORE (12-1-0) 8
Mitchell Ward and Levi Webb collected two goals and an assist apiece to lead Fillmore (No. 8 NYSSWA Class D). Ethan Peet, Tobias Webb, Carter Sisson and Isaiah Voss added a tally apiece. Tobias Webb and Trevor Clark contributed two assists apiece while Sisson and Peet both had a helper.
PERRY (6-6-0) 0
BYRON-BERGEN/ELBA (11-1-2) 2
Kyle Foeller had a goal and an assist as Byron-Bergen/Elba (No. 17 NYSSWA Class C) won its sixth straight and stayed undefeated over the last 10 games. Rick Hubbard added a tally. Gianni Ferrara assisted on Foeller's marker.
HOUGHTON (9-3-0) 1
ARKPORT/CANASERAGA (5-7-0) 4
Mike Hoyt scored twice and added an assist while Josh Abraham contributed two assists as Arkport/Canaseraga won for the second time in three games. Konnor Stuckey started the scoring. Ryan Reynolds chipped in with a second-half tally. Joe Bauch had a helper.
ANDOVER (5-7-1) 0
WELLSVILLE (4-6-2) 3
Cody Costello had a goal and an assist. Alex Orodiway added an unassisted tally. Mattew Carlton also scored.
SCIO (11-1-0) 0
BRADFORD (8-4-0) 3
Blai Crespo led Bradford's offense with two unassisted goals and one assist, as Bradford handed Scio (No. 2 NYSSWA Class D) its first loss. Crespo scored unassisted in the first half. In the second, Elijah Pierce tacked on a second goal, assisted by Crespo, and Crespo scored unassisted once again to grab a 3-0 lead.