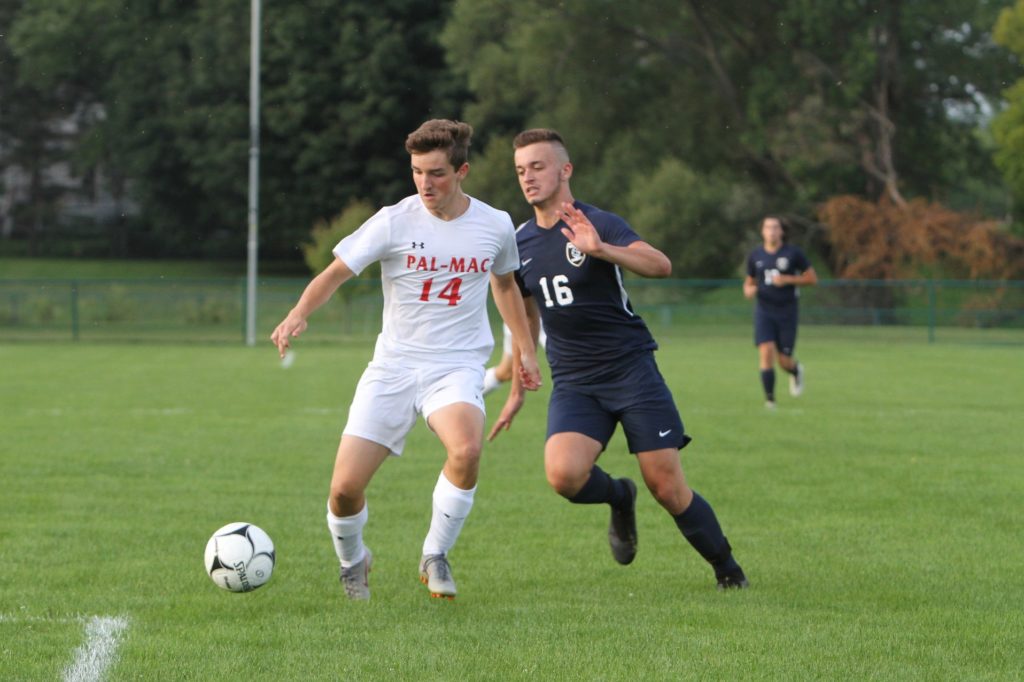 EAST ROCHESTER (9-0-0) 7
NAPLES (5-4-0) 1
Russell Domm and Chuck Domm combined for nine total points to lead East Rochester (No. 1 NYSSWA Class C) to its ninth consecutive win. Russell opened and closed scoring in the ninth and 73rd minute. Chuck scored his 18th goal of the year and the duo split six assists throughout the match. Ian Szemcsak scored twice while Nathan Jantz and Michael Bupp each tallied once. Aiden Peterson scored Naples' only goal on an assist from Wyatt Woodard.
NORTHSTAR CHRISTIAN (7-1-1) 6
VERTUS (0-8-0) 0
After suffering its first loss of the year in its previous match, Northstar Christian (No. 7 NYSSWA Class D) used six different goal scorers to get back into the win column. Daniel Miller and Philipp Gehrig were the only two to find the back of the net in the first half. Trevor Nasso, Elijah Sluk, Joshua Caporaletti and Josiah Bradley all added a tally of their own to build the lead. Nasso collected two assists while Pham Phung and Miller both added one.
LIMA CHRISTIAN (3-4-0) 2
ROCHESTER ACADEMY CHARTER (1-9-0) 1
Senior Jon Gretzinger had his second straight two-goal performance to give Lima Christian its second win over RAC this season. Gretzinger scored in the first half on a penalty kick. His second tally came in overtime.
LIVONIA (5-2-2) 3
DANSVILLE (2-6-1) 1
Freshman Dylan LeMonte scored his first of the season, 20 minutes into the match for Dansville's only goal of the game.
CHURCHVILLE-CHILI (6-4-0) 0
SPENCERPORT (8-1-0) 2
Gianni Pellett and Max LaRosa both scored with under seven minutes remaining in regulation, and Spencerport (No. 18 NYSSWA Class A) improved its league record to 7-0-0. Greg Ranieri and Jacob Lenhard collected an assist apiece.
BATH-HAVERLING (9-0-0) 1
HORNELL (5-3-1) 0
With its perfect record on the line, Lorenzo Serafini scored with less than a minute left in regulation to break the 0-0 tie and give Bath-Haverling (No. 2 NYSSWA Class B) the win. DJ Smith assisted on the game winner and Jordan Deats made five saves in the contest.
BYRON-BERGEN/ELBA (6-1-2) 2
HOLLEY (5-3-1) 1
Sam Pringle scored his ninth and 10th goals of the year to lead Byron-Bergen/Elba to its fourth win in five games. Kyle Foeller found Pringle three minutes into the second half for the eventual game winning tally.
JASPER-TROUPSBURG (4-5-1) 1
CANISTEO-GREENWOOD (6-4-0) 3
Adding a goal of his own, Jose Alvarez connected with Dawson Jackson twice to lead Canisteo-Greenwood to victory. The first of Jackson's goals came on a corner kick delivered by Alvarez, six minutes into the match. Unassisted, Alvarez added Canisteo-Greenwood's second goal early in the second half and later found Jackson for the third.
WAYLAND-COHOCTON (4-5-0) 0
LETCHWORTH/WARSAW (7-2-0) 4
Adam Grover accounted for half of his team's goals to lead Letchworth/Warsaw to its fourth consecutive win. Eric Woodworth and Dominick Walton assisted on Grover's 11th and 12th of the year for the 2-0 lead. Santosh Monger and Nik Eustace doubled the lead in the second half to put the game out of reach. Kane Tisdale and John Mertsock both collected an assist.
MYNDERSE (6-1-1) 1
NEWARK (4-6-0) 0
After 80 minutes of scoreless action, Griffin Herron found the back of the net 54 seconds into overtime to secure the road victory for Mynderse (No. 12 NYSSWA Class B). Herron's sixth of the year came from Jake Smith's eighth assist on the season.
BRADFORD (7-2-0) 2
CAMPBELL-SAVONA (2-9-0) 1
Two first half goals from Bradford's top two scorers was enough to hold off Campbell-Savona for its third victory in four games. Blai Crespo was the first to tally and Michael English followed his ninth of the year on an assist from Crespo. Max Bailey earned the assist on Crespo's goal.
RED CREEK (2-8-0) 0
WILLIAMSON (5-4-0) 5
After getting shutout at home the game before, Williamson rebounded with five goals and posted a clean sheet against Red Creek for the second time this season. Connor Garrod accounted for the first two tallies on assists from Evan Wendler and Luis Hurtado. Ayden Cristales found Noland Alvarado to make it 3-0 heading into halftime. Sweeper Ryan Fernaays scored his first of the year on a penalty kick to make it 4-0. Hurtado capped off the five-goal night on Cristales' second assist.
PAVILION/YORK (2-7-0) 0
PERRY (4-4-0) 6
Entering the game with zero goals, Garrett McClurg exploded for a hat trick to lead Perry to its fourth straight victory. Carson DeVinney added two goals and two assists while Tyler Uvieno added one apiece. Efrain Altamirano also assisted in the match.
MOUNT MORRIS (2-6-0) 2
CALEDONIA-MUMFORD (3-4-0) 4
With all its offense coming in the first half, Caledonia-Mumford held on for its second win in three games. Sebastian Kresge led the Red Raiders with two goals, one unassisted and the other supported by Noah Carnes. Carnes and Evan Raniwicz accounted for the other two tallies in the half. Julian Martin and Luis Saez scored the two goals for Mount Morris with assists coming from Joey Pagano and Brandon Flint.
AVON (4-4-0) 0
GENESEO (7-2-0) 5
After losing to Keshequa the game before, Geneseo used four different goal scorers in the second half to build an uncontested lead and get back into the win column. Ethan Bennett scored twice, his first coming nine minutes into the game. Brian Ehmann collected a goal and two assists and James Thomas added one apiece. Nick Jopson capped off the scoring with five minutes left in regulation. Danny Kelly and Matthew Stout each added a helper.
PENN YAN (4-6-0) 0
GENEVA (7-2-0) 3
Benefiting from three different goal scoreres, Mitch Burrall made six saves to propel Geneva to its third straight shutout win. Mason Rusinko opened scoring 11 minutes into the match with his 15th of the year coming off a pass from Jordan Myer. In the second half, Zach Martinez and Nate Rusinko each added a tally on assists from Rye Weber and Noel Diaz, respectively.
PEMBROKE (1-6-1) 0
KENDALL (4-2-2) 3
Sophomore Michael McCue scored twice and Mason Kuhn made eight saves to give Kendall its second shutout victory of the year. Jacob Esposito made it 2-0 in the first half after assisting on McCue's first of the year. Tory Raufeisen collected two helpers in the match.
HAMMONDSPORT (1-9-0) 0
ALFRED-ALMOND (4-6-0) 5
Jack Emo scored once and added three assists to snap Alfred-Almond's losing streak at five. Five minutes into the game, Colton Cook scored on a feed from Carsen Hann. Emo doubled the lead and Ayden Burdick made it 3-0 going into halftime. Will Torney capitalized twice in the second half off touches from Emo. Dylan Coots picked up an assist in the game as well.
WAYNE (7-2-0) 2
PALMYRA-MACEDON (7-2-0) 3 OT
Riley Cook scored with an assist from Bennett Medyn four minutes into overtime, and Pal-Mac downed Wayne (No. 20 NYSSWA Class A) for the second time this season. Aidan Quinn and Evan Hurlbut also scored unassisted goals in Pal-Mac's sixth straight win. 

C.G. FINNEY (4-2-2) 0
HAC (4-2-2) 0