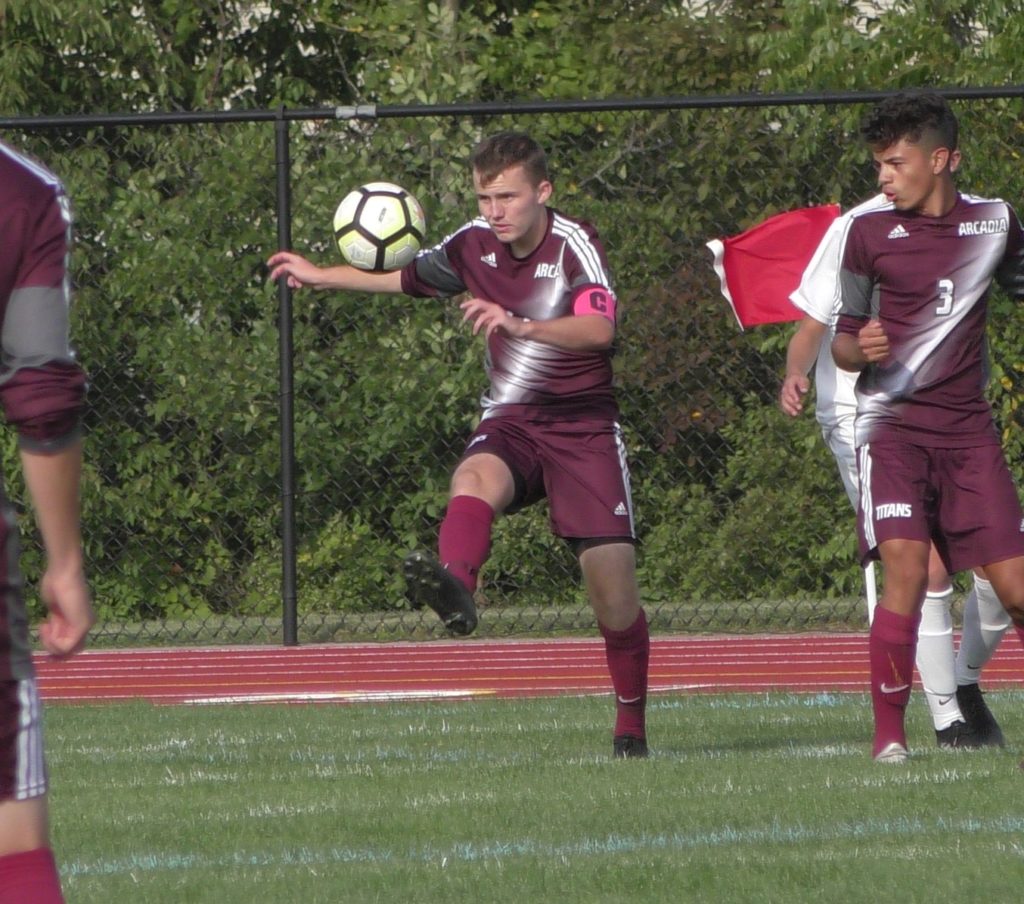 HINSDALE (1-6-0) 1
FRIENDSHIP (2-6-0) 0
Allen Kenjockety found the back of the net in the first overtime period to give Hinsdale its first win of the season. It was Kenjockety's first goal of the season.
FILLMORE (8-1-0) 3
CUBA-RUSHFORD (3-7-0) 0
Ethan Peet recorded a goal and an assist as Fillmore won its third straight game. Peet scored his team's first goal of the game with some help from Mitchell Ward. He then assisted on Fillmore's next goal, which was scored by Levi Webb. To cap off the scoring, Tobias Webb scored off a feed from Mason Cool. Tobias Webb's goal was his 11th of the season, while Peet picked up his 11th assist during the game.
ANDOVER (4-4-1) 0
BELFAST (6-2-1) 2
Matt Weaver took part in both of Belfast's goals to propel his team to victory. Both of Belfast's tallies happened in the first half. Weaver scored his ninth goal of the season to open the scoring. Melvin Hamer assisted on Weaver's goal. Weaver then picked up an assist on Belfast's insurance goal, which was scored by Stiven Lopez. Belfast attempted 13 shots and 14 corner kicks in the contest.
GREECE ODYSSEY (1-8-0) 0
EASTRIDGE (4-3-0) 5
Five different players scored for Eastridge as it halted a two-game skid. Jalen Russell was the only player to score in the first half for the victory, and he did so in the 27th minute. Taje Cassevoy tallied the assist. Henry Keenan assisted Alaadin Ali in the 43rd minute, then Ali assisted Stirling Delves in the 48th. Alex Wood netted Eastridge's fourth goal off of a feed from Dylan Hanley. Dawson Bellows provided the final goal in the 73rd minute.
BROCKPORT (2-5-1) 1
GREECE ATHENA  (5-2-1)3
Dylan Rice scored his third and fourth goals of the season to propel Greece Athena to its first victory in the past four contests. Rice scored both of his goals in the second half. His first came 11 minutes after halftime with the help of Victor Alongi. Rice's second goal came as an insurance goal in the 75th minute, which was assisted by Eshak Baeta. Ryan Fitzgerald opened the scoring for Greece Athena with an unassisted goal in the 23rd minute.
HILTON (3-5-0) 1
RUSH-HENRIETTA (1-4-3) 2
Cory Meintel scored the game-winner to give Rush Henrietta its first victory of the 2019 campaign. Meintel's goal came in the 78th minute, just two minutes before the end of regulation. Colin Ambrose opened the scoring for Rush Henrietta in the 55th minute. Hunter Kassel provided the assist on Ambrose's goal.
GREECE ARCADIA (4-3-0) 1
BRIGHTON (4-5-1) 0
Cooper LaValley scored the game winner with an assist from Camden Englert. Arcadia swept the season series with its Monroe County Division III rival. The marker was LaValley's ninth of the season.
BATAVIA (2-5-0) 1
HONEOYE FALLS-LIMA (5-3-1) 3
Cole Chiapperino found Will Eby for each of Honeoye Falls-Lima's first two goals to snap a two-game skid. Eby's goals were his second and third of the season. Both of the Chiapperino to Eby goals happened in the first half. Already with a lead, a goal by Gunnar Wetzel provided enough insurance for Honeoye Falls Lima to secure the victory.
PENFIELD (3-2-2) 1
FAIRPORT (6-2-2) 1 OT
Sophomore Shane McMillan gave Penfield the lead less than seven minutes into the match. Fairport sophomore Garrett Kucera leveled the score with 16.9 seconds remaining in the first half.READ MORE. 
PITTSFORD MENDON (4-3-1) 2
PITTSFORD SUTHERLAND (7-0-1) 2

CANANDAIGUA (4-6-0) 0
GATES-CHILI (2-6-0) 1

MIDLAKES/RED JACKET (4-4-0) 7
ROCHESTER ACADEMY CHARTER (1-8-0) 0

ADDISON (9-0-0) 2
NORTH PENN-LIBERTY 1
Colby Jones' fourth goal of the year was an overtime goal that kept Addison perfect on the season. Brayden Bills assisted on Jones' game-winner and also netted his team's first goal of the game. He scored just under 27 minutes into the game off of a feed from Blake Driskell. Addison rifled 30 shots at the opposing net and attempted 13 corner kicks.
SCIO (9-0-0) 3
WELLSVILLE (2-3-2) 0
Scio got goals from three different players on its way to yet another victory. Bahrul Ulum opened the scoring for Scio in just the fourth minute of the game. Luraritz Kruze assisted Ulum's goal. Patryk Pietruszka netted an unassisted goal just before halftime. Kruze then scored off of a feed from Cam Loucks in the first minute of the second half. Kruze's goal was his 12th of the year, while the assist was his eighth.
EAST (4-4-0) 6
SOTA/NW/NE (0-6-0) 3
Yohana Mpenzi took part in all six goals for East in its second straight victory. Mpenzi scored his team's first, third, fifth and sixth goals of the contest, while assisting on the second and fourth. He raised his season totals to eight goals and three helpers. Ben Ali Mfaume assisted on three of Mpenzi's six goals, giving Mfaume six assists of the campaign. Jonathan Ceysaire accounted for East's final assist of the game. Ceysaire and Adhikari Bishal scored the other goals that Mpenzi set up.
SCHOOL #58/WORLD OF INQUIRY (6-3-1) 2
WILSON MAGNET (2-5-1) 3
Evan Walls and Mohamed Mohamed each scored for Wilson Magnet. Ali Osman assisted on Walls' goal, while Eh Glay Doo Wah earned the assist on Mohamed's tally.
GENESEE VALLEY
BOLIVAR-RICHBURG