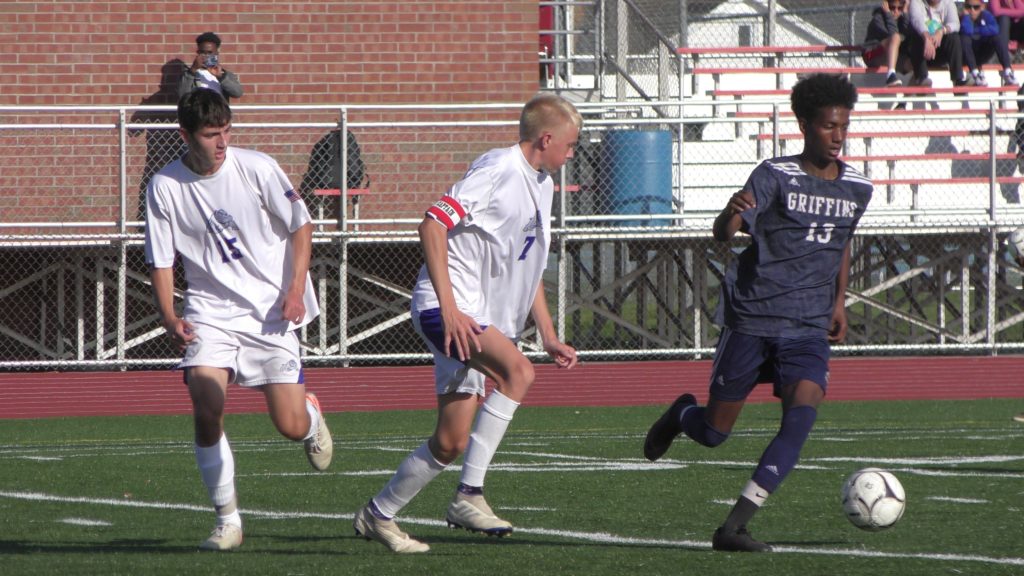 PITTSFORD SUTHERLAND 8
GREECE OLYMPIA 0
Six different goal scorers contributed to Pittsford Sutherland's seventh consecutive win to open the season. Tyler Merrick opened the flood gates on an assist from Will Field. Dylan Kladstrup assisted on John Holland's and Aidan Pellegrino's tallies before closing the half with one of his own. In the second half, Nate Wondrack scored two unassisted while Jonathan Carney and Holland added one apiece. Will Bowen, Rohan Caplash and Quinn DiCesare each acquired an assist.
PITTSFORD MENDON 9
GREECE ODYSSEY 0
Coming into the game with only five goals on the year, Pittsford Mendon exploded for nine tallies to even its record at 3-3-0. Nurican Sarbudak, Pierce VanBenthuysen and Whitman Conners each finished with two goals while Rory McIntosh, Arjun Bains and Jeremiah Anandarajah all piled onto the lead with their firsts of the year. Kevin Sheller and Van Benthuysen both picked up two assists. Hajun Lee and McIntosh each finished with an assist.
HILTON 1
WEBSTER THOMAS 4
Two nights after suffering their first setback of the season, the Webster Thomas Titans used a renewed focus for a resounding victory. A team meal also helped.  Zach Wolfe tallied twice and assisted on another to lead a resounding 4-1 victory over Hilton, Thursday night. READ MORE.
VICTOR 1
CHURCHVILLE-CHILI 2
Mario Cozzo broke the 1-1 tie in the final minute of regulation to give Churchville-Chili its fourth consecutive victory. Jacob Anthony scored seven minutes into the match on a pass from Alex Blondale. 72 minutes later, Luis King earned the assist on the game winner.
BRIGHTON 2
HONEOYE FALLS-LIMA 0
Lyosha Georas and Theo Viggiani-Cole each scored their firsts of the season to lead Brighton (4-4-0) to its third straight victory. Roman Storozynsky and Kamer Lenio picked up assists on the first half tallies. Cal Oberst made three saves for third shutout of the season.
WEBSTER SCHROEDER 1
IRONDEQUOIT 3
Three different players scored their first goals of the year to lead Irondequoit to its second consecutive victory. Luke Melidona produced the only goal in the first half on an assist from Ryan Davis. Cole Senecal managed to double the score on a feed from Joe Giuffrida. With eight minutes left in regulation, Eli Boothby scored on an assist from Alex Brown to cut Irondequoit's lead in half. A minute later, Michael Preston foiled any chance of a comeback on another assist from Giuffrida.
BATAVIA 8
VERTUS 1
Joe Gefell's first half hat trick aided Batavia to its second win of the year. Garrick Havens scored the first for Batavia on an early penalty kick and picked up an assist. Andres Mateos scored twice and earned a helper while Carter Havens tallied once and added two assists.
RUSH-HENRIETTA 1
CANANDAIGUA 3
FAIRPORT 4
GATES-CHILI 0
GREECE ARCADIA 3
EASTRIDGE 0
Aidan Lewandowski collected a goal and two assists as Arcadia improved to 3-3-0 on the season. Cooper LaValley and Adam Hurlbutt added a goal apiece. Gabe Taylor and Taber Monks combined for the Titans second shutout of the season.
WAYNE 6
PENN YAN 0
After Dylan Cook grabbed the lead two minutes before halftime, Wayne erupted for five second-half goals to erase Penn Yan's chance at a comeback. Brandon LaDue made it a two-goal-deficit and Matt Gentile produced two consecutive tallies to double the score. Devin LaDue added another in succession with Gentile and Ryan Wilson sealed the win with his third of the year. Cullen Bock, Adam Lasher, Justin Jantzi, Kaleb Glessing and Tyler Reynolds each earned an assist in the match.
LIVONIA 3
WORLD OF INQUIRY SCHOOL #58 3
With 25 minutes remaining in regulation of Thursday's non-league match, the Livonia Bulldogs looked in command with a 2-0 lead over World of Inquiry (WOI). Forty-five minutes later, the pair of perennial contenders exited with a draw. READ MORE.
ROCHESTER ACADEMY CHARTER 1
LIMA CHRISTIAN 4
Zeke Sonoga's second half hat trick led Lima Christian to its first win of the year. Jon Gretzinger assisted on two of Sonoga's goals. Joe Churnetski later found Evan Herring to cap off scoring for Lima Christian.
MIDLAKES/RED JACKET 0
NAPLES 5
Three players generated all of Naples' offense to improve to 4-3-0 on the year. Ryan Lester opened scoring in the eighth minute on a feed from Austin Chapman. Aiden Peterson increased the score to 3-0 with two consecutive tallies and completed his hat trick after assisting on Chapman's first of the year, three minutes before. Lester also picked up a helper in the match.
FRIENDSHIP 1
BOLIVAR-RICHBURG 0
Senior goalkeeper Evan Bogart scored his first of the season for Friendship's only goal in the 1-nil victory, snapping its three-game-losing-skid.
GENEVA 1
NEWARK 2
Ramon Prata and Brian Estrada connected twice in opposite roles during the second half to hand Geneva its second loss. Prata scored 10 minutes after halftime and Estrada tallied three minutes later. Newark is now 4-4-0 on the season.
SOUTH SENECA-ROMULUS 0
MARCUS WHITMAN 1
Caleb McDonough's first goal of the year was the game-decider as Marcus Whitman took down South Seneca-Romulus for the second time this season. Carson Soles earned the assist on the lone goal.
HOUGHTON 1
BELFAST 2
Matt Weaver scored his eighth of the season on a feed from Andrew Blocho to break the 1-1 tie and run Belfast's overall league record to 5-2-1 (5-2-0 Allegany County). Caleb Caiazza netted his first of the year unassisted in the first half. Ayo Banwo tallied his seventh of the year for Houghton's only goal of the game.
FILLMORE 0
SCIO 4
Both sides entered the match undefeated, but Scio remained victorious in a league battle for the top seed in Allegany County. Elia Travaini and Cam Loucks both found the back of the net to give Scio a 2-0 lead heading into halftime. Senior defenseman Carl Finnemore scored his first of the season on a pass from Lararitz Kruze and Travaini added his ninth of the year to make it a 4-nil. Cory Bolzan made 12 saves for his third shutout of the year.
SODUS 1
MYNDERSE 2
In the dying minutes of regulation and double overtime, Griffin Herron scored two clutch goals to stun Sodus and improve Mynderse's record to 5-0-1. Matthew Reardon found Herron in the 74th minute to tie the game at one. Smith assisted on the final goal with :45 seconds remaining in extra time.
ANDOVER 3
WHITESVILLE 1
After suffering a 4-nil loss to Houghton two days prior, Andover rebounded for its first win in three games. Unassisted, Gabe Grossman scored the only goal of the first half to give Andover the early lead. In the second, Chris Walker and Tommy Thorp scored a minute apart on feeds from Spencer Cook. Jessie Pensyl scored the lone goal for Whitesville on a penalty kick.
CUBA-RUSHFORD 3
GENESEE VALLEY 2
BLOOMFIELD 1
HONEYOYE 0