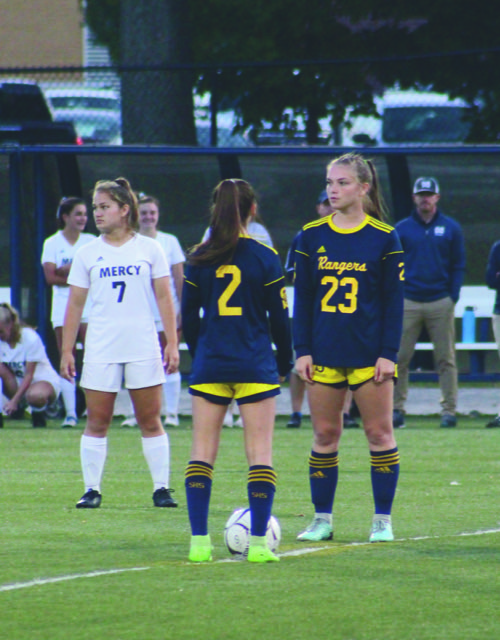 By PANOS ARGITIS
SPENCER PORT, N.Y. — In the game that served as the rematch of last year's girls' Section V Class A final, Spencerport and Our Lady of Mercy's rivalry provided entertainment that left little to desire. The two sides battled evenly throughout the contest, which went into overtime followed by a penalty shootout where Spencerport edged Mercy by three penalties to none. 
Spencerport's senior goalie Catherine Wall was the difference maker in the victory, registering over 10 saves throughout the duration of the match along with shutting out all of Mercy's penalty attempts in the deciding shootout. 
Despite her individual display, Wall felt it was her team who deserved the applause. 
"Tonight was our moment, not mine" Wall said. "We go out there as one and winning it at the end is what matters." 
During the first half of action, both sides shared possession of the ball and created chances equally. Following 15 minutes of play, Spencerport's forward Lily Brongo broke the deadlock with a looping strike to put her team on the board.
Mercy continued to pile on pressure after the halftime break and did not stop over the course of the second period, as the team peppered the opposition's net with eight shots on target. When Mercy's hopes for a comeback looked to fade away as the regulation clock ticked to a close, its offense combined to find an equalizer with less than two minutes of play and forced overtime. 
While Mercy's goal switched Spencerport's momentum for the overtime stage, the winning side's defense held on to extend its run of form and continue its stride toward a fourth Class A title. 
The close victory over rival Mercy will prove as a stepping stone for the upcoming fixtures and the challenges they will bring. 
"It's another experience that we will carry on our backs for this long season journey," Spencerport coach Jamie Schneider said. "We can't take anything for granted, we will keep moving." 
Spencerport advanced to Saturady's tournament final. Mercy will play in the consolation match.