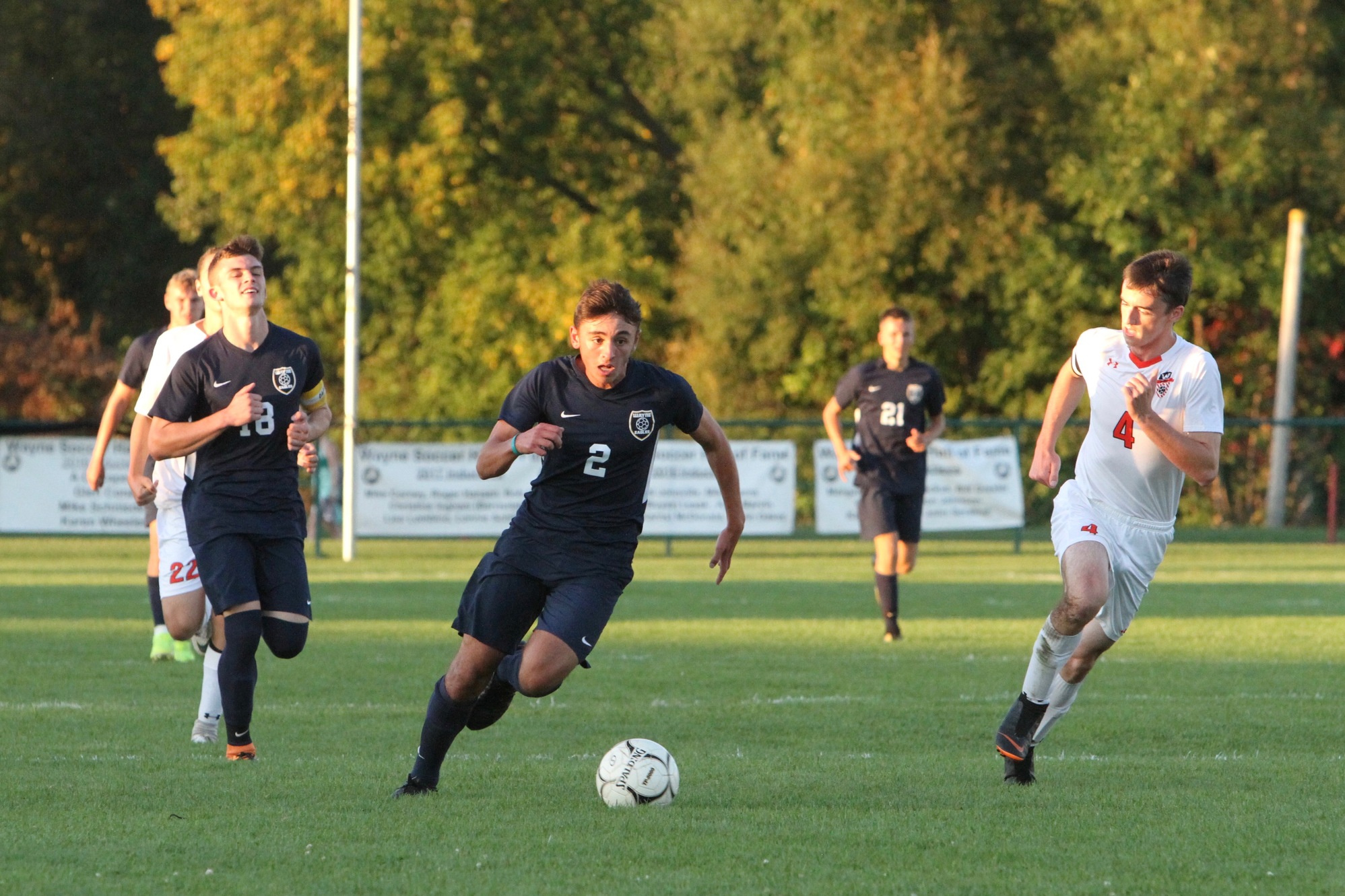 PITTSFORD MENDON 2
GREECE ARCADIA 1
Whitman Conners scored both Pittsford Mendon goals in a span of four minutes to secure the Vikings' second victory of the year. Ty Wilkes assisted on Conners's first goal in the 60th minute and Rory McIntosh accounted for the second.
WEBSTER SCHROEDER 1
RUSH-HENRIETTA 0
Joey Tripi found Nick Bartosiewicz on a corner kick to take the 1-0 lead with 15 minutes remaining in regulation as Webster Schroeder held on for its first win of the season. Both sides entered the match in search of their first victory.
GREECE OLYMPIA 7
GREECE ODYSSEY 1
Only needing the first half, Jacob Landro earned his second hat trick of the year to lead Greece Olympia to its second win in three games. In the first minute Christoph Kurzbauer scored unassisted for his first of the year. Nick Grimes scored and assisted on Landro's second to make it 4-0. William Buttino added to the outburst with an unassisted tally before halftime. Later, Grimes and Landro switched roles and connected again in the final half.
VICTOR 3
PENFIELD 0
Unbeaten in four games, Penfield debuted at No. 11 in the NYSSWA Class AA poll earlier this week.With wins over perennial contender Fairport (2-1) and reigning Section V Class AA champ Hilton (2-0), the Patriots opened the season 3-0-1 in league play. Meanwhile Victor suffered setbacks to Fairport (0-1), and Hilton (1-3) while starting 3-2-1 and 1-2-1 in the division. Tuesday night, though, the Blue Devils reigned. READ MORE.
EASTRIDGE 3
BATAVIA 0
Alex Wood scored twice and picked up a helper to lead Eastridge to its third shutout win of the season. Justin Hiscock made it 1-0, 23 minutes into the match. Woods's first two tallies of the season both came unassisted.
IRONDEQUOIT 4
CANANDAIGUA 1
Irondequoit scored three times in six minutes to build a lead it did not surrender, earning its second win of the season. Ryan Davis connected with Josiah Claudio to open scoring 11 minutes into the match. As part of a three-point-night, Emir Erkenkalken assisted on David Mendez's tally before notching one of his own on a penalty kick two minutes later. Erkenkalken capped off Irondequoit's night with his second on an assist from Hawk Lindner.
SPENCERPORT 2
WEBSTER THOMAS 1
Spencerport's two second-half tallies were enough for its fifth consecutive victory, all against league opponents. Jacob Lenhard got the Rangers on the board directly after halftime on Greg Ranieri's fourth assist of the year. With 20 minutes remaining, Gianni Pellett scored the eventual game-winner on a feed from Frants Valodzka.
CHURCHVILLE-CHILI 2
GATES-CHILI 0
Mario Cozzo scored and added an assist in Churchville-Chili's third consecutive shutout win. In the second half, Joe Skuza put the Saints on the board with his first of the year.
BROCKPORT 3
BRIGHTON 0
PITTSFORD SUTHERLAND 3
GREECE ATHENA 2
FAIRPORT 1
HILTON 0
WAYNE 10
WATERLOO 0
Matt Gentile scored four times in 17 minutes and produced half of Wayne's 10 goals to improve its record to 4-1-0. Devin LaDue, Brandon LaDue, Nathan McKenna, Ryan Wilson and Dylan Cook each scored in the first half. Carmen Piccirilli and Alex Cook finished with two assists apiece while Justin Jantzi, Devin LaDue, Tyler Reynolds, Dylan Cook and Gentile each had one.
BELFAST 5
FRIENDSHIP 0
Following a double overtime loss to Fillmore, Belfast retaliated with a 5-nil road victory for its fourth win of the year. After assisting on Andrew Blocho's goal 33 seconds in, Matt Weaver pushed the lead to 2-0 in the 15th minute. Stiven Lopez, Canaan Sullivan and Weaver each found the back of the net in the second. Caleb Caiazza, Nick Ellision and Justin Hill assisted on the tallies.
HOUGHTON 4
ANDOVER 0
Ayo Banwo scored twice and picked up his 10th assist of the year as Houghton used four second-half goals to win its third straight. Unassisted, Dikko Dikko made it 3-0 and Duy Le added the fourth tally with ten minutes in regulation.
SCIO 8
CUBA-RUSHFORD 1
Scio's top three goal scorers accounted for seven tallies to help Scio win its seventh in as many games. In his fourth multi-goal game this season Luraritz Kruze scored a hat trick and accounted for an assist. Bahrul Ulum scored twice while Elia Travaini scored and assisted twice. Jake D'Arcy notched his fourth of the year on an assist from Jaxson Warboys. Cam Loucks also had two helpers in the match. For Cuba-Rushford, Caden Granger scored the lone goal on an assist from Chandler Wirth.
GENEVA 4
BISHOP GRIMES 1
Jordan Myer and Mason Rusinko each scored twice to lead Geneva to its third straight victory. Luke Lawson fed Myer and Rusinko on the first two tallies and Ryan Fishback found Myer again with four minutes remaining in the first half. Kaya Parara added a helper to Rusinko's late goal as well.
HAC 3
MARCUS WHITMAN 3
Rafael Ferguson and Zackary Lovejoy scored twice for their respective sides as HAC and Marcus Whitman tied after 100 minutes of action. Ryan Herod opened scoring for Marcus Whitman four minutes into the game but Ferguson tied it up a minute later. Before the end of the first, Lovejoy made it 3-1 by scoring his first, unassisted, and capitalizing on a setup from Caleb McDonough for his second. 29 minutes into the second half, Roman Novy-Marx found Max Cabezudo-Brown to drop the defecit to one. Ferguson managed to knot the game up at three with seven minutes remaining in regulation.
MYNDERSE 2
PENN YAN 0
After a scoreless first half, Mynderse kept its lossless record intact using two goals from Griffin Herron and Jared Hartwell. Jake Smith and Nick Jones earned assists on the tallies that came less than a minute apart.
NAPLES 1
HONEOYE 0
MIDLAKES/RED JACKET 5
SOUTH-SENECA ROMULUS 0
NORTHSTAR CHRISTIAN 5
LIMA CHRISTIAN 0
WELLSVILLE 3
GENESEE VALLEY 1