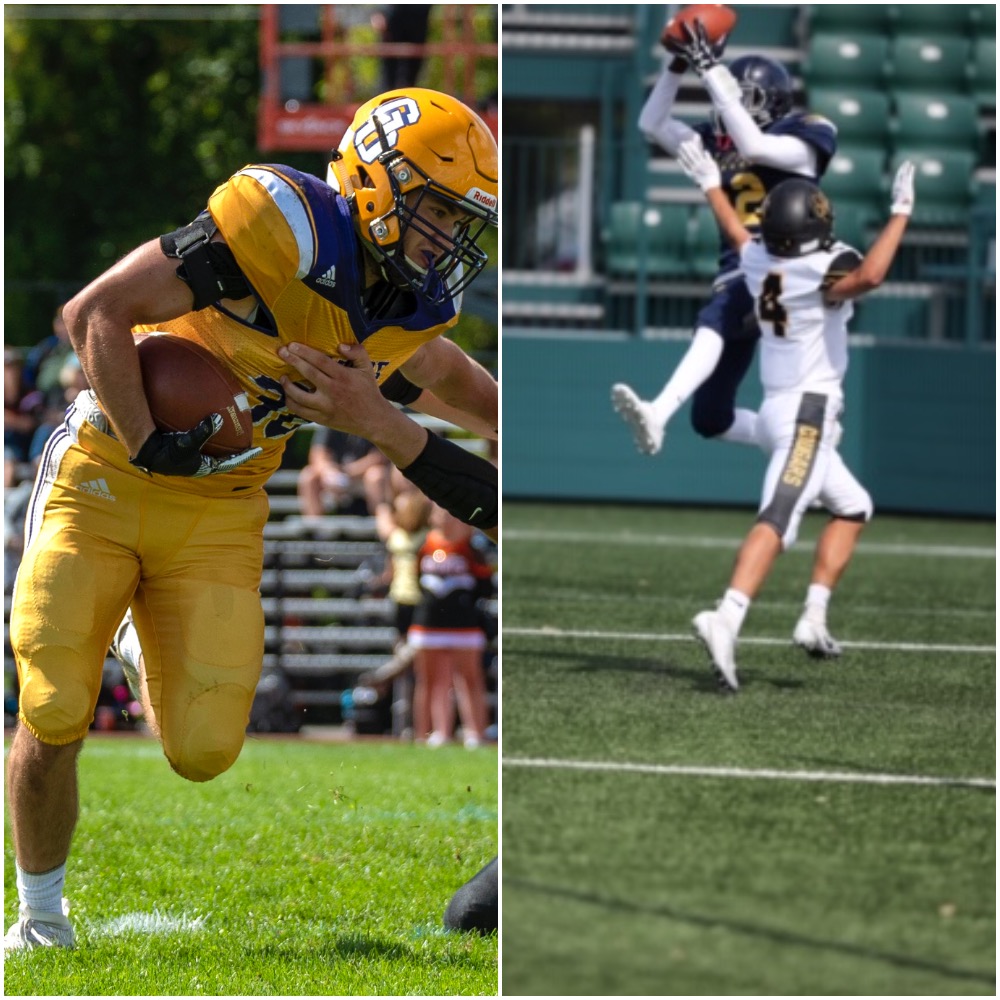 PITTSFORD 0
MCQUAID 28
For the second straight week, the McQuaid Knights' offense took time to get going, totaling 36 yards through two drives in the opening period. However, Bobby Bates's squad found their groove in the second quarter, exploding for 21 points. READ MORE.
CHURCHVILLE-CHILI 9
GREECE OLYMPIA/ODYSSEY 20
Xavier Hurell completed 16 of 19 passes for Greece Olympia/Odyssey and threw for 283 yards. He also threw two touchdowns. Scott Parr had nine receptions for 111 yards. Luke Strong and Kadeem Walker each had a touchdown reception for Olympia/Odyssey, and Corey Bright ran the ball 17 times for 73 yards and a touchdown. On defense for Olympia/Odyssey, Cory Bright, Mike Matteson and Makyle Murdock each had seven tackles.
RED JACKET 18
FALCONER 13
Red Jacket made a defensive stand in its own territory at the end of the game to secure the victory. Jake Anderson had 15 tackles for the Indians and Kyle Denmore had 11 tackles. Hunter Fitzpatrick had a sack, Blaze Hickson recovered a fumble and Ethan Lenny had a sack and fumble recovery. Red Jacket scored its first touchdown when Matt Record connected with Jarrett LeGault for a 40-yard passing touchdown. Record later threw a three-yard touchdown pass to Chase Rizzo. Logan Keifer ran the ball 19 times for the Indians, totaling 115 yards and a rushing touchdown.
RUSH-HENRIETTA 20
AQUINAS 38
Aquinas jumped out to a 24-0 lead at halftime and never looked back. William Benjamin Jr. had two rushing touchdowns and a receiving touchdown for Aquinas. Tyler Szalkowski scored an early rushing touchdown on a QB keeper and found Steven Mahar for a passing touchdown later on. Mahar also recovered a fumble on defense.
GREECE ARCADIA 41
GREECE ATHENA 2
FAIRPORT 38
MONROE 14
Klay Stuver collected three total touchdowns to lead Fairport. Stuver was 5/15 passing for 87 yards and a touchdown, and ran the ball 23 times for 64 yards and two touchdowns. Kaevon Rice also scored two rushing touchdowns for Fairport. He had 17 rushing yards on the day. Andrew Smith added two receptions for 40 yards and a touchdown. For James Monroe, Quinton Everett threw for 99 yards, two touchdowns and two interceptions. Kennyh Hardeman caught both touchdowns, and had four total receptions for 74 yards.
HONEOYE FALLS-LIMA 34
UNIVERSITY PREP 44
After leading 24-7 at halftime, University Prep avoided a Honeoye Falls-Lima come back and held on to win.
WILSON 24
BISHOP KEARNEY/ROCHESTER PREP 8
Jahkier Moore scored each of Wilson's first two touchdowns, the first coming on a 65-yard rush and the second on a 21-yard rush. Moore totaled 89 rushing yards on eight carries. Dante McGowan had 12 tackles, an interception and a forced fumble for Wilson, and Myles Lofton added 10 tackles and an interception return for a touchdown. BK/RP's touchdown came on a 12-yard pass from Azavier Ross to Javier Flowers.