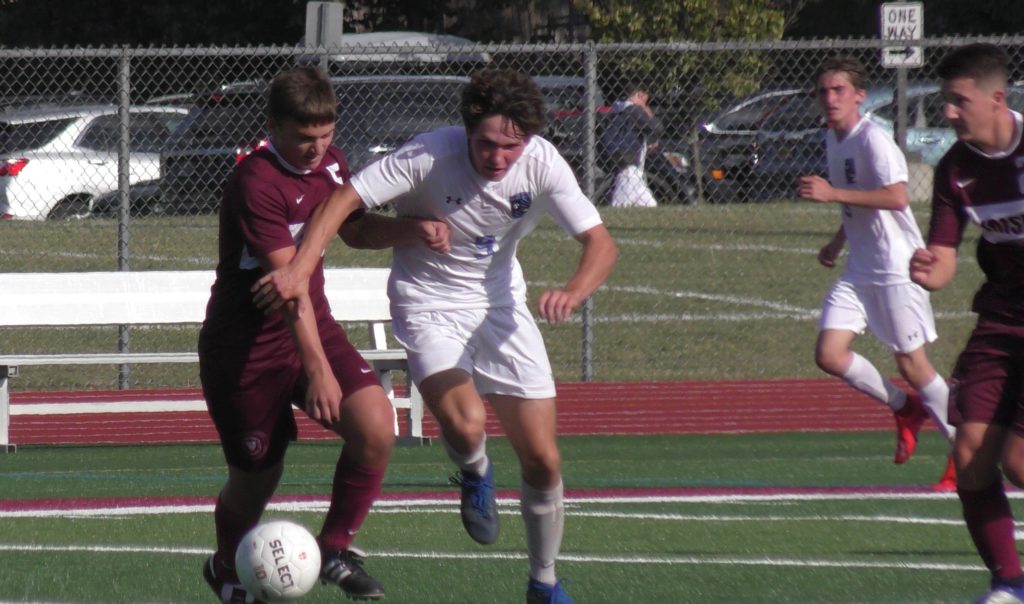 BLOOMFIELD 7
MIDLAKES/RED JACKET 1
Ryan Wollschleger registered a hat trick and an assist as Bloomfield picked up its third win by a margin of six goals or more. Adam Sheehan scored the first of seven a minute and thirty seconds in. Wollschleger and Sergio Dunn split the next four tallies to give Bloomfield a sizeable lead going into half. In the second, Simon Wille scored on a penalty kick and Calean Burroughs assisted on Wollschleger's final goal of the night. Sheehan finished with two assists as well, one being a cross headed in by Wollschleger.
BISHOP KEARNEY 2
WORLD OF INQUIRY SCHOOL #58 0
A goal in the first and second halves combined with seven saves from Katrell McFarland gave Bishop Kearney its second victory of the year. Evan Stevely connected with Fernando Furioso for the first tally. Stevely later scored the second goal on a pass from Casey O'Gara.
NORTHSTAR CHRISTIAN 3
C.G. FINNEY 0
Josiah Bradley scored twice in the victory as Northstar Christian picked up its fifth consecutive win to open the season. Leading 1-0 entering the final half, Joshua Caporaletti doubled the score before Bradley registered his second of the night. Jerry Miller added two helpers and Joe Hinds finished with one.
HOLLEY 2
BYRON-BERGEN/ELBA 0
JJ Strathem broke the scoreless tie in the 70th minute and Nathan Nothnagle capitalized two minutes later to increase Holley's record to 3-0-0. KJ Biedlingmaier and Brad Kingdollar each had an assist in the game. Broek Ostrom made 10 saves in the shutout victory.
KESHEQUA 3
PERRY 0
Keshequa captured its fourth win in as many games using three different goal scorers. Reese Powers earned his seventh and eighth assist on Avery Strobel and Riley Rease's two goals in the first half. Jacob Schiano capped off scoring with six minutes remaining in regulation on a feed from Aidan Wood.
MOUNT MORRIS 2
HONEOYE 1
Chase Young capped off the Mount Morris comeback in the 67th minute for the Mustangs' first win of the season. Devon Terry earned the assist on the game-deciding goal. 20 minutes earlier, Joey Pagano tied the match unassisted. Honeoye possessed the 1-0 lead since the 27th minute after Sam Berger found Jack Reynolds for his fifth of the season.
HAC 3
SOUTH-SENECA ROMULUS 0
Rafael Ferguson scored his first and second goals of the year to lead HAC over South Seneca-Romulus. Carlin Kennedy earned an assist on Ferguson's first tally. The third goal came from an own goal.
ATTICA 2
WHEATLAND-CHILI 2
In search for its first win, Attica finished its third straight 100-minute-match knotted up with its opponent. Simon Lamparelli scored early on an assist from Evan Dickhut. Connor Storch found the back of the net three minutes later on a pass from Matthew Parkhurst to give Attica the 2-0 lead.
BATH-HAVERLING 8
LETCHWORTH/WARSAW 2
Bath-Haverling exploded for five goals in the first 20 minutes and used the ample margin to improve its record to 4-0-0. Keefer Calkins netted the first goal to take the early lead. In a span of eight minutes, Thomas Binkowski tallied twice while DJ Smith and Lorenzo Serafini each added one to increase the lead to 4-0. Calkins made it 5-0 before halftime with his second of the night. In the second half, Binkowski completed a hat trick and Brendan Strong scored his first of the year. Braden Yartym finished with three assists and Strong with two.
EAST ROCHESTER 3
SODUS 1
Chuck Domm finished with his third straight multi-goal performance to lead East Rochester over Sodus. Chuck Domm scored on an assist from Andrew Weltman 20 minutes into the first. East Rochester's offense was shut down until the 72nd minute when Justin Gutierrez found the back of the net. Chuck Domm scored five minutes later to cushion the lead and increase his goal total to nine. Russell Domm finished with two assists, his eighth and ninth of the season.
PENN YAN 4
WATERLOO 1
After getting shutout in its previous game, Brigham Hansen tallied twice to lead Penn Yan to its third win of the season. Brendan Pinckney scored once in the second half. Nicholas Jarecke collected two assists while Caiden Demarco finished with one.
MYNDERSE 1
NORTH ROSE WOLCOTT 1
In the 68th minute, Jeremy Porter connected with Matthew Reardon for Mynderse's only goal of the game.
NAPLES 1
MARCUS WHITMAN 0
Noah Hildreth made 17 saves in net for Marcus Whitman.
MARION 2
WILLIAMSON 1
Luis Ceron scored the lone goal for Williamson.
GENESEO 2
CALEDONIA-MUMFORD 1
PAL-MAC 2
WILSON MAGNET 1
CANANDAIGUA 4
EAST 0