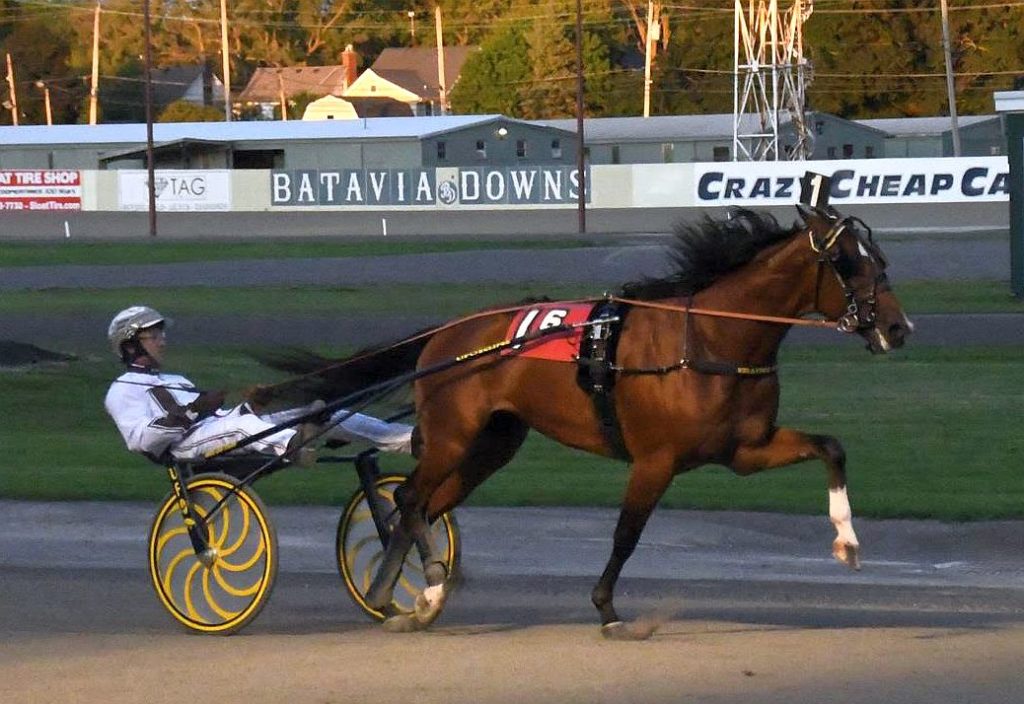 By KEVIN OKLOBZIJA
The winner's circle at Batavia Downs Gaming may very well turn into Marcus Melander's own little private party room on Saturday night.
Hypnotic AM, the 2-year-old filly trotting sensation from the Melander stable, and Gimpanzee, the 3-year-old colt trotting star he trains, will be prohibitive favorites during the 30th annual New York Sire Stakes' Night of Champions.
In fact, his two trotters are so good, as long as they mind their manners, they're almost sure to win.
Hypnotic AM is 6-for-6 in her young career, with four Sire Stakes wins sandwiched around elimination and finals victories in the $310,700 Jim Doherty Memorial Trot at the Meadowlands.
She's the 3/5 morning-line favorite in the $225,000 2-year-old Filly Trot, the fifth race on the richest program in Batavia Downs history.
Likewise, Gimpanzee is the 3/5 program favorite for the $225,000 final for 3-year-old colt and gelding trotters, which is race 9.
He is 5-for-7 this year, including a smashing victory in the $500,000 Yonkers Trot on Aug. 31, when he beat Hambletonian Champion Forbidden Trade by 4 1/4 lengths in a sizzling mile of 1:53.3.
His only losses came in the Hambletonian elimination (fourth, beaten by 1 1/4 lengths), and in the Hambletonian final (third, losing by a length). He's 3-for-3 this year against NYSS competition, and even despite drawing post 7 on Saturday, he'll quite likely be the 1/5 betting favorite.
And he should be. Even Melander thinks so.
"I would be lying if I said he wasn't the best horse in the division," Melander said.
The Hypnotic AM/Gimpanzee combo is quite the 1-2 stardom punch on card that features $1.85 million in stakes-race purse money. First-race post time is 6 p.m.
But there's actually plenty of star power throughout the program. Like Hickfromfrenchlick — the pacer, not the NBA Celtics legend. Hickfromfrenchlick will be the heavy favorite in the final stakes race, the 3-year-old colt and gelding pace. And Merga Hanover, the favorite in the 2-year-old filly pace, is another star from the Ron Burke barn.
Slotted in the middle of the sire stakes finals is the $50,000 Robert J. Kane Memorial Pace featuring Dorsoduro Hanover. He's just 2-for-11 this year, but it's tough for anyone to knock him after he went 10-for-22 and won $1.2 million a year ago.
Melander, however, is the only trainer who will have the favorite in two NYSS events. Brian Sears will drive both, as always.
"Hypnotic AM has been incredible all year," Melander said. "She's just an incredible filly."
Gimpanzee has crushed his New York-bred competition. He won by a NYSS event at Yonkers by 7 1/2 lengths on June 25. He won by 4 3/4, never-asked lengths at Batavia on Aug. 24.
The Yonkers Trot was really the only test he's had on a half-mile track.
"He's just been so much better than the competition, he's been by himself (on the lead) and done it so easy," Melander said. "He is the best horse for sure on a half-mile (track). His technique is so good, he's very easy on himself."
» This is the first visit to Batavia for the Night of Champions. It has primarily been contested at Yonkers, but the agriculture and state breeding and development fund allowed tracks to bid on the event for 2019.
"We're excited to bring this caliber of racing to our fans," said Todd Haight, Batavia's general manager of living racing. "These are some of the best horses in the sport, as well as many of the top drivers, so it's sure to be a great night of racing."
» Handicappers will have a pair of all-stakes Pick 4's to wager into, each with a guaranteed pool of $7,500 (races 3-6 and 7-10).