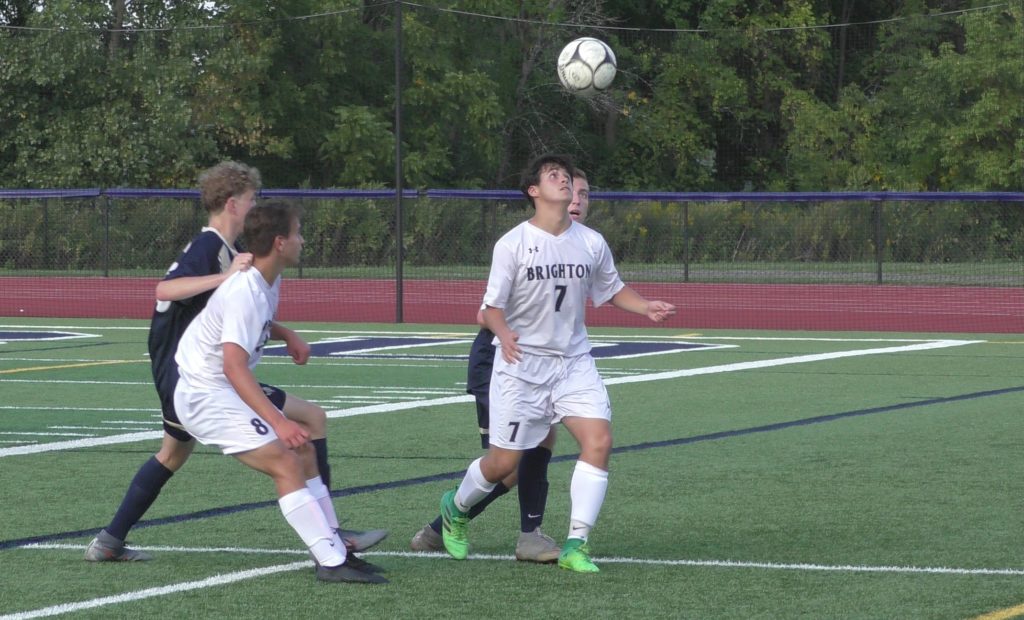 ANDOVER 4
FRIENDSHIP 0
Chris Walker's two-goal, two-assist performance led Andover to victory. Walker assisted on his team's first and third goals while scoring the second and fourth. Walker's first goal was unassisted and his second came on a feed from Spencer Cook. Tommy Thorp was the recipient of Walker's first assist, starting the scoring for Andover just six and a half minutes into the game. Walker and Cook flipped places for Andover's third goal of the game, with Cook taking credit for the score.
HINSDALE 0
BELFAST 6
Hunter Enders and Matt Weaver each scored two goals as Belfast's offense exploded. Enders and Weaver alternated goals to give Belfast a large lead. Enders' first goal was assisted by Caleb Caiazza, while both of Weaver's goals were aided by Andrew Blocho. Stiven Lopez scored the first goal for Belfast on Blocho's first assist of the game. Collin Preston closed the scoring after being fed by Caiazza.
GENESEE VALLEY 0
FILLMORE 6
Tobias Webb and Luke Cole both scored two goals to lead Fillmore past Genesee Valley. Tobias Webb scored Fillmore's second and fifth goal's and both were unassisted. Cole then scored the fourth and sixth goals for the victors. Levi Webb assisted on Cole's first goal. Trevor Clark opened the scoring for Fillmore nine and a half minutes into the game on an assist from Ethan Peet. Mason Cool scored at the end of the first half off of a feed from Cole to give Fillmore a 3-0 lead headed into the halftime break.
BATAVIA 5
GREECE ODYSSEY 0
Andres Mateos scored two goals in Batavia's victory. Both of Mateos' goals were unassisted and in the second half of play. Garrick Havens and Derrek Fedus scored Batavia's two first half goals. Fedus was assisted by Havens on his score. Josh Weis hammered home Batavia's other tally in the game on a feed from Zeshawn Armstrong.
HONEOYE FALLS-LIMA 5
GREECE OLYMPIA 3
Jason Hofmann's second half goal proved to be the game-winner for Honeoye Falls Lima. Will Eby assisted on the decisive goal. Aidan Crego opened the scoring for the victors, netting his team's only first half goal on an assist from Hank Lehning. John Henry Woloszuk and Eby scored the other two goals leading up to Hofmann's game-winner. David Braisse tacked on an unassisted insurance goal for Honeoye Falls Lima. Jacob Landro scored all three of Greece Olympia's goals in defeat. Andrew Balch assisted on Landro's first and third goals.
BROCKPORT 0
GREECE ARCADIA 3
BRIGHTON 0
PITTSFORD SUTHERLAND 1
Dylan Kladstrup's overtime goal pushed Pittsford Sutherland past Brighton. Kladstrup finally found the back of the net in the second overtime period. His goal was aided by Drew Kull.
GATES-CHILI 1
SPENCERPORT 4
Greg Ranieri and Jacob Lenhard both had two points in Spencerport's dominant victory. Ranieri found the back of the net twice, once in each half. He opened the scoring for Spencerport just three minutes into the contest. Ranieri put another one away in the 45th minute on an assist from Kian Goff. Lenhard assisted on Spencerport's other two goals. His first helper came in the 12th minute on Max LaRosa's goal. Lenhard also assisted on the final insurance goal, which Luc Fedele scored in the 74th minute.
HILTON 0
PENFIELD 2
Shane McMillan's 49th minute goal propelled Penfield past Hilton. Joe Vogt added on an insurance goal in the 77th minute to secure the win for Penfield.
FAIRPORT 5
WEBSTER SCHROEDER 0
CHURCHVILLE-CHILI 1
CANANDAIGUA 0
Marcus Postell's 37th minute goal was the only one scored in Churchville-Chili's win in this defensive battle. Postell's goal was assisted by Mario Cozzo. Churchville-Chili took 22 shots and seven corner kicks in the game.
RUSH HENRIETTA 1
VICTOR 1
Justin Graham's 65th minute goal for Victor evened up a game that remained tied through two overtime periods. Graham's clutch goal was assisted by Max Fiorica. Hunter Kassell scored Rush Henrietta's only goal of the game just under six minutes in.
GREECE ATHENA 1
PITTSFORD MENDON 0
Michael Tracey netted the golden goal with 5:26 remaining in the first overtime. Athena improved to 4-0-0/3-0-0 on the season. The Trojans have outscored opponents by a combined score of 8-0. READ MORE.
WEBSTER THOMAS 4
IRONDEQUOIT 1
Cameron Webb and Jackson Allen teamed up for two goals in the first seven minutes of the game to pace Webster Thomas. Webb scored both goals on feeds from Allen. Mike McNally scored another goal in the 16th minute for Webster Thomas, then Zach Wolfe found the back of the net in the 30th minute with the help of Webb.
CUBA-RUSHFORD 1
WELLSVILLE 2
Nathan Jefferds' 21st minute goal proved to be the difference as Wellsville edged out Cuba-Rushford. Alex Ordiway provided the helper for Jefferds' goal. Dominic Sawyer scored on an assist by Jacob Schrlau just two minutes into the game to give Wellsville an early lead. Ethan Brooks scored just three minutes into the second half to pull Cuba-Rushford to within one goal.
ST. FRANCIS 0
MCQUAID 8
Justin Larry, Caden Kress and Wilson Brauer all scored two goals apiece for McQuaid in its rout of St. Francis. Larry scored both of his goals in the first half. Kress and Brauer each scored one goal in each half. Andrew O'Hern scored McQuaid's first goal in the 11th minute. Kress, Larry and Brauer scored their team's next six goals. Brennan Shanahan scored McQuaid's final goal of the contest.
EAST 3
WILSON MAGNET 1
Three players scored in the second half for East to take the game over Wilson Magnet. Yohana Mpenzi, Ben Ali Mfaume and Jonathan Ceysaire all found the back of the net for East.
HAMMONDSPORT 0
BRADFORD 5
Four different players scored for Bradford in its rout of Hammondsport. Michael English was the only player to find the back of the net twice, canning the second and fifth goals of the night. He also assisted Blai Crespo's goal, which gave Bradford a 3-0 advantage. Gabe Stiles netted a goal off of a pass from Dylan Monell to kick off the scoring for Bradford. The fourth goal for the victors came from Sabastian Whilhelm via Logan Ayers. That was Ayers' second assist of the game.
ARKPORT/CANASERAGA 1
PRATTSBURGH 4
Mason Putnam's hat trick led Prattsburgh over Arkport/Canaseraga. Putnam scored Prattsburgh's first three goals, all of which came after halftime. His first two goals were unassisted, but Kris Johnson provided an assist on the third. Prattsburgh's final goal was an unassisted one scored by Johnson.
CAMPBELL-SAVONA 4
ALFRED-ALMOND 9
Colten Cook, Jack Emo and Dylan Coots all had days to remember for Alfred-Almond. Cook scored three of his team's first five goals, including one just five minutes into the game. Emo assisted on Cook's early goal and on two more later in the game. He also scored two first half goals. Coots assisted on his team's second through fifth goals of the game then scored the sixth. Aquila Cushing, Michael Roberts and Ayden Burdick scored the last three goals of the game for Alfred-Almond.
CANISTEO-GREENWOOD 1
ADDISON 2
Trevor Knapp's two goal performance led Addison past Canisteo-Greenwood. Knapp scored once in each half to account for both of his team's goals. His first goal was unassisted but was helped in the second half by Bradyn Coletta.
WHITESVILLE
HOUGHTON
SCIO
BOLIVAR-RICHBURG