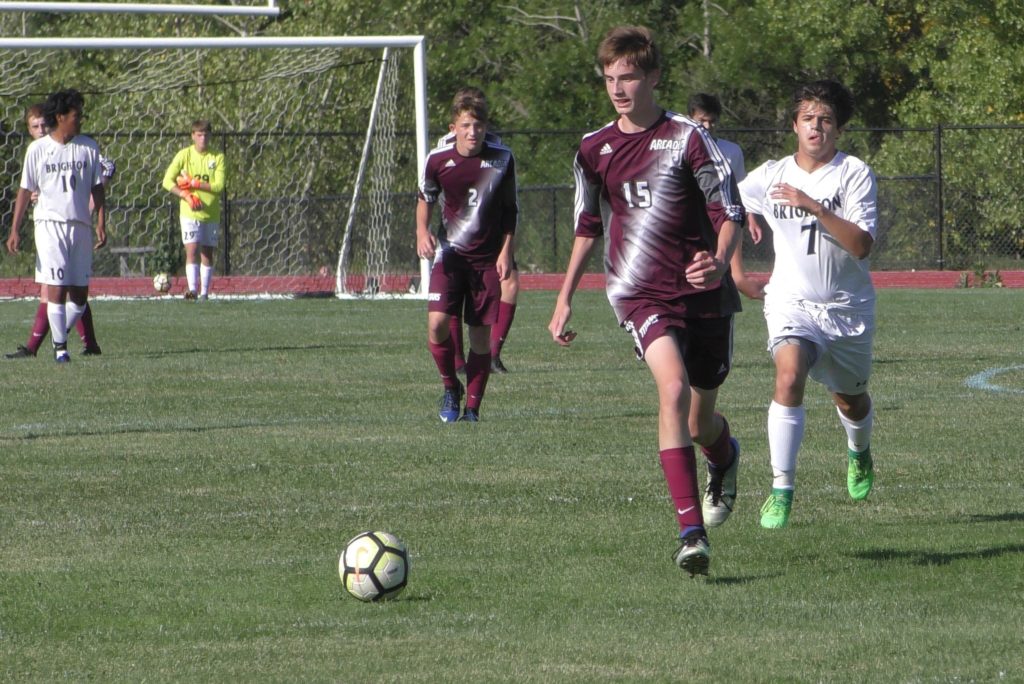 WHITESVILLE 0
BOLIVAR-RICHBURG 2
Wyatt Karnuth knocked in a direct kick to open the scoring for Bolivar-Richburg. Nineteen minutes after Karnuth scored, Mark Pangburn buried home a penalty kick to extend the lead. Bolivar-Richburg converted its two goals on 14 shots and seven corner kicks.
FRIENDSHIP 1
SCIO 7
Luraritz Kruze collected two goals and an assist while Elia Travaini had two goals and two assists for Scio in their rout of Friendship. Kruze did all of his damage in the first half, scoring the first and third goals of the game for Scio. He also assisted Travaini's first goal, which was Scio's second of the game. Travaini's first assist was on Kruze's first goal. Jake D'Arcy assisted Kruze's second goal and also scored Scio's fourth goal of the half, which was unassisted. Ashton Jennings took a feed from Sean Patrick to kick off the scoring in the second half for the victors. Travaini scored his team's sixth goal and aided Bahrul Ulum on the seventh. Alex Smith scored Friendship's only goal of the game on a penalty kick in the second half.
PENN YAN 3
MARCUS WHITMAN 2
Brigham Hansen's hat trick led Penn Yan past Marcus Whitman. Hansen scored all three goals in the second half, including two in three minutes with his team down 2-1. His two goals in the 34th and 37th minutes tied and gave Penn Yan the lead. Tyler Griffin assisted Hansen on the first of the two goals and Zackary Townley aided the second. Zackary Lovejoy of Marcus Whitman did his best to match Hansen. Lovejoy buried both of his team's goals, with one coming in each half. Lovejoy's first half goal was assisted by Jordan Lahue. Hansen's first goal, in which Eric Fingar picked up the assist, tied the game at one, but Lovejoy's second goal was unassisted less than a minute later. Noah Hildreth saved 13 shots for Marcus Whitman in the losing effort, while Mason MacKerchar stopped 10 for the victors.
MYNDERSE 2
PALMYRA-MACEDON 0
Griffin Herron assisted on both of Mynderse's goals in the shutout victory. Both goals came within a 13-minute span in the second half. Jared Hartwell scored the first goal in the 55th minute on Herron's first helped. In the 68th minute, Jake Smith's goal-scoring effort was aided by Herron. Mynderse was able to score the two goals on just four shots. They also did not attempt a corner kick. Palmyra-Macedon doubled Mynderse's shot output, but Ethan Spinner saved everything that went his way.
WAYNE 3
GENEVA 2
Dylan Cook's goal five minutes into the first overtime period was the game-winner for Wayne. Eli Schintel provided the assist for Cook's game winner. Cook assisted each of Wayne's other two goals, including Matt Gentile's just five minutes into the game. Just three and a half minutes after Gentile's goal, Mason Rusinko answered for Geneva off of an assist from Zach Martinez. Rusinko's second goal of the game came 30 minutes later, giving Geneva a 2-1 advantage. Cook then set up Josh Bolt in the 56th minute to knot the game up at two. It stayed that way until Cook ended it in an extra period. Mitch Burrall made 18 saves for Geneva in a losing effort, keeping his team in the game as long as he could.
BATH-HAVERLING 4
DANSVILLE 1
Sam Arnts scored twice and Thomas Binkowski racked up three points in Bath-Haverling's road victory. Arnts scored the game's only first half goal just a minute and a half into the game. Minkowski assisted on Arnts' first goal. Spencer Dickson broke Bath-Haverling's scoreless spell early in the second half, giving Binkowski his second assist. Arnts then tacked on his second goal on an assist by Jose Englert in the 68th minute. Binkowski then added his own goal at to cap off the game in the 76th minute. For Dansville, Jeff Birmingham scored on a penalty kick. Nick Camuto saved 22 shots for Dansville in defeat.
PAVILION/YORK 0
CALEDONIA-MUMFORD 3
The Carnes brothers were responsible for two of Caledonia-Mumford's three goals. Alex Carnes, the younger of the two, netted the first goal of the game and the only one of the first half. Noah Carnes opened up the lead in the second half, giving Caledonia-Mumford a multi-goal advantage. Evan Raniwicz put away the finisher, giving his team a lead that would not be touched. Nathan Howard saved four shots to complete the clean sheet.
LIVONIA 1
LETCHWORTH/WARSAW 3
Letchworth/Warsaw rode two early-game goals to a victory over Livonia. Eric Woodworth and Adam Grover each scored in the opening 11 minutes and the defense made those goals hold up. Nik Eustace and Mike Schafer each picked up an assist on the first and second goals, respectively. Brady Bishop scored Livonia's only goal in the 60th minute with the help of Jonathan Gonzalez. Despite Letchworth/Warsaw winning by two, each team took eight shots and Livonia took seven corner kicks while Letchworth/Warsaw took only three.
PERRY 0
GENESEO 2
Danny Kelly's first half goal put Geneseo on the board and would be enough to lead them to victory. His goal was aided by Michael Walton. James Thomas tacked on some insurance in the 69th minute on an assist from Brian Ehmann. AJ Agosto stopped five shots and took home a clean sheet for Geneseo.
BRIGHTON 3
GREECE ARCADIA 4
Cooper LaValley scored all four goals in Greece Arcadia's season-opening win. He netted one seven minutes into the game, then the final three came in a 16-minute span in the second half. Nico Leone piled up three assists for Brighton despite his team winding up on the wrong side of the scoreboard. He assisted Torin Broderick and Will Kelly in the first half, then helped Mat Ochs score in the second half.
HONEOYE FALLS-LIMA 6
BATAVIA 1
Wil Smith and Gunnar Wetzel scored two goals apiece as Honeoye Falls-Lima put away Batavia early. Smith opened the scoring for Honeoye Falls-Lima on an assist from Wetzel. Smith added his second goal later in the half off of a feed from Hank Lehning. In between Smith's goals, John Henry Woloszuk netted one from David Brassie. Wetzel capped off a dominant first half with an unassisted goal. Wetzel was involved in both second half goals as well. He assisted Brassie to reopen scoring in the second half for Honeoye Falls-Lima and later scored on an assist from Woloszuk.
EASTRIDGE 6
GREECE ODYSSEY 0
Eastridge scored four goals in the first 11 minutes of the game to put away Greece Odyssey early. Justyn Hiscock assisted Dylan Hanley just two minutes in to start Eastridge's onslaught. Alaadin Ali pounded home an unassisted goal two minutes later to extend the lead. Hanley and Hiscock switched roles in the eighth minute as the pair combined for their team's third goal. Ali added his second goal of the game in the 11th minute with the aid of Alex Wood. Eastridge remained quiet for the rest of the half, but resumed its dominance early in the second half. Just two minutes after the end of halftime, Henry Keenan gave Hiscock his second assist of the game on Eastridge's fifth goal of the game. Stirling Delves buried a feed from Lorenzo Cooper in the 71st minute to put the icing on the cake for Eastridge. As a team, Eastridge attempted 22 shots and six corner kicks.
FAIRPORT 1
PENFIELD 2
Penfield got an overtime goal from Shane McMillan to propel it over Fairport. McMillan's goal came nine minutes into the first overtime period with an assist from Cullen Masters. Penfield had a long wait for the second goal after Joe Vogt put them on the scoreboard 10 minutes into the game on a feed from Tahj Mounnarat. Ryan Wensley saved seven shots for Penfield in the victory, his first of the season.
GREECE ATHENA 3
BROCKPORT 0
Othman Belhseine's three-point performance guided Greece Athena to the victory. Belhseine assisted on Athena's first goal of the night then finished off the last two himself. Brian Piendel was the recipient of Behlseine's assist, which happened in the very first minute of the game. The two goals both occurred in the second half, with the first coming in the 54th minute. Dylan Rice provided the helper for Behlseine's first goal, while Michael Tracey set up the second.
GATES-CHILI 1
CANANDAIGUA 2
WEBSTER SCHROEDER 1
VICTOR 4
Justin Graham scored three goals including a pair of second-half strikes during a four-minute flurry of offense, and Victor improved to 3-0 on the young season. Leading 1-nil at halftime, Graham found the back of the net in the 58th minute to double the advantage. Less than two minutes later, the senior attacker connected again. Teammate Max Fiorica set up both goals. READ MORE.
SPENCERPORT 5
IRONDEQUOIT 0
Max LaRosa and Frants Valodzka combined for four goals and three assists to lead Spencerport (1-1-0). Valodzka connected on the lone first-half marker, and the Rangers put the match away in the second stanza. Greg Ranieri added a goal for Spencerport. LaRosa finished with two goals and two assists. Valodzka scored twice and added a helper. Gavin Demond contributed an assist.
CHURCHVILLE-CHILI 0
WEBSTER THOMAS 1
GENESEE VALLEY 2
BISHOP KEARNEY 6
Evan Stevely scored Bishop Kearney's first four goals, assisted on its fifth, then scored the sixth in their big win over Genesee Valley. Stevely scored a goal in the 15th, 20th and 30th minutes of the first half then tacked on another in the 50th minute, just 10 minutes after the halftime break. Casey O'Gara assisted the first and fourth goals, while Luke Tytler and Desire Kasinge aided the second and third, respectively. Caleb Baraka was the recipient of Stevely's assist. Stevely's final goal was via Fernando Furioso. The five goals on the game pushed Stevely's total on the season to nine through just four games.
AQUINAS 1
ST. FRANCIS 0
Gian Malcolm netted the game-winning goal for Aquinas in the second half as they took downed St. Francis. Malcolm's goal came on a direct kick. Aquinas attempted 10 shots and three corners during the game. Kevin Howse shut the door for Aquinas, saving all four shots that came in his direction.
CUBA-RUSHFORD 0
KESHEQUA 9
Three different players scored multiple goals for Keshequa in their dominant win over Cuba-Rushford. Aidan Wood tallied a hat trick in the second half, with all three goals coming in an 11-minute span. His first goal came in the 52nd minute on an assist from Riley Rease. The second goal was in the 60th minute via Adam Hunt. Wood's third goal came in the 63rd minute and was assisted by Hunter Stephens. Rease also scored multiple goals, netting Keshequa's second and third of the game. Rease's first goal was aided by Reese Powers and his second was unassisted. Jacob Schiano was Keshequa's other multi-goal scorer. He opened the scoring in the 16th minute with the help of Powers. His second goal was also assisted by Powers, but in the second half. Stephens and Avery Strobel scored the final two goals for Keshequa, with Stobel assisting Stephens and Jordan Luther assisting Strobel.
FILLMORE 0
LIMA CHRISTIAN 11
Three players recorded multiple goals and another had multiple assists for Lima Christian. Tobias Webb stole the show, scoring four goals, two in each half. Isaiah Voss scored two first half goals and Mitchell Ward netted two in the second half. Graham Cahill, Luke Cole and Levi Webb scored the other three goals for Lima Christian. Ethan Peet racked up five assists of his team's 10 assists in the game. Levi Webb, Eben Schilke, Zach Herring, Mason Cool and Cole each picked up one assist apiece.
WATERLOO
NEWARK 
SOUTH SENECA-ROMULUS
BLOOMFIELD