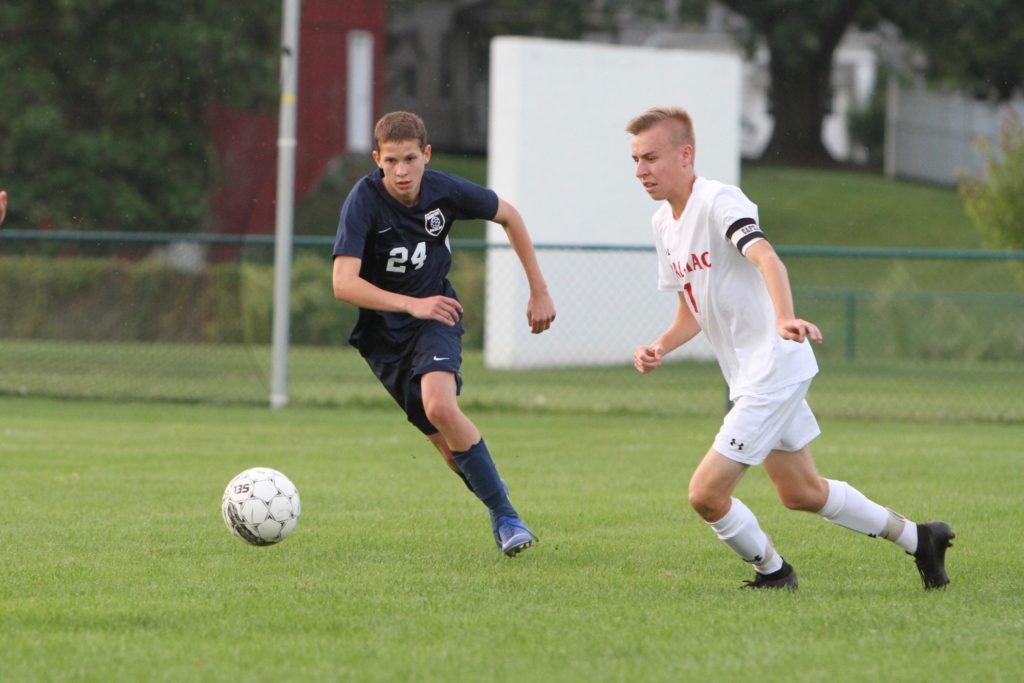 MYNDERSE 5
NEWARK 2
Jake Smith scored two goals and added an assist for Mynderse. Seventeen minutes in, DJ Bruni, Nick Jones and Smith all tallied their firsts of the season within a nine-minute span. Jeremy Porter found the back of the net 10 minutes into the second half and Smith topped off scoring with his second, three minutes later. Griffin Herron earned an assist in the match as well.
GENEVA 3
PENN YAN 0
Junior Mason Rusinko scored two goals to lead Geneva to victory in its season opener on the road. Rye Weber assisted Jordan Myer in opening the scoring for the Panthers. Ryan Fishback picked up an assist on Rusinko's second goal.
PALMYRA-MACEDON 2
WAYNE 1
In a 1-1 tie, Sam Quick found Jan Simunic three minutes into overtime to score the golden goal and give Pal-Mac the win. Jace Shafer tied the game halfway through the second and Cody Johnson earned the assist on the tally. Goalkeeper Alex Wadsworth made 17 saves to take the 1-1 tie into overtime.
LeROY 2
PAVILION/YORK 1
RUSH-HENRIETTA 1
HILTON 4
Less than one week after being shutout in their season opener, Hilton tallied twice in the opening eight minutes and didn't stop there. Hector Puente scored two of Hilton's four first-half goals as the Cadets downed Rush-Henrietta in Monroe County Division I action Tuesday night at LeBeau Field. READ MORE.
GREECE ATHENA 1
SPENCERPORT 0
Junior Victor Alongi scored the lone goal in the game for Greece Athena. Jared Burns made four saves to pick up the shutout.
Vic Alongi from @athena_soccer. Dude has passion. ● @athena_6thman @AthenaHigh pic.twitter.com/TUDOESEuGm

— Matt Trabold (@TrabsMatt) September 4, 2019
VICTOR 2
BRIGHTON 0
Two first half goals from Justin Graham and Max Fiorica was enough to lead Victor to its second straight shutout victory. Fiorica connected with Graham 10 minutes into the game to take the early lead. Tristan Gilbert earned the assist on Fiorica's goal 13 minutes later.
FRIENDSHIP 2
BISHOP WALSH 1
After picking up an assist in the first half, Atlin Moore scored the go-ahead-goal in the second to give Friendship the lead and eventual win. Pehyton Moore notched his first tally of the season at the 32 minute mark.
DANSVILLE 5
GREECE ODYSSEY 1
Jacob Avery completed his hat trick with two goals in the final 10 minutes of the second half to lead Dansville to its first win of the season. The Mustangs set the tone of the game eight and a half minutes into the game on Jeff Birmingham's first goal of the night. Birmingham scored again with 15 minutes remaining in the first to put Dansville ahead, 2-0. Jordan Camacho, Abram Barron and Gage Sherer each had an assist while Tyler Harris picked up two. Isaiah Malcolm buried a feed from Ryan Michelsen in the first half for the lone Greece Odyssey goal.
NORTHSTAR CHRISTIAN 1
HAC 0
Josiah Bradley's second half goal was enough to propel Northstar Christian to a season opening shutout win. Joshua Caporaletti picked up the assist on Bradley's goal in the 66th minute.
WATKINS GLEN 2
WATERLOO 0
AQUINAS 1
BROCKPORT 1
Brockport's Tyler Daly and Aquinas's Gian Malcolm were the only two goal scorers in 100 minutes of action. Gabe Horton picked up the assist on Daly's goal while Liam Clifford connected with Malcolm for the third time this season. Malcolm now has five goals in three games.
EAST ROCHESTER 10
BLOOMFIELD 0
Chuck and Russell Domm each picked up six points in a dominating win in East Rochester's first showing. Chuck Domm scored five goals in the first half, four of which stemming from touches by his brother, Russell. Nathan Jantz and Max Wagner split four goals while Ian Szemcsak picked up a goal and assist. Senior goalkeeper, Michael Raschiatore made five saves in the shutout victory.
AVON 4
BATAVIA 1
Cam Salvati notched a hat trick to lead Avon to a win in its season opener. Lee Hartke scored in the final minute of the first half to increase the Braves' lead to 3-1. Brendan Miron, Alex Mayen and Sean Cochrane all picked up assists in the game. Brock Every scored Batavia's only goal in the first half.
FAIRPORT 2
IRONDEQUOIT 0
MARCUS WHITMAN 3
SOUTH SENECA-ROMULUS 2
Marcus Whitman's first half offense turned out to be enough as the Wildcats picked up their first win of the season. Jordan Lahue opened scoring in the second minute and was accompanied on the scoreboard by Zackary Lovejoy and Ryan Herod towards the end of the half. Caleb McDonough, Brandon Strait and Lovejoy each tallied an assist.
CUBA-RUSHFORD 3
BELFAST 2