DI GREY 4
DI GOLD 5
Ethan Hurwitz (Pittsford Sutherland) collected a pair of RBI including the go-ahead run as DI Gold advanced in the Upstate Baseball League playoffs. Hurwitz drove in Korey Canton (Greece Odyssey) with the final run of a back-and-forth affair. Canton led the bottom of the sixth inning with a double and moved to third on a Joe Alphonse (Greece Olympia) ground ball. Hurwitz followed with an RBI groundout.
Korey Canton doubles to lead the bottom of the sixth and scores on an Ethan Hurwitz RBI groundout. Heading to the 7th: DI Gold 5 DI Grey 4 pic.twitter.com/JeHbWwS6Z5

— Paul Gotham (@PickinSplinters) August 17, 2019
Hurwitz finished 1-for-3 in the game including an RBI double in the first inning that scored Alphonse.
Joey Alphonse scores from first on an Ethan Hurwitz double. 1 out bottom of the first: DI Gold 1 DI Grey 1 pic.twitter.com/PDvWD24m7n

— Paul Gotham (@PickinSplinters) August 17, 2019
Calvin Rogers (Bloomfield) worked an inning in relief to pick up the win. Kaden Helmer (Victor) hurled a scoreless frame and earned a save. Ryan Merkov (Webster Schroeder) started and threw 5.0 innings. The right-hander allowed two earned runs on six hits with four walks and seven strikeouts.
Ryan Merkov leaves runners on second and third with his third K of the inning, but DI Grey pushes across a run with a wild pitch. Mid 5: DI Grey 3 DI Gold 2 pic.twitter.com/8CPm0CdXXq

— Paul Gotham (@PickinSplinters) August 17, 2019
DI Grey out-hit DI Gold in the contest 7-5 and had leads of 1-0 and 3-2. James Stanek (Fairport) walked and scored on an error for a 1-0 edge in the first. Trailing 2-1 with two outs in the third,  Zach Allen (McQuaid Jesuit) singled and led three straight reaching base. Kenny Murphy (Webster Schroeder) eventually worked a bases-loaded walk to knot the game.
The game contained three ties and three lead changes.
Grey took a 3-2 lead in the fifth. Jack Zawacki (Pittsford Sutherland) singled, moved to second when Aiden Coykendall (Churchville-Chili) beat out a bunt and eventually scored on a wild pitch.
Jacob Thomas started for DI Grey and worked 4.0 innings. Thomas struck out six and gave up two runs on three hits and three walks.
Jacob Thomas fans the side in order. Right-hander has retired five straight. Going to the 4th: DI Grey 1 DI Gold 1 pic.twitter.com/r5KyVzN8sf

— Paul Gotham (@PickinSplinters) August 17, 2019
Ed Hall (McQuaid Jesuit) plated Jett Kopalek (Rush-Henrietta) and Jacob Keller (Churchville-Chili) with a one-out double to give Gold a 4-3 lead in the fifth.
Grey answered in the top of the sixth. Murphy, who singled and reached base all three times he came to plate, walked to start the stanza. He swiped a pair of bags and scored on a wild pitch. Grey left the bases loaded.
Canton led all batters going 2-for-3 on the day.
Tyler Cerame (Hilton) and Tanner Frank (Brighton) added a hit apiece for Grey.
The teams split two regular season meetings. Gold advances to meet DI Red on Monday with a spot in Tuesday's championship game on the line. An 8 PM first pitch is scheduled at Basket Road Field.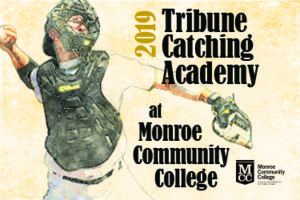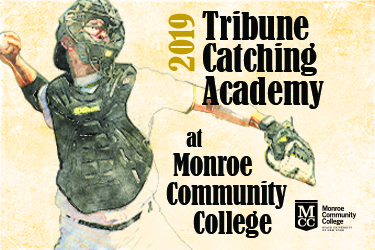 DI GREEN 1
DI BLUE 1 (suspended – bottom of the first)
Game will resume Monday at Basket Road Field in Webster. A 5:45 PM start is scheduled.