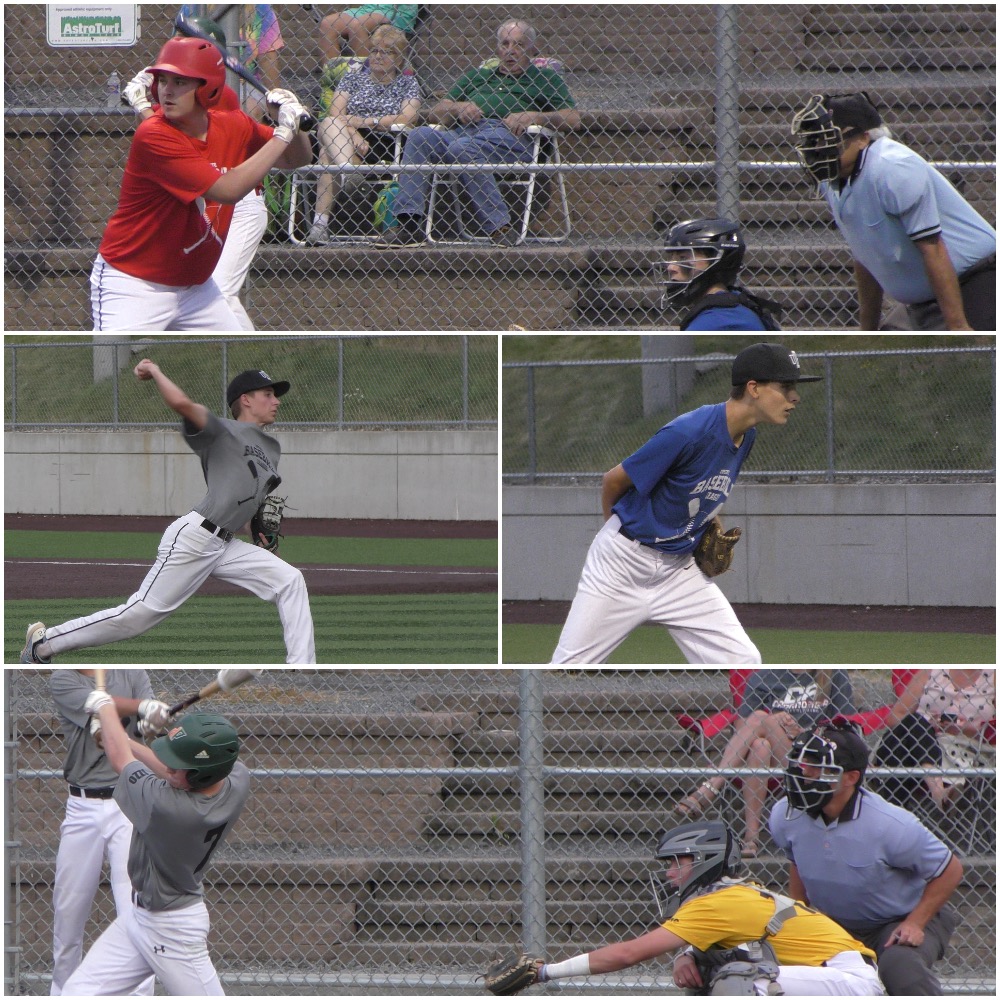 DI GREY 10
DI GOLD 2
On the mound and at the plate, Tyler Cerame (Hilton) led DI Grey to its first win of the year. In his first start of the year, Cerame held DI Gold to two hits over four innings, striking out three in the process. His performance was highlighted by a four-pitch, 1-2-3 second and a shutout-saving-strikeout to leave the bases loaded in the fourth. Cerame also finished 1-for-2 at the dish with a three-run home run in the top of the sixth. He scored two runs and walked once.
DI Grey extends the lead in the sixth to 10-1 with the help of a 3-run inside-the-park home run from Tyler Cerame as part of a four-run inning. @ubl_baseball @PickinSplinters pic.twitter.com/aaqP5o3XeC

— Donnie Moffat (@donniemoffat) August 6, 2019
Joe Thompson (Webster Schroeder) helped Grey jump out to an early lead by drilling a leadoff home run on a full count in the top of the first. Grey's breakout inning came in the top of the fourth after Aiden Stewart singled in Sal Cutaia (Webster Schroeder) and Aiden Coykendall (Chruchville-Chili) to increase the lead to 3-0. James Stanek followed with a two-run double and was driven in on a Chase Playfair (Penfield) single, doubling the lead to 6-0.
In the fifth, Jake Dockum (HAC) doubled in Michael Richardson II for the DI Gold's first run of the game. Jett Kopalek (Rush-Henrietta) was responsible for DI Gold's second run of the game by doubling and scoring on an infield error.
Jake Dockum gives DI Gold its first run of the game with an RBI double to left. 6-1 DI Grey headed into the top of the sixth. @ubl_baseball @PickinSplinters pic.twitter.com/1L21pi4ZyP

— Donnie Moffat (@donniemoffat) August 6, 2019
Jerrad Fleck (Faiport) relieved Cerame in the fifth and gave up one earned run on four hits.
For DI Grey, Thompson finished 2-for-3 with a walk and run scored. Stewart and Stanek each had two RBI and a run scored. Cutaia went 1-for-2 with an RBI and two runs scored. Kenny Murphy (Webster Schroeder) picked up three hits in four at bats and Playfair had two in three appearances at the plate.
Aidan Coykendall settles under the foul pop for the final out of the fifth: DI Grey 6 DI Gold 1 pic.twitter.com/VAA05TrCdk

— Paul Gotham (@PickinSplinters) August 6, 2019
Dockum and Kopalek each went 2-for-3 with a double while Calvin Rogers and Richardson II had a hit apiece. William Russotti (McQuaid) started and threw first three innings for DI Gold, giving up one run on three hits. Kaden Helmer (Victor) closed out the seventh on eight pitches and allowed one hit.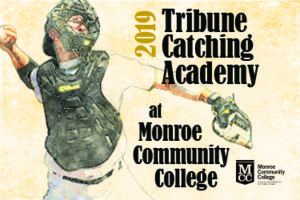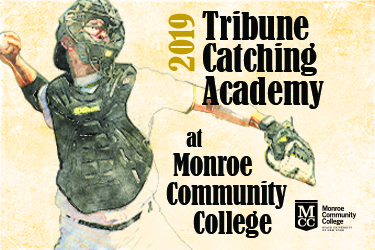 DII RED 7
DII BLUE 6
With a man on first, Joseph Grzeskowiak hit an inside-the-park-homerun to spark a two-out, four-run third to give DII Red a lead it wouldn't surrender. Consecutively, Zach Pryor hit his second double in three innings to drive in Jackson Rucker (Fairport) and Mark Veerkamp smacked a triple to score Pryor, increasing the lead to 5-3.
Anthony Marcella delivers an RBI triple as part of a two-run inning for DII Blue. DII Red up 6-5 heading into the seventh. @ubl_baseball @PickinSplinters pic.twitter.com/Riaa3ajrpc

— Donnie Moffat (@donniemoffat) August 7, 2019
DII Blue's best opportunity to retake the lead came late in the sixth, down by three, with men at the corners and no outs. Zach Merlo (Fairport) and Anthony Marcella led off the inning with a triple apiece and Connor Nguyen walked. Salvatore Timpani drove in Marcella on a fielder's choice, cutting the score to 6-5. Following two more walks and a fly out, Brian Nassivera managed to get the third out to pop up to first, leaving the go-ahead run at second.
DII Red added a much-needed insurance run in the seventh and Kenyon Mahoney closed out the game, holding DII Blue to one run off three singles along with two men on base. By a 7-6 score, DII Red evened the season series at 1-1-1.
In two and two-thirds innings of work, DII Blue starter, AJ Debalso (Canandaigua), gave up four hits, three walks and picked up eight strikeouts. Despite giving up his only earned run in the first, Debalso struck out the side to strand Zach Pryor at second.
After giving up a leadoff walk in the second, he followed with five consecutive strikeouts, only needing 22 pitches to do so. DII Red later connected for three straight hits to remove DII Blue's starter.
DII takes the lead 2-1 heading into the second. Zach Merlo roped an RBI double to left. He came in later to score from third after an infield play at first. @ubl_baseball @PickinSplinters pic.twitter.com/3b3fYVjssM

— Donnie Moffat (@donniemoffat) August 7, 2019
Timpani came in for relief and threw three pitches to get the final out of the inning. Timpani finished his day with four strikeouts and one hit over two and one-third innings.
For DII Red, Joshua Winter threw perfect third and fourth innings, striking out a batter in both. Tino Tiermini relieved Winter and gave up a hit and struck out two in an inning of work. Grzeskowiak finished 1-for-2 with two RBI and two runs scored. Pryor and Veerkamp both had multi-hit days with two apiece. Connor Sackett and Dillon Kelly both picked up one hit.
Jackson Rucker goes behind the bag to make the play. pic.twitter.com/YX6IUgyHW2

— Paul Gotham (@PickinSplinters) August 7, 2019
Debalso, Marcella and Chuck Sobaszek (Rush-Henrietta) had a hit apiece in the game. Marcella also had a hit in the game with a RBI and run scored. Merlo went 3-for-4 and Haarr finished 2-for-4, each scoring two runs.