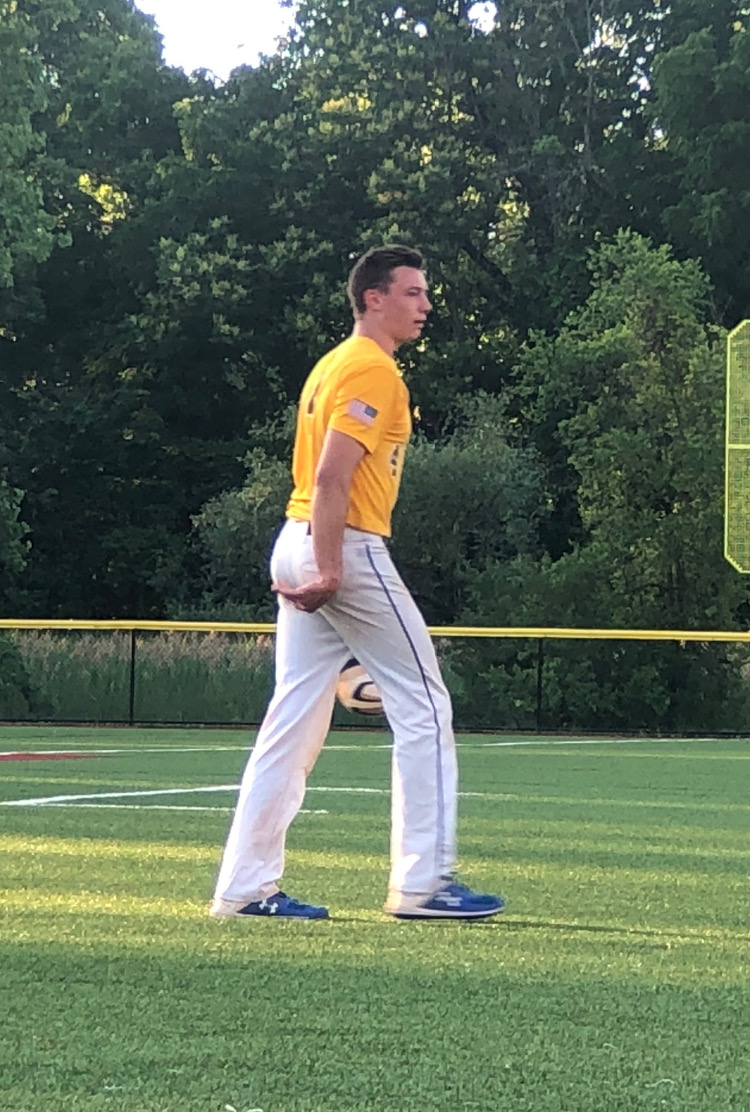 By BILLY HEYEN
EAST IRONDEQUOIT, N.Y. — Owen VanNewkirk went 5-for-7 during the first weekend of the American Legion season swinging a wood bat. But this year in District 7, players are allowed to swing metal for the first time. So as he saw his teammates make the switch, VanNewkirk went for it, too.
After five games and a 2-for-14 skid, VanNewkirk reverted — back to the bat that worked in last season's state tournament run and the bat that he swings at school. The return to his trusty wooden bat has paid dividends.
"Everybody else is going to metal, so I probably should make the switch," VanNewkirk remembered thinking. "I didn't want to lose a game…"
"It ain't working. I've got to go back," he thought after the rough stretch.
VanNewkirk rapped out four hits in four at bats on Wednesday in Rayson Miller's 4-0 win over Irondequoit Post at Eastridge High School. That included a ground-rule double in the seventh inning, along with a run and an RBI. VanNewkirk, nearly 6-foot-5 and Rayson Miller's two-hitter, has rediscovered his line-drive stroke that makes him so pivotal to Rayson Miller's success with the playoffs just more than a week away.
"I've kind of just been grinding it out, and today kind of just paid off," VanNewkirk.

At first glance, one might suspect VanNewkirk is a home-run hitter. He catches and plays first base. He's tall. Rayson Miller head coach Tom Sapienza has entrusted him with the two-hole basically every game the past two seasons, a new-age lineup slot for a team's best hitter. But VanNewkirk has emphasized, time and again, that's not who he is.
When Rayson Miller took part in a charity home run derby last Saturday, VanNewkirk didn't hit a ball over the fence from a home plate located behind the pitcher's mound. He couldn't stop hitting line drives. After the derby, he was content with that: "I'll let other guys hit home runs. I'll take my RBIs."
Owen VanNewkirk (@hflcsdathletics) is 3-3 and scores a run on this hard-hit ball. 4-0 RM in top four. @PickinSplinters @jml5798 pic.twitter.com/By5XuZhqZK

— Billy Heyen (@Wheyen3) July 3, 2019
That's what he hit Wednesday. In his first at bat, VanNewkirk worked the count to 3-2. Then he saw a fastball up, which he lined the other way into right for a single. His second time, a first-pitch up in the zone ended in a liner for a hit to center field. Irondequoit's coach, Andrew Bonano, warned his catcher that VanNewkirk handles everything up.
"I know I'm hitting well when I use the opposite field well," VanNewkirk said. "After my first at bat, when I drove a ball to right field, I knew I could have a good day."
VanNewkirk's Easton metal bat is pretty balanced weight-wise, he said, while his wooden bat is more top-heavy. Since he's swung it more in the past year, it's a "comfort thing" for him to get back to swinging the wood. In his third at bat, VanNewkirk showed he could hit the ball to all fields, yanking a second-pitch fastball down the third-base line and off a diving Chad Gartland's glove. It brought in Ian Read to score. 
And in his final time at the plate, leading off the seventh, VanNewkirk took a curveball for a ball on the first pitch. Then, he laced a ball to left center that bounced over the fence for a ground rule double. 
And Owen VanNewkirk laces another, a 4-4 day for the big fella from @HFLCSDAthletics. This one a ground rule double. @PickinSplinters @jml5798 pic.twitter.com/Hg7ZE3paIT

— Billy Heyen (@Wheyen3) July 3, 2019
As he came off the field, one of VanNewkirk's teammates suggested he needed to hit the weight room because the ball hadn't carried out of the park. So VanNewkirk dropped to the ground and did a pushup.
"He makes it look so easy," Rayson Miller's Hayden Smith said, laughing. "Everyone was timing it up. It seemed like every first pitch Owen would just hit a line drive into the gap."
While Rayson Miller packed up after its win was complete, VanNewkirk shouted: "Best thing about this day: I don't have to work tomorrow." Asked about it afterwards, VanNewkirk grinned sheepishly.
"It's good to know that you don't have to get up in the morning to work after that game," VanNewkirk said. "But that was good. That was one of the best games we've played as a team, and we're starting to click now."