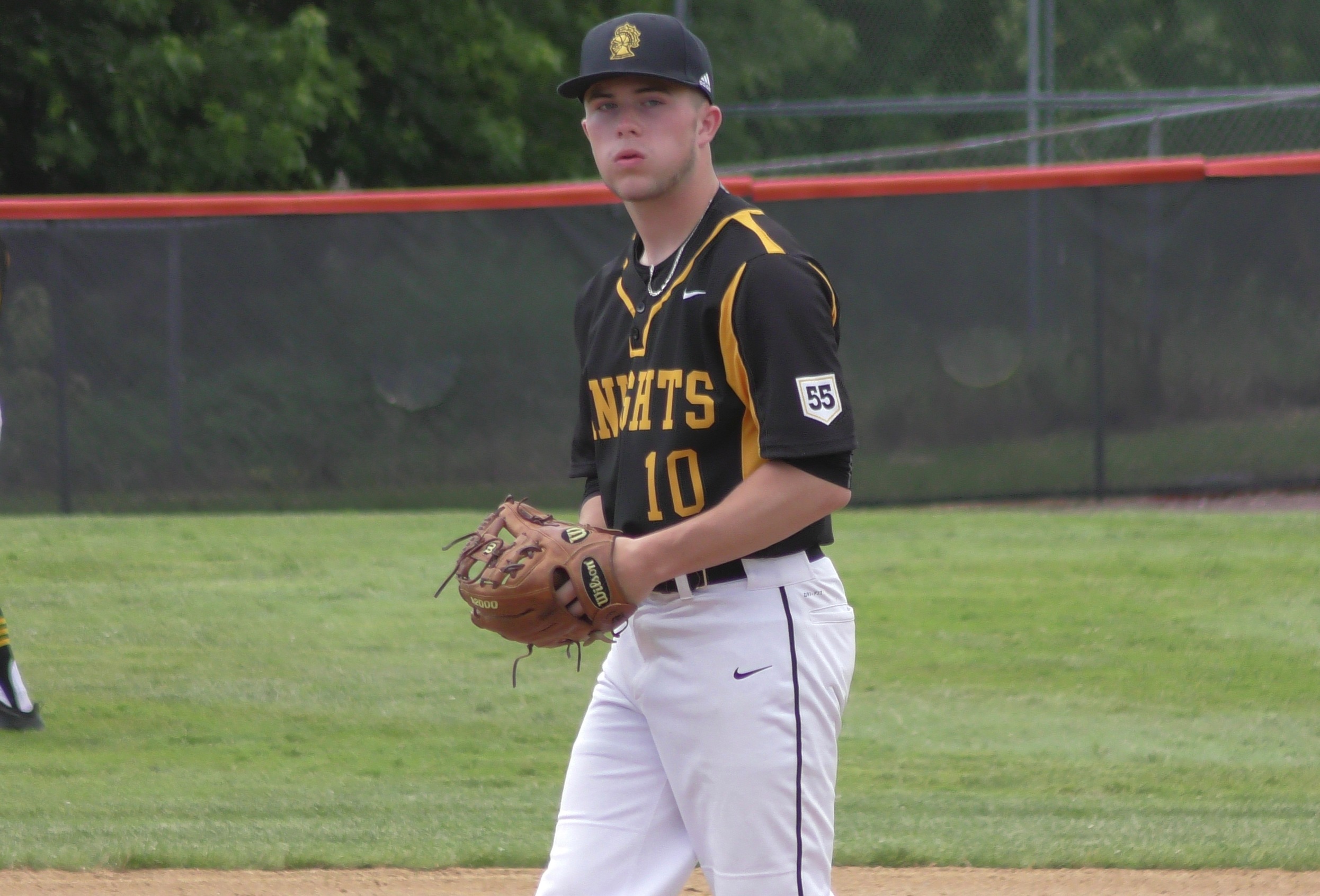 By BILLY HEYEN
No matter how it was done, a no-hitter in the New York state Class AA state championship game would be a remarkable accomplishment. McQuaid's Hunter Walsh did just that: "Perfect timing for it, right?" It was the first no-hitter he'd ever thrown.
But Walsh's was no ordinary no-no. It came on the back of just 70 pitches, well below his postseason average of more than 100 in his three prior starts. Here's a look at some of the most remarkable numbers from a magical day for the McQuaid senior, who finished his final season as a Knight with a 12-0 record.
Three-ball counts: 1
Walsh didn't reach a three-ball count until there was an out in the sixth inning. Facing the Shenendehowa eight-hitter, Walsh missed up, then in the dirt to fall behind 2-0. A strike followed by another ball made it 3-1. A borderline outside corner pitch was fouled off, 3-2. And then Walsh missed just down to put on what turned out to be the Plainsmens' only base-runner.
After the game, Walsh was asked whether the game had been his first no-hitter ever, which it was. Then, a reporter asked him, "Why'd you walk the guy?" Walsh replied, with a smile: "That's on me. I don't know. That's on me."
Two-ball counts: 5
It's one thing to avoid three balls in an at bat, but only reaching two balls five times (including the three-ball at bat) is even more remarkable. The first time Walsh reached two balls, he painted the outside corner on 2-2 for strike three. The next time, he got a 2-2 groundout to Noah Campanelli at shortstop. His third 2-2 count ended in a lineout to Charlie Merkley at first base. And his final one came with two outs left to get in the game, a flyout to Jack Beauchamp in left field.
First-pitch outs: 4
Walsh was honest after Saturday's final: He couldn't throw a baseball on Monday or Tuesday. He had worries as to whether he'd even be able to pitch during the state final four. So although he'd struck out 31 in 21 postseason innings, Walsh's arm was a question mark heading into Saturday.
And whether by design or accident, Walsh had as many strikeouts as he did first-pitch outs. That went a long way to keeping his pitch count down – including at a miniscule 34 pitches through four innings. Walsh twice got Wake Forest commit Jake Reinisch to flyout on the first pitch of his at bat.
First-pitch strikes: 19-for-22
Walsh isn't a stranger to starting at bats with strike one, and they haven't always meant a low-pitch count. In his 128-pitch complete game to beat Penfield in the sectional final, Walsh threw first-pitch strikes to 22 of the 30 hitters he faced. That's a solid 73 percent.
Saturday, though, Walsh was even more locked in, to the tune of an 86 percent first-pitch strike rate. Four of those were the first-pitch outs he got, but beyond those, there were only three batters he fell behind in the count 1-0. With an arm that needed to be shaken out by an assistant before every inning, the first-pitch strikes for Walsh proved invaluable.
Overall, Walsh threw 53 strikes and 17 balls. That includes a six-pitch bottom of the fourth in which all six tosses Walsh made were strikes. It also includes the game's final pitch, a first-pitch swinging ground ball to Campanelli at short, which he fired across to Merkley for the no-hitter and the state title.