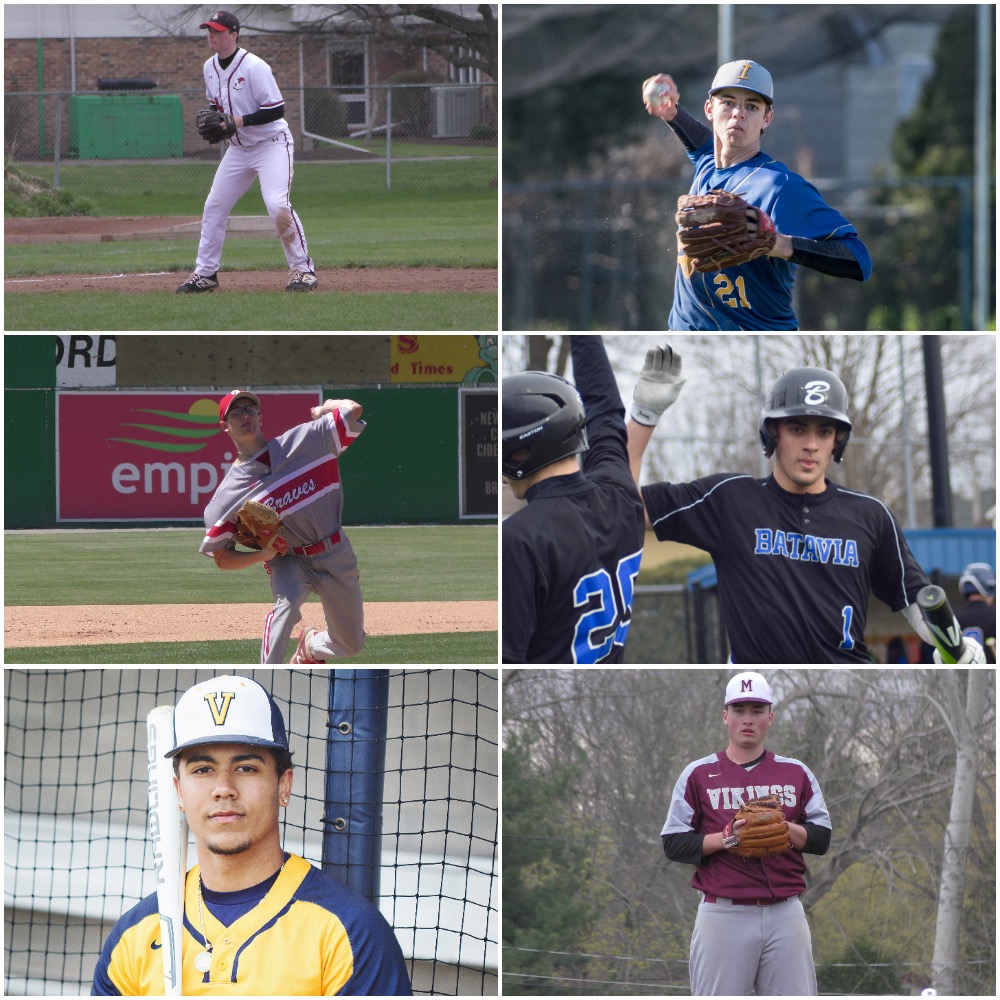 By CAITLIN McCLARE
ROCHESTER, N.Y. — On the mound, in the field and at the plate Santino Rosso did a little bit of everything for Victor. Penfield's Gage Ziehl worked a batting average over .400, while keeping his ERA below 2.00. Chad Gartland consistently put Irondequoit on the board, while keeping opponents off throughout the season. Canandaigua's Michael Sculli finished with a sub-one ERA and neared 100 strikeouts. Pittsford Mendon's Hudson Bockmier led Division III in innings pitched and maintained an ERA barely over one. Sam Sallome led Division IV in hitting and slugging.
For their consistent dominance throughout the season, the six were named the Players of the Year for their respective divisions as announced by Monroe County.
Despite having not pitched during his previous two seasons on the varsity level, Rosso finished the season with a 1.78 ERA, three wins and 50 strikeouts to earn Division I Co-Player of the Year. The senior allowed 43 hits and 21 runs, 11 earned. At the plate, Rosso was put away via strikeout only seven times. The Hofstra University commit collected 28 hits, including four doubles, three triples, and three homers, and worked 11 walks. His batting average sits at .378, while his on-base percentage is .459.
Ziehl led the sectional finalists with his .476 batting average and his 1.38 ERA to share division one honors with Rosso. The sophomore and University of Miami commit accounted for 35 of the Patriots' runs throughout the season, as he scored 20 himself and plated 15. He hit for 10 doubles, one triple, and one homer, boosting his on-base percentage to .539. At the plate, Ziehl only struck out seven times in his 63 at bats. On the mound, he was responsible for 64 strikeouts.
Joining them on Monroe County's Division I First Team are Victor teammate CJ Williams and Penfield teammates Bobby Bradley and Sonny Burch. Williams finished the season hitting .500 while collecting 33 hits, five doubles, and 21 RBI. Penfield's Bradley had six doubles, one triple, and one homer on his way to a .342 average. The senior scored 12 runs and knocked in 17. Burch threw 30.1 innings for the Patriots, recording a 2.08 ERA and 31 strike outs. Fairport Red Raiders Peyton Olinski, Anthony Roides, and Tyler Holmes grabbed spots with their standout seasons. Olinski posted a .424 average with 25 hits, including three doubles, three triples, and one home run. Roides maintained a 1.00 ERA in 35 innings pitched. He allowed five earned runs and struck out 24 in his 4-1 season. Holmes collected 16 hits, eight RBI, and 14 runs and worked 17 walks. The University of Hartford commit also swiped eight bags.
Webster Schroeder's Alex Vogt earned a spot on the team with his .375 average, 13 RBI, and 12 runs scored. Andrew Sanchez and Patrick Sherron represent Rush-Henrietta. Sanchez, who will attend Mercyhurst College in the fall, collected 28 hits, including six doubles, three triples, and four homers, to post a .406 average. He scored 19 runs and hit in 16. Sherron threw 52.3 innings for the Comets, finishing the season with a 2.48 ERA. In his ten appearances, he had 42 strikeout victims. Hilton's third baseman Drew HerrNeckar also earned a spot with his .333 batting average in the league and clutch hitting. He accounted for 26 Hilton runs with 12 RBI and 14 runs scored. HerrNeckar hit four game-winners, two of which walked-off the Cadets.
Gartland's solid pitching complimented by his performance at the plate earned the Division II Co-Player of the Year title. He threw 50.2 innings for Irondequoit this season, earning four wins and a 1.000 save percentage in his three save opportunities. His finished the season with 82 strikeouts, second in Monroe County, and a 1.24 ERA. At the plate, Gartland averaged .358, collecting 24 hits with nine doubles, one triple, and one homer. He knocked in 21 runs and scored 12.
Sculli finished the Canandaigua's regular season with 93 strikeouts during the regular season, a 0.135 ERA, and six wins to share divisional honors. The senior southpaw threw a no-hitter during Canandaigua's spring break trip, then came back home to throw yet another in his next start. He and his teammate, and First Team member, Cooper Crunick led the Braves to a sectional title and beyond with their arms and bats. Sculli produced a .303 batting average with four doubles, four triples, and one homer. He accounted for 30 runs by plating 11 and scoring 19. He also swiped seven bags.
Crunick produced similar numbers to Sculli, earning a place on Monroe County's Division II First Team. The Binghamton University commit also threw no-hitters this season for Canandaigua, producing a .665 ERA, six wins, and a total of 67 regular season strikeouts. At the plate, Crunick averaged .397 with six doubles, five triples, one home run, 18 RBI, and 24 runs scored. Two other Braves earned spots on the firstteam, Dylan Mackenzie and Seth Vigneri. Mackenzie held a .357 average and a 0.955 ERA in his relief opportunities. He hit three doubles, three triples, and two long balls, knocking in 19 runs and allowing him to cross the plate 22 times. Vigneri finished with a .366 average, 18 RBI, and 17 runs scored. Also on First Team are Gartland's teammates, Nick Serce, Jackson DeJohn, and Frankie Fernandes. Serce led Irondequoit's pitching staff with 53.1 innings, a 7-2 record, and a 1.05 ERA. Through the first half of the season, Serce allowed only one run. He finished with a mere eight earned runs against him and 65 strikeouts. The senior tallied 22 hits at the plate, three doubles, 12 RBI, and 11 runs. He struck out only five times. DeJohn, who will continue his academic and athletic career at St. Bonaventure University, finished with three saves in his three opportunities, striking out 36 in 28.1 innings and recording a 1.976 ERA. Fernandes averaged .339 with 21 hits, three doubles and one homer, 10 RBI, and 15 runs. Both DeJohn and Fernandes were never caught stealing, combining for 17 stolen bases between them.

Wes Colucci and Jake Carroll combined to play a part in 44 of Churchville-Chili's runs this season. Colucci hit five doubles and one triple on his way to a .333 average; he plated 10 runs and scored 15. Colucci knocked five extra-base hits, scored 10 runs and crossed the plate nine times. He also finished with a 3-0 record on the mound. Spencerport's Jason Nau and Webster Thomas' Devin Mulcahy round out the Division II First Team. Nau's batting average sat at .630 through the first half off the season. By the end, he finished at .426 on 26 hits, five doubles, and one three-bagger. On the mound, he posted a 2.84 ERA and one save in 24.2 innings. Mulcahy threw three complete games for Thomas in his 5-2 season. He recorded a 2.56 ERA, 1.48 WHIP, and 47 strikeouts in 44 innings of work. At the end of the season, he was hitting over .400 to boost his batting average to .290. He hit six doubles, swiped six bases, scored 13 runs, and knocked in 15.
With his 1.14 ERA, Bockmier finished the season 10-1 for Pittsford Mendon to garner Monroe County Division III Player of the Year. The lefty allowed 53 hits, 13 runs, 11 earned, and 13 walks in his 67 innings of work. 69 opposing batters fell victim to a Bockmier strikeout. In three consecutive starts, he put out 10 via strikeout. At the plate, the senior ace finished with 26 hits and a .377 batting average. He hit four doubles, a triple, and two long balls.
Mendon teammate Karthik Mathew-Malik earned a spot on the Division III First Team. Mathew-Malik finished the season with a .408 batting average. Of his 31 hits, eight were doubles. He scored 24 runs. Greece Athena's Casey Saucke II, Ryan Dineen, and Brandon Smith grabbed spots. Saucke led the division with a .543 batting average on 38 hits. The sophomore hit 10 two-baggers and a triple, knocked in 21 runs and scored 29 himself. The University of Virginia commit finished with a .611 on-base percentage. Dineen led the pitching staff with a 0.724 ERA and an 8-2 record. He allowed only six earned runs in 58 innings. Smith finished with a perfect 5-0 record and a 1.19 ERA, allowing seven earned runs and nine walks in 41.1 innings.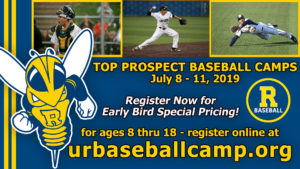 Keeghan Cummings, Connor Fitzsimmons, and Nick Provenzale represent Pittsford Sutherland. Cummings finished the season second in the division with a .482 average. He hit five doubles, plated 17 runs, and scored 26. Of his 18 stolen base attempts, he reached safely. Behind him, Fitzsimmons hit .458 with seven doubles, 22 RBI, and 10 runs. Provenzale went 4-0 on the mound with a 1.01 ERA in 27.2 innings; batters averaged .173 against him. He also helped his squad with a .380 average, 16 RBI, and 18 runs. Brighton's Ryan Watson and Trent Wasserman were named to First Team for both their offensive and defensive efforts. Watson, playing centerfield and pitching, had 36 put outs in 43 attempts, ending the season with a .953 fielding percentage. The University of St. Lawerence commit hit .405 with seven extra-base hits, including one homer, and scored 26 runs. Wasserman, like Watson, played solid defense, putting up a .970 fielding percentage in his time on the mound and first base. The senior hit .367, knocking in 20 runs and scoring 18. Drew Southcott hit .364 and led Greece Arcadia with 24 hits. The senior worked 12 walks and finished with an on-base percentage of .543. He led the Titans with nine stolen bases and 15 runs scored. Brockport's Sam Velletri rounded out the Division III First Team. In 91 chances, the Blue Devils shortstop committed just two errors and finished with a fielding percentage of .978. He was a part of 10 double plays turned by the Brockport infield. Velletri hit .361 on the year with nine RBI and 14 runs scored.
Batavia's Sam Sallome led Division IV in average and slugging to earn Player of the Year honors. The senior hit .551 with 38 base raps on the season including  one doubles and three triples to finish with a .768 slugging percentage. He drove in 18 runs and scored 21.
Teammates Andrew Francis and Jake Humes joined Sallome on the first team. Francis finished 6-0 on the mound for the Class B1 champs. He struck out 42 and walked eight in 34.1 innings of work while compiling a WHIP of .82. Humes hit .357 with 23 RBI and 15 runs scored. Honeoye Falls-Lima filled three spots in the Division IV First Team with Hayden Smith, Brian Reinke, and Derek Childs. Smith led the Cougar offense with his .409 batting average and .444 on-base percentage. The pitcher and third baseman finished with 10 doubles, two triples, and 20 RBI. On the mound, he struck out 54 in 39.1 innings pitched. Reinke plated 18 runs with the help of five doubles and three triples. He earned seven saves and struck out 31. Childs led the rotation with a 6-1 record, 2.42 ERA, and 45 K's in 43.1 innings.
Also tacking on three to the team is Eastridge with Brady Booher, Jayden Fayad, and Shane Harisis. Booher posted a .400 batting average and a .720 slugging percentage, knocking five doubles, a triple, and three homers. Fayad led Eastridge's scoring with 17 RBI and 27 runs scored. While his .382 average is impressive, what's more impressive is that he only struck out three times in 53 at-bats. Harisis, with a .662 slugging percentage, roped seven two-baggers, three triples, and two home runs. Odyssey's Korey Canton rounded out the First Team. The junior was 4-2 with a save in 12 appearances on the mound. He struck out 58 in 43.2 inning of work. Canton led Odyssey's offense Canton paced Odyssey's offense hitting .351 with six doubles, a triple, eight RBI and 11 runs scored.