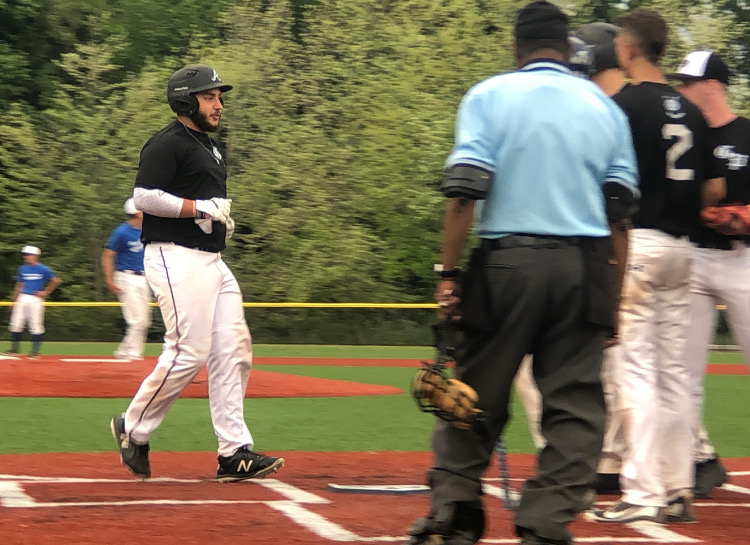 By BILLY HEYEN
EAST IRONDEQUOIT, N.Y. — Greece Post head coach Dan Ford predicted to his assistant before Monday's game that they'd hit three home runs. There was a bit of friendly wind in the air during Greece's pregame warmup.
He didn't predict, though, that two of Greece's first three hitters would homer. That's what happened, a foreshadowing of the slugfest to come.
"That's crazy, just huge momentum shift for the team, just great stuff all around," Greece Post's Tyler Curtis said.
Justin Augustine (@greecearcadia ) just went deep too, a 2 run HR to left. 3-0 @greecepostball. @PickinSplinters @jml5798 pic.twitter.com/EJuAjkqPtU

— Billy Heyen (@Wheyen3) June 10, 2019
Greece Post eventually held on to beat Irondequoit Post, 8-6, at Eastridge High School on Monday night. Curtis doubled, tripled and homered. Justin Augustine hit two home runs of his own. That outdid a home run from Irondequoit's Reece Correa to give Greece a 2-0 start to the Legion season.
"We talked about it before the game started," Greece Post's Justin Augustine said. "We talked about hitting some home runs today, and maybe even going back-to-back. Unfortunately that didn't happen, but we still had a piece, had a good day, and came out with a win."
Curtis stepped to the plate on Monday coming off what he called a "rough" weekend for his travel team. As the leadoff hitter for Greece, he wasn't thinking about homering. But he got a fastball over the plate, and the lefty hitter pulled it out to right.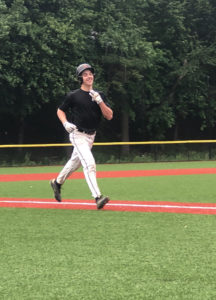 After a Mike Ruta single, Augustine readied for just his fifth in-game plate appearance since labrum surgery last year. He returned for his first action in Greece's opener Friday after starting to swing a lot again in mid-April. The rust didn't show, though, as Augustine yanked a ball to deep left for a two-run shot.
"My swing still feels good," Augustine said. "… I've been working on my swing a lot, and it felt good today."
Isaac Yorkey drove a ball to the center field fence for an RBI double three batters later, and Greece had a 4-0 lead before starter Zach Wright even took the mound.
Irondequoit's bats weren't too far behind. A Nick Serce sacrifice fly and a Jayden Fayad single got two runs back in the bottom of the first. Serce drove in a third run on a groundout in the third.
Greece answered, not for the last time, in the middle innings. Curtis stayed hot with a scalded ground-rule double to right-center field, although it didn't lead to any runs. Leading off the fifth, Augustine added to the scoreboard with his second jack, this time flying directly over the foul pole in left, just fair.
"I was hoping it was staying fair," Augustine said. "But they both felt like they were gone. They both felt good off the bat."
Correa continued the home run derby-like contest, pulling a homer to right center leading off the bottom of five. Irondequoit took the lead a few hitters later, when both Chad Gartland and Jackson DeJohn raced home to score on a Fayad sacrifice bunt. That gave the home team a 6-5 advantage.
On this Monday night, though, six outs were too many for Irondequoit to get without more runs scoring. The bottom of Greece's order got it going, with a leadoff single by Joey Alphonse and a one-out knock by nine-hitter Nate Yantz. That brought up Curtis again, and for the third time, he ripped a ball, this time over the centerfielder for a two-run triple, taking the lead back again.
"Gotta remember it's baseball, so every day's a new day," Curtis said. "Gotta come with that mentality, gotta love the game, keep working hard… Felt like I was seeing it well, not trying to do too much, that's when you get in trouble. Head down, shoulder in, and drive it."
Curtis with a two-run triple over center, 7-6 @greecepostball in top six. Curtis is a single from the cycle. @PickinSplinters @athenabaseball pic.twitter.com/4Uy4wZ0hw2

— Billy Heyen (@Wheyen3) June 10, 2019
Devin Georgetti pinch-hit and gave insurance to Greece with a single into right field. And while Wright had labored through much of the game on the mound, the righty from Greece Olympia became his sharpest with a lead to hold onto late in the game. He struck out two guys in the sixth, both on his deuce.
In the seventh, Irondequoit led off with a single, but Wright induced a ground-ball double play. After an infield single, Wright got a fly out to end it. It was the longest stretch of outs he went all game without allowing a run, and it notched a complete-game victory.
"(Zach) fought when he needed to, put the pitches in, and kids made plays when the ball got hit to them," Ford said of Wright.
Rain began to fall late in Monday's game, though lightly. It only picked up into a downpour moments after Wright recorded the final out. But for the Greece hitters, they didn't mind all that much. Augustine continued a postgame interview even with some rain falling on his head. Curtis strolled leisurely to the parking lot with nothing but a hat to keep him dry, much more content with his Monday hitting than his swings on the weekend.
And for Greece Post, it was an early Legion-season statement. Late in the game, Irondequoit head coach Joey Kuhn remarked out loud to anyone who could hear him something that had been made perfectly clear:
"Man, these guys can really hit."