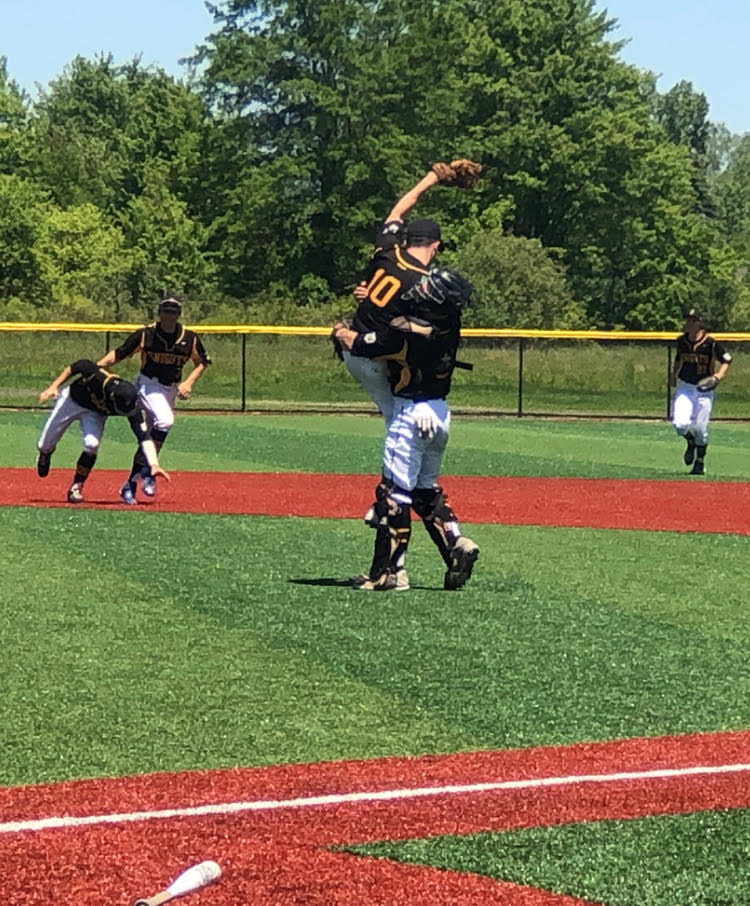 By BILLY HEYEN
LOCKPORT, N.Y. – McQuaid baseball is known for aggression on the base paths and timely bunting. The Knights don't always have to use it during the regular season, when games aren't necessarily as tight and the bats create plenty of cushion.
But on Saturday, as the Far West Regional moved into the sixth inning of a serious pitchers' duel, McQuaid's style showed in full force. A two-strike sacrifice, the contact play and a run-scoring bunt hit made the difference for the Knights.
"We always hang our hat on our baserunning and our bunting," McQuaid head coach Tony Fuller said. "… We always preach, and the guys buy into it, when the time comes in these championship-like games, you're gonna run into a pitcher that neutralizes you. And you've got to be able to run the bases the right way and bunt when needed."
McQuaid again rode the right arm of Hunter Walsh, this time to a 2-1 win over Frontier (VI) in the Class AA Far West Regional. The win advances the Knights to the state final four next weekend in Binghamton. On a day when Walsh was matched nearly pitch for pitch by the Falcons' Connor Eisenmann, it took the little things to give Walsh a lead. He completed the job, as he's done all season to an 11-0 record. For the second time in three seasons, McQuaid will be one of the last four teams standing in the state.
"It's almost been a plan to be going to Binghamton next weekend," Knights' catcher Ben Beauchamp said. "We planned our schedules around it, so it's great to be going back there."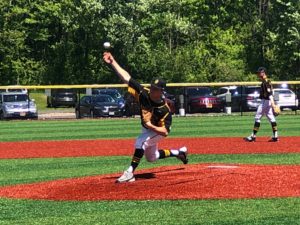 From the outset, it was obvious Walsh's outside fastball was working, just as it has been all postseason long. But working just as well was Eisenmann's curveball, a sharp pitch he relied on more than half the time in the early going. Neither pitcher allowed a baserunner through the first two innings. The first hit came off Walsh in the bottom of the third, but no damage was done.
Walsh relishes the opportunity to pitch in McQuaid's big, win-or-go home games. In the sectional quarterfinals, he was similarly matched in zeros by Fairport's Josh Van Bramer. He'd been in such a tight contest less than two weeks ago and delivered, eventually striking out 14 hitters in a win. Walsh knew his offense would get him the run or two he needed.
"The zeros out on the board kept me going," Walsh said, "and I knew we were gonna score a run, just like Fairport, and it happened in the sixth inning, just like Fairport."
McQuaid didn't mount anything even close to a rally until that sixth inning. The Knights have said time and again how their whole order can do damage, and this time, it was eight-hitter Patrick Xander lining a double the other way to left center to lead off the top of six. Jack Beauchamp pinch-ran for Xander. In stepped sophomore nine-hitter Keeler Thomas, with Fuller's directive to get a bunt down.
Thomas took ball one, then bunted foul twice. Fuller kept the bunt on, and this time Thomas came through, pushing the two-strike pitch toward the first-base line to advance Jack Beauchamp to third. It was time for the little things that Fuller has preached all season to matter.
With Jack Beauchamp on third, leadoff hitter and senior Ben Beauchamp came to the plate for the Knights. Fuller put the contact play on at third, meaning that as soon as Jack saw the ball on the ground, he'd break for home, no matter if someone fielded it. On an 0-2 pitch, after fouling off three more, Ben Beauchamp yanked a hard grounder to the backhand side of the third baseman. The fielder snared it, but Jack Beauchamp slid home, headfirst, with the go-ahead run.
"That was one of the greatest feelings ever, to be in this situation, getting my brother to score like that, that was absolutely huge," Ben Beauchamp said.
It's @mcquaidbaseball on the board first. Xander double, Jack Beauchamp pinch runs, Thomas two-strike sac to third. And @benbeauchamp_ turns on one to third that his younger brother beats home.

1-0 Knights in top six. @PickinSplinters pic.twitter.com/BXmqwZgXHb

— Billy Heyen (@Wheyen3) June 8, 2019
Ben Beauchamp stole second, then advanced to third on a Noah Campanelli flyout. Frontier put a shift on for Tyler Griggs, a lefty, and he laid a bunt hit down the third-base line to score McQuaid's second run. Walsh had gotten his support.
"When that happened in the sixth, that's big time, that's huge," Walsh said.
Frontier got one run back in the sixth, but Walsh showed the dominance he's had all year in getting a popout and strikeout to escape with the lead intact at 2-1. And he worked a 1-2-3 seventh to send McQuaid to the final four.
Just as they'd done last Saturday, the Knights dogpiled near the mound after the final out. Walsh again leapt into Beauchamp's arms before they formed the base of the pile. But the celebrations that followed weren't quite as intense. They almost forgot to take a team picture.
And when McQuaid received the Far West Regional plaque, they jumped up and down a few times, all reaching to touch it. But a few voices in the huddle broke through. A "We're not done" and a slightly sarcastic "We don't want this." The Knights had to win Saturday to get where they want to go. But now that they won, pulling off a win that screamed McQuaid baseball, they're ready for more.
"This is nice and everything," Walsh said. "But like I said in the beginning, we're ready to win states, and that's our plan, and I don't think our job is accomplished until we win states."