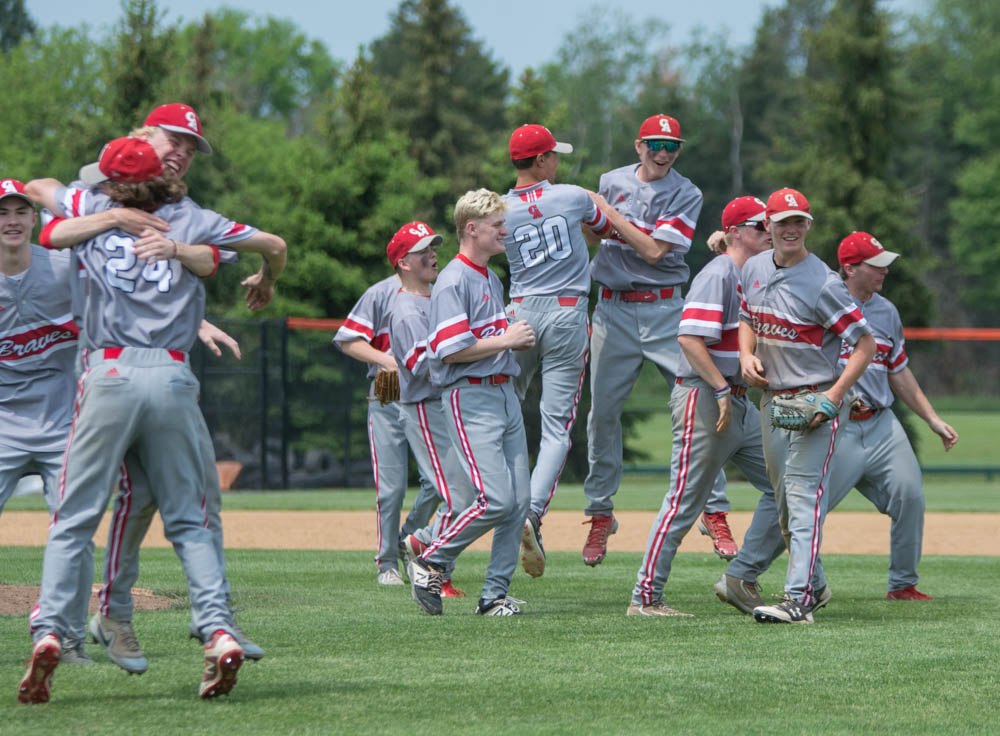 By KEVIN OKLOBZIJA
You would think that after doing this Section V Class A1 championship celebration thing for four straight years, the final-out choreography by Canandaigua Academy's baseball team would be worthy of SportCenter.
The sheer unbridled joy shown Saturday afternoon, however, is proof that title No. 4 was every bit as special as Nos. 1, 2 and 3.
As Jesus Baez attempted to dump the water cooler on pitcher Michael Sculli, the hero of the day, the liquid went nowhere near the target — or anyone wearing a Braves uniform, for that matter.
"He totally, completely missed," Sculli said with a smile.
It was pretty much the only thing Canandaigua players failed to execute on Saturday afternoon, though.
Sculli pitched a three-hit, complete-game shutout and the Braves methodically shut down top-seeded Greece Athena to win the sectional title game 3-0 at Rochester Institute of Technology.
VIEW MORE SUE KANE PHOTOS HERE.
They put an exclamation point on the victory, too. A potential bottom-of-the-seventh Trojans' rally was instantly extinguished when second baseman Cooper Crunick, shortstop Dylan Mackenzie and first baseman Tristan Tyndall turned a 4-6-3 trophy-winning double play.
Let the celebration begin.
"It does not get old," CA coach Dale Werth said after the trophy presentation and team pictures. "It's such a hard thing to do."
Amazingly, Sculli, catcher Seth Vigneri and Crunick have made it seem easy. Four years on the varsity, four years hoisting the championship block.
"After beating Irondequoit (4-0 in the semifinals on Thursday) we came in here with all the confidence in the world that we could win that fourth block." Sculli said.
The Braves (16-7) gained even more momentum by taking a 1-0 lead three batters into the game. Crunick laced a full-count fastball into the left field corner for a double, advanced to third on Mackenzie's ground ball and scored on Vigneri's ground out.
The score wouldn't change for the next five innings as Sculli and Athena pitcher Ryan Dineen kept hitters off-balance and off the bases. Athena (20-3) finished with just three singles, and never two in an inning. Canandaigua also had just three hits.
"Ryan's been our horse all year; he's emerged as a real top-notch varsity starter," Athena coach Jason Bunting said. "To shut that team down the way he did was pretty impressive."
The Braves finally scored the game-breaking runs in the sixth. Joe Brinza lined a single to center and, one out later, Caden Lefave walked. With two outs, Sam Werth's moderately hit chopper to short turned into a throwing error and both runners scored.
"It's just putting the ball in play," Werth said. "You never know what can happen when you put pressure on the defense."
Instead of a 1-0 lead, it was 3-0 with only six more outs to go.
"Extra insurance is always nice when you're pitching," Sculli said.
Still, as the pitch count climbed and the afternoon of high-leverage situations took its physical toll on Sculli's left arm, he continued to make pitches when necessary.
"When he's on the mound, they're a force," Bunting said. "Even if guys get on, he does his best to minimize damage. What makes him so tough is he can throw multiple pitches for strikes. He keeps you guessing, and it's never good if you go up there guessing."
Canandaigua will play the Class A2 champion at 5 p.m. Tuesday at RIT. The winner advances to the regional to play the Section VI champ at 3 p.m. Saturday at Dwyer Stadiuim in Batavia.