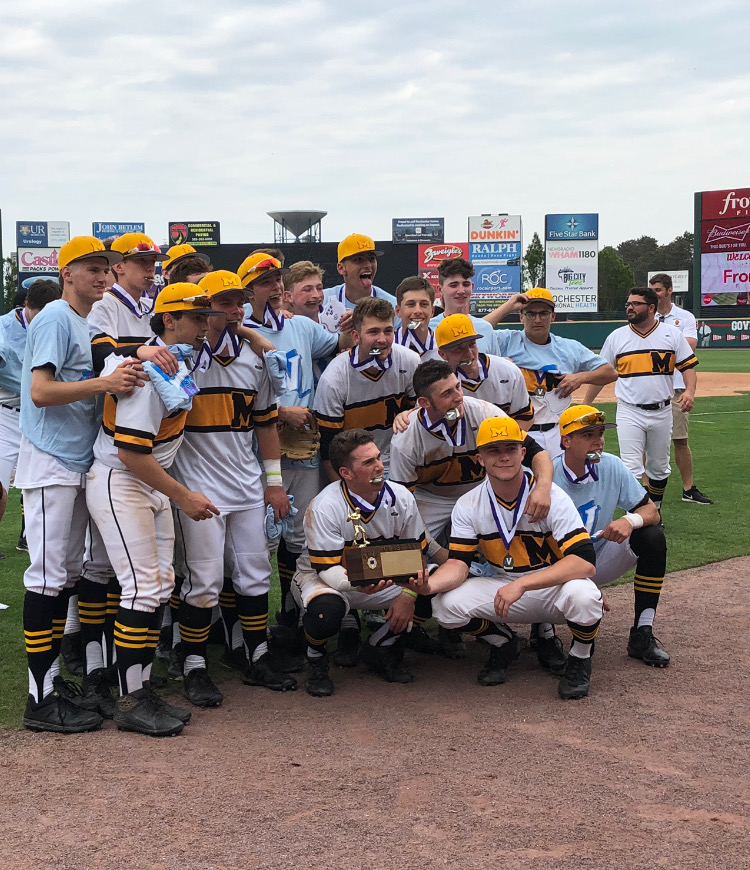 By BILLY HEYEN

ROCHESTER, N.Y. — McQuaid's Hunter Walsh had reached his pitch limit and would face his last batter with two outs in the seventh. His head coach, Tony Fuller, wanted to let him finish it off. The Knights wouldn't have been in that spot if not for Walsh, Fuller said.
On his 128th pitch of the day, Walsh induced a low fly ball to center field. Drew Bailey settled under it for the third out. McQuaid stormed the mound, Walsh leapt into Ben Beauchamp's arms, and then they all piled on top of each other, coaches included.
"I told (Walsh) before we went out for the last inning, 'For the record, you're jumping in my arms,' and then we'll pile," Beauchamp said.
For the second time in three years, McQuaid claimed the Section V Class AA championship. After two years in a row of walk-offs — one in their favor, one not — the Knights handled Penfield, 7-1, on Saturday at Frontier Field. Walsh pitched his second complete game of the postseason, across which he's allowed one total run and struck out 20. It sends the Knights back to the Far West Regional next weekend to face the Section VI champion.
"Obviously a sectional championship is what we wanted," Fuller said. "But this team is greedy, and they've got big goals."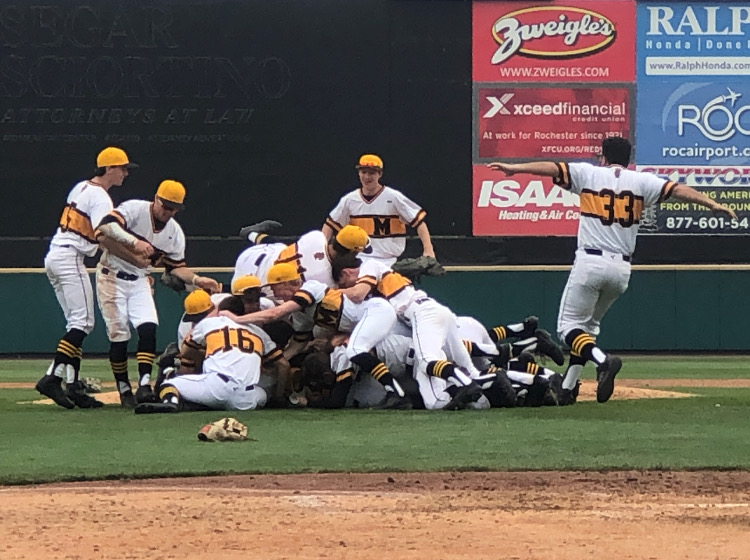 McQuaid couldn't have asked for a much better start. Walsh worked around a first-inning single to strike out two. Then with two outs and none on in the bottom half, Tyler Griggs laced a liner to right center. He was thinking two out of the box.
But then the ball skipped by the Penfield outfielders to the wall. Griggs saw Fuller waving him to third and kept coming. He admitted he was a little shocked when Fuller kept waving him to score, but Griggs trusted his ever-aggressive coach and sprinted home with the first run.
"He started rounding me to home," Griggs said, "and I was like, 'Oh jeez! I just turned on the burners and went."
The Knights tacked on another after a Bailey single and a Penfield error. As it turned out, those were the only two runs Walsh would need. He allowed a 408-foot homer to his opposite number, Gage Ziehl, leading off the second. But from there, Walsh shut the door, albeit a bit differently than in the quarterfinal.
The command Walsh exhibited Tuesday against Fairport wasn't quite with him on Saturday. He needed to grind through at bats to get outs. In the second, Walsh stranded two Penfield runners on base.
"A lot of my pitches were left up, and that's why they got some of the hits that they did," Walsh said. "… After that, I just made some adjustments. Getting the ball over the plate, hitting my inside fastball, and it ended up working out pretty well."
McQuaid tacked on two more in the fourth. Ben Beauchamp got a fastball up in the zone and ripped it over the center fielder for a run-scoring triple. He'd never slid head first before this season, but he said it feels like he does it every game now, and it had him fired up as he popped up.
"I love it," Beauchamp said. "I like getting in there, I like hopping up, and I like seeing everybody going nuts. That's the best."
A rocket over center field by @benbeauchamp_ to drive home Thomas, then Campanelli bunts Beauchamp home: 4-1 @McQuaidBaseball in the bottom of two. @PickinSplinters pic.twitter.com/Zbca0XQwFE

— Billy Heyen (@Wheyen3) June 1, 2019
Noah Campanelli brought Beauchamp home with a bunt hit to make it 4-1. The Knights added two more in the fifth, with Campanelli and Ryan O'Mara both doubling as part of the damage. From there, Walsh would need to escape one more big jam to get his chance at the center of a dogpile.
Walsh looked gassed in the sixth. His pitch count crept over 100 pitches, and Penfield loaded the bases with two walks and a single. But in a mid-inning mound visit, Fuller and Beauchamp could tell Walsh wasn't coming out of the game.
"(Fuller) pretty much leaves it up to me and sees how I'm feeling before he makes any decisions," Walsh said. "I told him 'I'm good,' and I was gonna keep going. I wasn't gonna let anyone take me out of this game. I wanted to finish this so bad, and we did."

For a potentially tired arm, the nine-pitch at bat that followed could've spelled danger. But instead, Walsh spotted a 3-2 fastball at the knees, a strikeout looking, the flames of a rally put out.
Griggs delivered an RBI single in the seventh to add one more run of insurance. Walsh nabbed a first-pitch out in the seventh as he approached the postseason pitch-count max of 125 to start a batter. A single and a lineout followed. Walsh would face his final batter, no matter the outcome. But certainly himself at the bottom of a pile of Knights, finishing what he started, was the preferred choice.
"I can't be any prouder of that kid, that kid's a dog," Beauchamp said of Walsh. "He wants the ball every single game. Even if he can't throw, he wants the ball. That just shows who he is. That just shows that he wants to be out there, he wants to be in control, he wants to be the one leading us to victory, and that's what he did today."
There's 13 seniors on the McQuaid roster. They experienced the heartbreak of a walk-off loss in the final a year ago, and four made it to the state final four two seasons ago, as sophomores. Like Fuller said, they're greedy: They're not planning on just one more game.
Beauchamp danced as the Knights awaited the postgame ceremony. Fuller embraced his children. But Griggs' mind had already thought ahead. With the sectional trophy in his hands, Griggs looked toward the McQuaid faithful on the first-base side and raised the wooden block in the air. He shouted, "We've got more to get, let's go!" He wanted to go further than the Knights ever have, to win a state championship that McQuaid's never gotten.
"The goal's a ring," Griggs said. "Gotta take it one pitch, one inning, one game at a time. Keep playing our game, and we could do it."