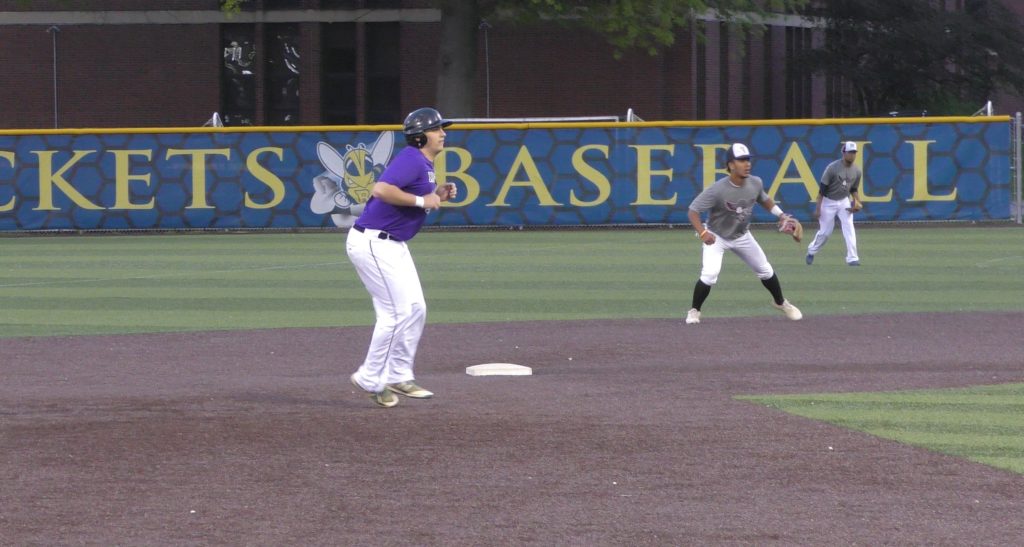 LAKE MONSTERS 12
WINGS 4
Erik Gauer (Gordon) connected on a two-run home run to lead the Lake Monsters past the Wings in the ICBL opening game. Gauer's two run jack came in the fifth inning as he drove in Nate Sanderson (Hilbert) after he reached with a double. Drew Treviso (Alfred State) struck out three over three innings of work and picked up the win. Christian Montanez (Roger Williams) had an RBI single in the sixth inning, walked and scored a run. Nicolas Fiore (Fredonia) had a single in the first, scored a run and was walked once.
Evan Newkirk with the #SCTop10 play to prevent an extra base hit! Lake Monsters lead 6-4 after 3. pic.twitter.com/sniMjZao5a

— Interstate CBL (@interstateCBL) May 30, 2019

Jarod Signorelli (Elmira) had a single and reached base on balls once. Michael Jamele (Merrimack) crossed home plate twice. Jake Webb (Finger Lakes CC) earned three walks and crossed home plate . Evan Newkirk (Castleton) worked a pair of walks and scored a run. Ryan Ballard (Tompkins Cortland CC) and Andrew Wallman (Hilbert) both reached on balls.
A 6-4-3 ends the bottom of the 4th with the Lake Monsters leading 7-4 pic.twitter.com/zwFjSUYDJM

— Interstate CBL (@interstateCBL) May 30, 2019

Stephen Edgett (St. John Fisher) went 2-for-2 for the Wings with a two-run home run in the first and stole a base. Justin Graham (St. John Fisher) went 2-for-3 with two stolen bases and a run scored. John Faynor (Genesee CC) went 2-for-3 including a triple. Frankie Santiago (Finger Lakes CC) added a single and a stolen base.


MONARCHS 2
FLYIN' FISH 10
Donovan Moffat (St. Bonaventure) fanned ten batters over four shutout innings and let up just one hit as the Flyin' Fish took down the Monarchs. After surrendering a two-out double in the first inning, Moffat retired the next nine batters he faced (seven on strikes) before Pat Bigham (SUNY Fredonia) reached on a two-out error in the fourth. Zach Carpin (Clarkson) highlighted a five-run fourth with a grand slam. Cody Cooper (Slippery Rock) started the rally with a one-out single. Andy Mashewske (Keuka) walked and Andrew Zibuck (Lackawanna College) reached on an error to load the bases for Carpin who gave the Fish a lead they did not surrender.
Zach Carpin unloads the bases with a shot to right center for an inside the park grand slam…. after 4 the Fish lead the Monarchs 5-0 pic.twitter.com/iZkhZ6uJ66

— Interstate CBL (@interstateCBL) May 31, 2019

Cooper homered as part of a four-run fifth when the Fish put the game out of reach. Cooper went 2-for-3, with two RBI, scored two runs and snagged a stolen base. Zibuck and Mashewske scored two runs apiece and both stole a base. Aaron Shoemaker (Finger Lakes CC) added an RBI triple and scored a run. Santino Rosso (Hofstra) belted a double and crossed home plate once. Justin LoTemple (Alfred State) had an RBI single. Sean Sheets (Keuka) had a hit, scored a run and reached on a walk once. Dylan Broderick went 2-for-3 with two runs scored for the Monarchs. Tyler Broderick (Keuka) and Tyler Cyrus (John Carroll) each added a double. Maxwell Yale collected an RBI.