By DONOVAN MOFFAT
ROCHESTER, N.Y. — After trailing 1-0 in the first half inning of the game, Irondequoit scored seven unanswered runs over the next five innings on its way to a 7-2 victory over Spencerport at the University of Rochester on Tuesday night.
"Our ability to execute and all around our lineup did their jobs," Irondequoit head coach Joe Kuhn said was their key to victory. "We were good on the bases, we were good when we had to bunt and we hit the ball today."
Spencerport's Jason Nau led off the game with a single and the Rangers put pressure on Irondequoit's starting pitcher Jackson DeJohn, early. Gino Pellet came through with an RBI single to put the Rangers up 1-0.
Gino Pellett gets @Ranger_Sports on the board with an RBI single. 1-0 going into the bottom of the first. @PickinSplinters pic.twitter.com/HmxbX9K3D2

— Donnie Moffat (@donniemoffat) May 28, 2019
From that point, the Eagles took over and had control.
DeJohn, a St. Bonaventure University commit, drove in Nick Serce with a one-out single in the first. Next batter Jaleel Davis laid down a perfect bunt that scored Chad Gartland from third to give the Eagles a 2-1 advantage.
Jackson DeJohn gives the @WIEagles an answer in the bottom of the first with an RBI single. The Eagles scored again in the inning after a squeeze bunt at the plate by Jaleel Davis to put them up 2-1. @PickinSplinters pic.twitter.com/J1hJgkFbwm

— Donnie Moffat (@donniemoffat) May 28, 2019
"I was trying to get ahead in the count," DeJohn said. "I want to be more aggressive earlier in the counts and taking pitches I like rather than those go by."

After setting down the Rangers in order in the top half of the second, Irondequoit kept the runs coming.
With two outs and the bases loaded, Gartland answered the call with a three-run double to right center scoring Nick Calarco, Frank Fernandes and Serce. The Eagles jumped out to a 5-1 lead and would be the deciding hit of the game.
Chad Gartland extends the @WIEagles lead to 5-1 with a 3 RBI double to right center. @PickinSplinters pic.twitter.com/YsDWuhugxQ

— Donnie Moffat (@donniemoffat) May 28, 2019
"It felt great helping the team in a big way like that," Gartland said of his double. "Going down in the first inning we knew we could come back and once we scored the first and second run we knew we could put it away and with the bases loaded I knew what to do and I got a good pitch to hit."
Gartland finished his day going 2-for-4 with three RBI and a run scored.
After leading off with a single, DeJohn scored in the bottom of third after a sacrifice bunt from JP Erbland extending the lead to 6-1.
JP Erbland bunts in a run and the @WIEagles take a 6-1 lead going into the top of the fourth. @PickinSplinters pic.twitter.com/c7SChPFC0E

— Donnie Moffat (@donniemoffat) May 28, 2019
Spencerport threatened in the fourth with runners at the corners with two outs. DeJohn worked out of the inning and ended the threat.
In the fifth inning, the Rangers again put pressure on the Eagles after two singles to start the inning by Michael LoPresti and Nau as well as throwing error, put them at second and third with no outs. DeJohn set down the next three batters in order and maintained a five-run lead.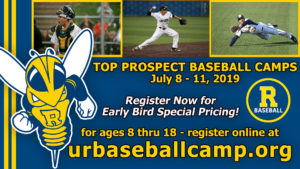 Davis added an insurance run in the bottom of the fifth inning and scored on a passed ball and increased the Eagles lead to 7-1.
Davis went 3-for-3 on the night with three singles, an RBI and a run scored.
In the top of the sixth, DeJohn was relieved after walking the first two batters of the inning. DeJohn would switch positions with Gartland who was catching.
DeJohn finshed his night throwing 5.0 innings and allowed seven hits, one earned run with five strikeouts and four walks.
"It was primarily fastball that was working because my curveball wasn't working well today but if I had to change them up with the speeds it was mostly change-up," DeJohn said about his performance. "Being able to dot the outside and inside with fastball is what I did mostly today."
Gartland set the next three batters down in order with two strikeouts and a pop-out to end the inning. The Rangers put a run on the board in the inning after a wild pitch from Gartland and shortened the deficit to 7-2.
"Fastball, curveball and splitter were working and Jackson was calling great pitches so he kept them off balanced," Gartland said about his pitching.
Spencerport's starting pitcher Kiernan Crowley, threw 6.0 innings and allowed 10 hits, seven runs and had three strikeouts with five walks.
Nau went 2-for-4 with a run. Mark Neu also went 2-for-4 and Pellet finished going 1-for-3 with an RBI for Spencerport.
Irondequoit out-hit Spencerport 10 to 7 in the game.
"We go into the next round and we have Nick Serce well rested and he's had a great year and I like our chances with him on the mound," Kuhn said about their upcoming semifinal game.
"We have all the momentum right now," DeJohn said about his team's chances in their upcoming semifinal game. "Everybody's excited and we just keep going up and up and get better every single game."
DeJohn finished his day at the plate going 2-for-3 with an RBI and a run scored.
"We have a lot of momentum and Nick is a great pitcher, he throws strikes, gets people out and I think with this win going into the next game we have to play our best game to have a chance," Gartland said.
Irondequoit is scheduled to play (3) Canandaigua on Thursday.