By DONNIE MOFFAT
GENESEO, N.Y. — At 13-6, heading into sectionals, Geneseo opened the season with two losses before winning their next seven games. The Blue Devils went on to lose their next three games before finishing the season winning six of their last seven games.
Do the Blue Devils have another winning run in them in their hope to repeat as sectional champions?
Geneseo scored 14 runs between the second and third innings to cruise to a 17-7 victory in Geneseo Saturday morning.
After a scoreless first inning and a stoppage in play after heavy rainfall, the sun came out and Geneseo's bats came alive in the second inning.
The Blue Devils had the bases loaded with one out and Luke Harris delivered the first score of the game with an RBI single that scored Michael Walton to take the 1-0 lead and the scoring did not stop there.
Luke Harris gets things started for the Blue Devils with a bases loaded RBI single to right field. @PickinSplinters pic.twitter.com/u7vsOFtBoz

— Donnie Moffat (@donniemoffat) May 25, 2019
Next batter Owen Lyons, delivered a two RBI single up the middle to extend the lead.
Geneseo scored four more runs in the inning after a passed ball scored Harris and Lyons, an RBI single from Evan Salvaggio scored Jake Hamilton and Salvaggio scored later in the inning after an error in the infield.
The Blue Devils tallied six hits in the inning.
"Jumping out in front early in the second inning when we got those seven runs, you could see the body language of the other team change and their shoulders slumped and that was a big key (in the game) to getting up early," Geneseo head coach Nick Drollette said after the game.
Geneseo added to its commanding lead in the third inning with another seven spot.
Hamiliton, Harris and Liam Miskell each had an RBI single in the inning and Russel Brownell added a two RBI single. Brownell and Walton each scored on wild pitches to give the Blue Devils a 14-0 lead in the top of the fourth inning.
Jake Hamilton extends the lead for the Blue Devils to 8-0 in the bottom of the third with an RBI single. @PickinSplinters pic.twitter.com/BDp25PNuMv

— Donnie Moffat (@donniemoffat) May 25, 2019
Harris led the team on the day going 4-for-5 with four singles, two RBI and a run scored.
Geneseo's Luke Harris stays hot at the plate and is now 4-for-5 on the day. @PickinSplinters pic.twitter.com/M1Z9yDxtig

— Donnie Moffat (@donniemoffat) May 25, 2019
"I was seeing the pitches in really good today," Harris said following his performance. "The weather was nice to clear up."
Lyons produced a solid day at the plate as well going 2-for-2 with two walks, two RBI and two runs scored.
"Everyone was playing with some confidence today," Lyons said. "You had guys throwing in balls well so you just sit back and don't lunge and hit them well."
Lyons, also the starting pitcher for the Blue Devils, finished the game throwing four scoreless innings and only gave up three hits and two walks.
"We have a really good catcher and I give all the praise to him," Lyons said. "I was hitting my spots and my curveball was working good early and I have a really good defense behind me."

Zach Bzduch came in relief for the Blue Devils.
Naples' starting pitcher Ben Green, finished throwing 2.1 innings and allowed 12 earned runs on 10 hits and had two strikeouts with five walks. Dylan Bozeman came into relief midway through the third.
The Blue Devils tacked on three more runs in fourth inning with a passed balls that scored Miskell and Brownell and a sacrifice-fly from Noah Reilly that scored Michael McCaughey.
"I shook up the lineup a bit and the guys I moved around responded well to it so I think we are going to take that going forward and wake up some of those bats that were dormant at the end of the season," Drollette said about his team as he looks to prepare his team for the next round.
Nick Green was called upon to pitch midway through the fourth inning for Naples after a single and two walks were given up to load the bases. In the final three innings, Green surrendered only one hit and had five strikeouts without allowing an earned run.
Nick Green for Naples strikes out the final batter of the inning. 17-0 Blue Devils going into the top of the fifth inning. @PickinSplinters pic.twitter.com/qB5kSgnnCV

— Donnie Moffat (@donniemoffat) May 25, 2019
Naples' offense was sparked in the top of the fifth inning and put runs on the board.
Drew Reigalsperger scored on a Geneseo infield error after he walked to start the inning. Later in the innings, Nick Clearman hit an RBI single that scored Bozeman to make the score 17-2.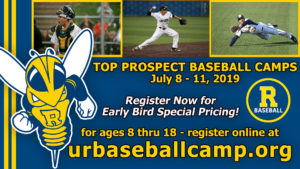 Naples would show some light of a rally in the top of the seventh after three walks loaded the bases with one out.
Naples put up five runs in the inning after Clearman hit a sacrifice-fly that scored Reigalsperger, a bases-loaded walk scored Ben Green, a wild pitch that scored Bozeman and an two RBI single by Owen Hulbert that scored Nick Green and Jackson Brahm.
Nick Clearman hits a sac fly to left field and give Naples another run. @PickinSplinters pic.twitter.com/B5BQF6A47s

— Donnie Moffat (@donniemoffat) May 25, 2019
"It's definitely going to fire us up for the next round," Harris said after the game as he prepares for their next sectional game. "We've been a good team for a while, we've been here before and we know how to win."
"It's a good win to have 17 runs and get some confidence going so I've got some good feelings about next game," Lyons said.
Geneseo will play the winner of (6) Oakfield-Alabama and (11) York which is scheduled to be played Sunday.