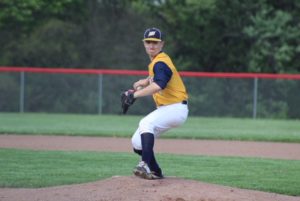 By BEN BLAKELY
GENEVA, N.Y. — After his no-hitter five nights ago, Wayne junior Alex Groff recorded 13 strikeouts in Wayne's 3-2 win over Geneva Monday night.
The Eagles offense continued their early-inning offensive tear with an RBI single by Jaiden Burlee in the first, making the score 1-0.
After his chance of consecutive no-nos was squashed by a leadoff single by Sam Puma, Groff settled in with seven consecutive outs on the mound.
With a 3-0 lead after a Logan Holgado two-RBI single, Groff knew it was time to let it fly.
"Those first three runs are what got me in the zone," he said. "When those runs are up, I have no worries and only focus on pounding the zone."
Fireworks ensued in the bottom of the third for both teams. After a walk with one out, Puma grounded to Holgado at shortstop. Holgado flipped the ball to a waiting Nathan McKenna for the fielder's choice at second.

A late slide caused McKenna to topple over and hit the dirt in a heap. After the out was recorded, words were exchanged between both sides before cooler heads prevailed.
Wayne's head coach Andrew Struzik had his view of the slide after the game.
"He slid into the base, but you are also going aggressive into a player," he said. "This has not been the first time it has happened this year, but it fired us up."
After the slide, Groff continued to deal for the Eagles, recording nine consecutive outs, including striking out the side in the bottom of the fourth.
Both offenses went silent until the Panthers made some noise when they needed it most.
Henry Loudon started the seventh with a line drive that tipped off the glove of Wayne centerfielder Logan Loveless, giving Geneva their second runner of the game in scoring position.
Back-to-back hits by Matt Pierce and Nicholas Franceschi put the game-tying run on with no outs.
After Groff's eleventh strikeout, an RBI groundout cut the Panthers to 3-2 deficit.
With the game-tying run on third, Groff stepped up in the clutch, striking out Puma to end the game. Groff only gave up three hits and zero earned runs. He walked two and struck out 13 and threw 99 pitches, 70 for strikes.
The win pushed the Eagles' winning streak to five and near sectionals, and Struzik says records are thrown out the window.
"All bets are off when May 1st hits, things start to even up between teams," he said. "I don't like starting like this, but if you told me a week ago we could rip out five wins, I would have said no way."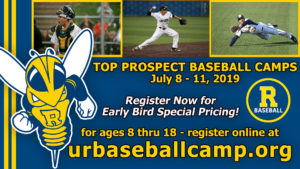 Logan Holgado led the Eagles offense with two hits, two RBI and one run scored. Burlee, Loveless, and Groff picked up the remaining hits for Wayne.
Matt Pierce led the Panthers with one hit and an RBI, and Nicholas Franceschi had a double.