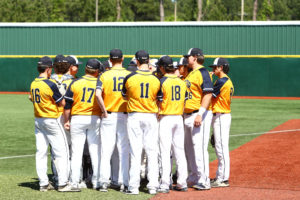 VICTOR   8
SPENCERPORT   0
Sam DiGiacomo went 2-for-4 with two RBI to lead Victor, followed by Tim Koehane with a 3-for-4 evening and one RBI. Ryan Lukas also finished 2-for-4 with an RBI, while Dale Turner and CJ Williams each contributed an RBI. Hudson Pavia scored twice for Victor in the game. Jake Chittenden held Spencerport to two hits and no runs in six-and-two-thirds innings on the mound, striking out three. Parker Mehigan picked up the final for Victor. Mark Neu and Gino Pellett had the Rangers' two hits.
AQUINAS  4
GREECE ATHENA  5
Following a Tyler Curtis double and passed ball to move Curtis to third in the bottom of the seventh inning, Justin Kimble struck a 1-2 pitch into center field for a single, plating Curtis and giving Greece Athena (No. 2 NYSSWA Class A) the walk-off win. Casey Saucke II went 2-for-4 for the Trojans, while Jagger Nucci and Ryan Coughlin also drove in runs. Curtis scored twice on the evening. Brandon Smith threw a complete game for Athena, striking out eight. Tyler Szalkowski and Sam Leonardo had two-hit evenings for Aquinas, with Szalkowski knocking in a run. Aquinas also picked up RBI's from Michael Altpeter and Shane Weasner. Aquinas scored all four of its runs in the top of the sixth inning.
CHURCHVILLE-CHILI  4
IRONDEQUOIT   10
Chad Gartland went 3-for-4 with three RBI, followed by Jackson DeJohn with two RBI and two hits for Irondequoit (No. 24 NYSSWA Class A). Frank Fernandes knocked in two runs and scored twice for Irondequoit, while Sullivan Costantino, Jaleel Davis and Collin Fuller each plated a run. Nick Serce had two runs scored. De John struck out eight in five-and-one-third innings on the mound. Gartland held Churchville-Chili scoreless in two-thirds on an inning in relief with one strikeout.  Amaury Samalot Monroig drove in a pair of runs for the Saints, while Jacob Carroll had a pair of hits. John Bagley scored twice in the game.
AVON   5
CALEDONIA-MUMFORD   4   (10 innings)
Jake Jones doubled home two runs with the bases loaded in the top of the 10th inning, the first two of three runs in the inning, allowing Jesse Countryman to lock down the game after Cal-Mum scored two runs in the bottom half and earn the save. Aiden Ricotta drove in a run the fifth inning to tie the game for Avon, finishing the game 2-for-5. Ian Read pitched five innings, allowing one run and four hits to earn the win. Andrew Rowland started for Avon, going four innings and giving up two hits and one run. Eric Wilson and Ethan Pies each scored a run for Cal-Mum. Wilson tossed nine innings, surrendering six hits and fanning four.
PAVILION    1
KESHEQUA    6
LEROY   4
WARSAW   3   (8 innings)
Austin Saeva broke the tie in the eight inning with an RBI double, complimented by another run on a passed ball to help LeRoy earn the eventual win. Andrew Tygart picked up a sacrifice fly to score Tim McMullen, who had led off with a single, in the fourth inning to open the scoring. McMullen followed with an RBI single in the fifth, plating Ryan Friend. Friend walked and then moved to second on a sacrifice bunt by Reece Tresco, putting him in scoring position for McMullen. Eddie Shores started Warsaw's scoring with an RBI single to score Tom Standera in the bottom of the fifth. Warsaw knotted the game at 2-2 when Greg Hare was hit by a pitch and came around to score on a single for Standera. McMullen then forced the game into extras after coming in to pitch the seventh inning, striking out two and getting a ground out following a lead-off triple by Shores.

LIVONIA   3
BATH-HAVERLING   7
Bath-Haverling scored all seven runs in the bottom of the fifth inning to hand Livonia (14-1) its first loss of the season. Livonia (No. 2 NYSSWA Class B) plated one run in the top of the third inning and two in the top of the sixth inning. Alex Minnehan finished 2-for-4 with two RBI to lead Livonia. AJ Davin went 2-for-3. Jason Dutra was 2-for-3. Troy Galbraith had two hits in three at-bats.  Livonia left seven runners on base.
LETCHWORTH  6
CALEDONIA-MUMFORD   5
Will Bean struck out eight on the day and earned the win for Letchworth.
BATH-HAVERLING    7
HORNELL   8
PALMYRA-MACEDON   9
GENEVA   3
MIDLAKES   5
WAYNE   11
Josh Armstrong had two RBI and two runs scored in five at bats for Wayne, and Aiden Harris added two RBI of his own. Logan Holgado contributed an RBI and three runs scored, with Caleb Kornacker crossing the plate twice on the day. Richie Cassano ended the game with two hits and one RBI, while Alex Groff also drove in a run. Holgado fanned seven in seven innings on the mound for Wayne. All 11 of Wayne's runs came in the first four innings. Jordan Maher led Midlakes with three hits, two runs scored and one RBI in four at bats. Devin Hicks followed offensively with two RBI and one run scored. Owen Schinsing tossed the final two-thirds of an inning for Midlakes, allowing no runs or hits.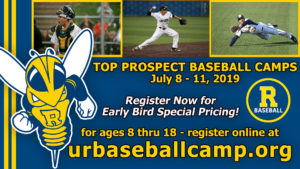 HONEOYE  1
SOUTH SENECA   4
Spencer John knocked two runs on two hits, followed by Nicholas Twardeski with two RBI to help South Seneca hand Honeoye (No. 1 NYSSWA Class D) its first loss of the season. Ben Jessop and Kenyon Russ each went 2-for-4, with Jessop scoring twice and Russ once. John struck out 13 hitters for South Seneca, throwing a complete game and allowing one run on three hits and one walk. Brett Higley drove in Honeoye's only of the game. Tyler Rudolph pitched a scoreless, hitless inning of relief for Honeoye, walking one and fanning three.
BLOOMFIELD   14
SOUTH SENECA   0
Evan Miller drove in two runs on two hits, scoring once for Bloomfield, while Sam Brocklebank knocked in two and crossed the plate twice. Calvin Rodgers had two hits, two runs scored and an RBI, with Robbie Ashman scored twice and drove in a run. Eric Sandle picked up two runs scored, and Gabe Ward and Declan Smith contributed two hits apiece. Sandle pitched a complete game shutout for Bloomfield, allowing no runs, four hits and three walks, striking out four. Ira Aman, Spencer John, Nicholas Twardeski and Jack Mott each had hits for South Seneca.
GANANDA   4
SODUS   1
Tim McClare led Gananda with a pair of RBI, joined by Christian Clarq with one RBI. Zach Ciprich went 3-for-3 for the Blue Panthers, followed by Luke Ciprich with two hits in two at bats. Patrick Walsh threw six innings on the mound, fanning 11 and giving up one unearned run on three hits and two walks. Zach Valetta tossed the final inning, keeping Sodus scoreless and to just one hit, striking out two. Marquese Burton drove in Sodus' lone run of the day. Ethan Cramer pitched a scoreless, hitless inning in relief for the Spartans, setting down one by strikeout.
PAVILION  0
YORK   3
David Cuozzo drove in two runs for York, going 2-for-3 on the day. Matt McFarland picked up an RBI on a sacrifice fly. James Kennedy tossed six innings on the mound, allowing one run and one walk with eight strikeouts.
ARKPORT/CANASERAGA   10
WELLSVILLE   3
PRATTSBURGH   2
ALFRED-ALMOND   0