GREECE ATHENA 10
BRIGHTON 7
Tyler Curtis collected three RBI as Greece Athena (13-1) extended its win streak to nine games. The Trojans scored all of their 10 runs in the first three innings to pull away early. Ryan Dineen struck out three over five innings, allowing two runs on six hits. Zach Geist scored three runs after being walked three times. Jake Cerone and Casey Saucke II scored two runs apiece, and Cerone added an RBI. Justin Kimble and Jorge Oropeza both went 1-for-2 and scored one run. Jayson Russell and Jagger Nucci had one hit and two RBI apiece. Ryan Watson went 2-for-4 and scored one run for Brighton (11-7). Trent Wasserman and Nick Stodgell added two hits, with Wasserman scoring twice and batting in one. Jack and Matt Falter had a hit and an RBI.
PITTSFORD MENDON 3
BROCKPORT 6
Troy Leibert pitched a complete game and struck out five as the Brockport Blue Devils (4-12) bounced back after losing to Mendon on Wednesday. CJ Wiest was 2-for-2 including an RBI single in the third inning to start off a six-run inning for Brockport. Tyler Henshaw had a two-run single later in the inning that scored Leibert and Devyn Scheidt. Henshaw also scored a run. Nick Johnson, Nick Nealon and Hunter Westcott each scored a run. Pittsford Mendon's pitchers allowed just five hits despite the loss. Tyler Procious went 2-4 and scored two runs for Mendon (12-7). Kyle Hennessy went 1-3 and had three RBI.
GREECE ARCADIA 6
EASTRIDGE 1
Kyle Blum held Eastridge (12-7) to just one hit through six innings and struck out six as Greece Arcadia (4-10) picked up the win. Ben Bell went 2-for-2 with a double. Casey Amato finished 2-for-3 and also added a double. Austin Robinson doubled for Eastridge.
SPENCERPORT 3
CANANDAIGUA 18
Cooper Crunick drove in five runners as Canandaigua (13-5) got their revenge after losing to Spencerport on Wednesday. Crunick went 3-for-3, including two doubles, and scored two runs. Crunick also started the game on the mound, tossing four innings and allowing just one hit while striking out five batters. Michael Sculli went 2-for-2 with a two-run double in the third. Sculli brought in another runner and scored four runs as well. Jesus Baez went 2-for-4 including three RBI and one run. Seth Vigneri went 3-for-4 with two RBI singles and scored two runs. Nathan Hueber had a double for Spencerport (8-9) and scored once. Greg Ranieri and Colton VanBrederode each added a hit and an RBI.


VICTOR 1
HILTON 4
Josh Battaglia plated two with a  double in the bottom of the sixth, and Jeff Murphy picked up his 200th win as coach as Hilton (9-7) won its second straight. Drew HerrNeckar drove in two runs with two outs in the bottom of the third with a single. Despite the loss, Victor still won a share of the Monroe County D1 League with a 6-4 league record for their seventh title in 10 years. Santino Rosso fanned nine batters in six innings for Victor (7-9). Billy Brady and Jarod Signorelli added two hits apiece.
IRONDEQUOIT 5
CHURCHVILLE-CHILI 2
Nick Serce struck out nine batters through five innings as Irondequoit (12-4) clinched the Monroe County DII title with an 8-1 league record. Ryan Davis had the game-winning two-run single in the sixth inning. Chad Gartland closed out the final two innings to win the title. Jose Morales tied the game up in the fifth inning with a two-run double.
WEBSTER THOMAS 18
GATES CHILI 0
Caden Hann dealt five innings with six strike outs and three hits as Webster Thomas (9-7) picked up its second straight win. The Titans scored nine runs in the third inning to pull away early. Sam DeGrace had an RBI single in the first inning and later added an RBI double. Mitchell Kelly and Caleb Hann added an RBI single apiece. Jim Marasco, Jake Veniskey, Ian McNabb and Peter Dennison each had two hits on the night.
WEBSTER SCHROEDER 3
MCQUAID 1
Jack Willard pitched a complete game, allowing just one run as Webster Schroeder (9-10) bounced back after two straight losses. READ MORE. 

GREECE ODYSSEY 5
NOTRE DAME-BATAVIA 4
Korey Canton fanned four and registered a five-out save.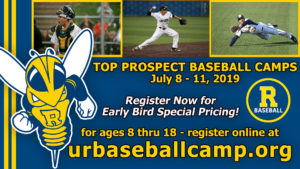 WAYNE 9
PENN YAN 5
Josh Armstrong hit a solo shot in the third as Wayne (5-10)  won its third straight game. Armstrong went 2-for-3 and added an RBI double in the sixth. Logan Loveless allowed one hit over three scoreless innings of relief to close out the win with four strikeouts. Nathan McKenna went 2-for-4 including an RBI single in the sixth and scored two runs. Logan Holgado added two hits and three RBI. Aiden Harris went 1-for-4 and had an RBI double in the fifth inning. Tyler Bouchard went 2-for-2 with an RBI and scored once. Mark Preston singled, scored a run and drove in two for Penn Yan.
AVON 12
WARSAW 4
Nick Rowland struck out five and allowed four runs on eight hits over six innings and finished 3-for-5 with two doubles and three runs scored to lead Avon. Jesse Countryman went 3-for-4 with three RBI and two runs scored. Ian Read was 2-for-4 with three runs scored. Holden Volpe drove in two with a pair of hits. LeRoy's Tommy Saunders doubled and finished 3-for-3. Reece Tresco was 2-for-4 with an RBI.
NAPLES 3
HONEOYE 14
Tyler Rudolph led the way for Honeoye (16-0), going 3-for-4 with a home run and three RBI as Honeoye remained undefeated. Clay Allison went 3-for-3 and added two RBI. Dom Trippi and Jared Walden both finished 3-for-4. Jackson Brahm and Dylan Bozeman added two hits apiece for Naples. Brahm had two RBI as well.
DUNDEE 1
SOUTH SENECA 5
Spencer John struck out 13 batters and allowed no runs as South Seneca (8-4) bounced back from its loss on Saturday to Harley Allendale Columbia. John allowed just one hit in 4 2/3 innings and struck out eight of his first nine batters. Nicolas Twardeski went 2-for-4 with two doubles and scored two runs. Spencer John had a double and scored a run offensively. Ira Aman had an RBI single and scored a run. Enmpron went 2-for-3 with a double for Dundee. States pitched the entire game and allowed just seven hits and struck out five.
LYONS 4
SODUS 1
Kyle Evans pitched a complete game and struck out 15 batters to pick up the win for Lyons. Hunter Bastian went 1-for-3 and scored two runs. Ryan DeBadts went 2-for-3 with a double and scored a run for Sodus.
BATH-HAVERLING 6
DANSVILLE 7
Dansville worked a bases-loaded walk to push across the game-winning run. Dylan Race finished 1-for-3 with a solo home run for Dansville. Ryan Carnavale went 2-for-3 with a walk and two RBI. Jacob Failla was 2-for-3 with an RBI. Bryce Quibell scored three runs, and Brody Stone collected two hits and scored a run. Matt Puffer closed out the game pitching three innings, striking out three and allowed one run on three hits. Cayden Mattison went 2-for-4 with an RBI and scored a run for Bath-Haverling (4-7). AJ Brotz added two hits and two runs. Austin Palmer and Blake Hess contributed a hit and an RBI apiece.
NE NW DOUGLASS 14
MONROE 21
Gregory Romero struck out 10 and hit for the cycle driving in five. Romero connected on two doubles.
FRANKLIN 10
LEADERSHIP 9
Franklin rallied from a six-run deficit and then held off Leadership with the bases loaded in the bottom of the seventh. Trailing 8-5 with two outs in the seventh, Franklin's Nomar Quinones singled. Julian Cotto followed with a walk. Luis Loopez brought in the first run of the inning with a base hit. Jalen Breedy walked to load the bases, and Greg Ransom reached on a hit by pitch to cut the deficit to one. Freshman Callan Reddington had a two-run single in the top of the seventh to give Franklin a 9-8 lead. Jhansell Carreras followed it up with an RBI single to push the lead to two. In the bottom of the seventh, Luis Lopez struck out the final batter with bases loaded. Justin Morales had a home run for Leadership.
SOTA 5
EAST 7
Michael Conrow battled back from his previous outing on Wednesday. After facing four batters and getting zero outs against the Franklin Quakers, the freshman right-hander pitched to 31 hitters and came two outs shy of a complete game. Conrow struck out five as well. READ MORE.
WILLIAMSON 1
GANANDA 0
Marty Williams struck out 10 over 5.2 innings of one-hit ball to pick up the win. Adam Fisk retired all four batters he faced, two on strikes to pick up the save. James Williams drove in the game's only run with a sacrifice fly in the third inning. Gananda's Tim McClare struck out 10 of six innings. The senior right-hander allowed an unearned on three hits.
GENEVA 4
NEWARK 5
Julius Teabout struck out eight and allowed two runs on eight hits and two walks over six innings to pick up the win. Lucas DeVito finished 1-for-3 at the plate with a double and an RBI. With runners on the corners in the seventh, DeVito picked off the runner at first to end the game and pick up the save. Kyle Wood went 1-for-2 with two RBI for Newark (14-3/10-2) which jumped to a 5-0 lead.  Dan Wersinger was 1-for-3 with a double. Geneva's Wyatt Patchett was 2-for-4 with two doubles and an RBI. Matt Pierce went 2-for-3.