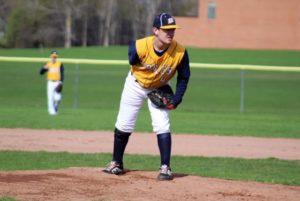 By BEN BLAKELY
NEWARK, N.Y. — With the soaking rain making their field unplayable, the Wayne Eagles needed to travel to Colburn Park to face the Waterloo Indians. That did not stop junior Alex Groff from throwing a no-hitter in the Eagles' 6-0 win Wednesday evening.
Before the game, there was talk about not being able to get it in, according to Wayne's head coach Andrew Struzik.
"After the JV game, we were afraid we were not going to get the game in, as there was talk about not playing," he said. "I went out and raked the field and we let both pitchers throw five pitches to make sure the mound was all right to play and we got it in."
Groff cruised early, recording six straight outs to start the evening. Groff knew this was a game-changer for him.
"It felt great getting those first six outs to get the ball rolling," he said. "I felt pretty good and the mound was perfect."
After six straight outs, Groff drew a 3-2 count on Waterloo's Steven Dewall. Groff fired the pitch, a ball that just missed the outside corner, breaking up the perfect game.
Groff knew the walk was tough. "On a 3-2 count, I thought I hit the zone, but I just missed it," he said.
However, a clean 3-6-3 double play by first baseman Jaiden Burlee and shortstop Logan Holgado along with a strikeout kept the no-no intact.
The Eagles offense stepped up in the bottom of the third as Mason Blankenberg scored on a timely sacrifice groundout by Aiden Harris, giving Wayne a 1-0 lead.
With an insurance run in his back pocket, Groff continued to mow down Waterloo, recording two of his nine strikeouts in the fourth inning.
The junior continued to keep Waterloo off the basepaths until the seventh when the pressure began to sink in. Groff still had no idea until one out to go that his no-hitter was still alive.
"It didn't occur to me until my second out in the seventh that I was one out away," Groff said.
With a 1-2 count, the junior recorded his ninth strikeout and his 13th consecutive batter retired to finish the spectacular outing.
Groff couldn't believe his accomplishment at first. "The no-hitter was in the back of my head, but I didn't let that get to me," he said. "Once the ball hit the glove, I was in disbelief and my whole team congratulated me."
Wayne's head coach Andrew Struzik spoke highly of Groff and his accomplishments on the mound. "He had a lot of one pitch outs and the double play bailed us out," Struzik said. "I wasn't really concerned with his pitch count with him being only around 80 pitches."
Groff's final stat line included facing only 22 batters in seven innings. He recorded only one walk and nine strikeouts on 83 pitches, 58 for strikes.
Aiden Harris led the Eagles offense with two hits and three RBI. Logan Holgado and Nathan McKenna contributed two hits as well, while Josh Armstrong recorded a hit and two RBI.
Steven Dewall and Sean Bronson, who reached on an error, were the only runners to reach base for Waterloo.