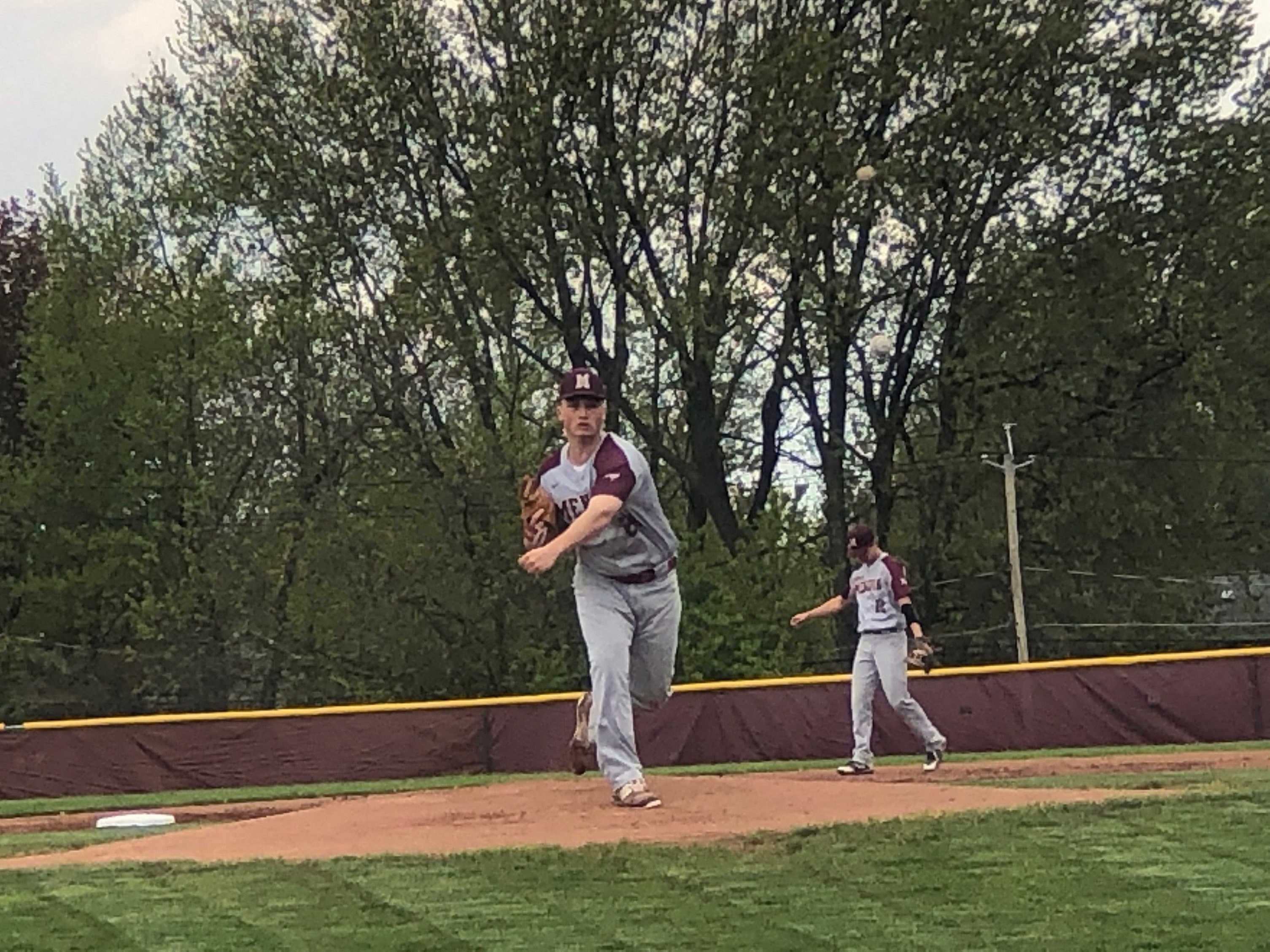 By BILLY HEYEN
PITTSFORD, N.Y. — On Senior Day at Pittsford Mendon High School, the Vikings' seniors bookended the day with pictures. Prior to the game, they lined up along the left field line with their families for one snapshot. Then afterwards, they leaned on an adjacent fence, along which hung their Senior Day posters, for one more image.
In between that posing, the Mendon seniors made sure that there'd be as much smiling in the postgame shot as the pregame one.
"It's a great time for all the kids and players and parents to come together and celebrate the seniors," senior lefty Hudson Bockmier said. "We've all worked really hard throughout our Mendon baseball careers, and it's just nice to be recognized for that."
Mendon (12-6) relied on its seniors to lead the way in a 7-2 win over Brockport (3-12) on Wednesday. Bockmier pitched six innings of two-run ball on the mound. At the plate, seniors drove in five of the seven Mendon runs. Behind its veterans, Mendon bounced back from two-straight losses to get back in the win column.
Bockmier has been the go-to guy on the bump for Mendon this season, having most recently thrown a complete game in the Vikings' loss to a strong Canandaigua team on Saturday.
"There's definitely a good sense of confidence with him on the mound," senior Jack Keagle said. "You know, he's been working hard all year. Baseball's a totally different game when you got a guy that you can trust on the mound."
Bockmier tallied two strikeouts on Wednesday, both via the breaking ball. It was a pitch, usually resembling a slider, that he focused on in his pregame bullpen work. The southpaw looked to attack arm-side of home plate, throwing a front-door breaker to left handers that would start at their hip before sliding across the corner.
Before the game, a Mendon assistant stood in as a left-handed batter, and when Bockmier executed that pitch to perfection, the assistant groaned, "I hate when you do that."
That's the exact pitch that Bockmier earned his first punchout on. The Brockport hitter saw it start almost at him, and although he reacted to swing, it was too late and he swung through it.
"Just being able to place it really well," Bockmier said of his slider's effectiveness. "Getting kids to swing at it. Throwing it in different counts, mixing it up, it was a pretty good pitch for me."
Bockmier with a sharp breaking ball for his first strikeout. Works a 1-2-3 second. 4-0 @MendonBaseball after one and a half. @PickinSplinters pic.twitter.com/LwzRXbg5xW

— Billy Heyen (@Wheyen3) May 15, 2019
For the most part, Bockmier's day was about efficiency. He didn't work deep into counts hunting strikeouts. He finished the day averaging about 11.5 pitches per inning. His offense's early surge allowed him to pitch with a lead.
Bockmier was actually responsible for the opening salvo, pulling an RBI single through the right side in the bottom of the first. After a sac fly, it was fellow senior Keagle who made it 4-0 on a two-run double into the right-center gap. Bockmier had a four-run lead after just one inning, and it turned out that would be more than enough.
"When we scored those first couple runs in the first inning, it gave me all the confidence in the world when I'm pitching," Bockmier said.
Senior outfielder Kevin Keneally shot a run-scoring single into right field in the third to expand the lead and continue the seniors' collective production. Bockmier continued to limit damage, allowing back-to-back singles to start the fourth but escaping while allowing a lone run to cross.

"We went through a little bit of a slump midseason," Keagle said. "We kind of took a step back and realized sometimes you press too much and sometimes you just gotta go out there and take your mind away for a second and just go hit."
In the fifth, senior catcher Ryan Marin pinch-hit for the Vikings. After taking a ball, he turned on a ball through the left side for a run-scoring single. It might've induced the loudest cheers from the Mendon dugout all day, except he'd help surpass those in the seventh.
Marin remained in the game to catch, and with the Vikings holding a five-run lead in the seventh, a nondescript grounder bounced up the middle. Mendon's shortstop couldn't quite make the tough throw, and it skipped by first base. But Marin was backing up the play, well down the line, and he threw down to second in time to nab the runner. The cheers that followed were even louder, as the second-to-last out of Senior Day came courtesy of a reserve senior on a hustle play even with the game in hand.
During the game, a Mendon assistant had worn a golden blonde wig. Only afterwards was it apparent why: He had to hand out "hair of the game," which went to a player he felt was deserving of the honor of donning the wig. Marin earned it with his pinch-hit RBI and his strong throw in the seventh.
So as the Mendon seniors strolled off their home field one last time, Marin's hair was temporarily blonde. When they were called over for one last set of photos, he took off the wig. But the point had been made: Pittsford Mendon's Senior Day was for the seniors, and the seniors made sure the day was theirs.