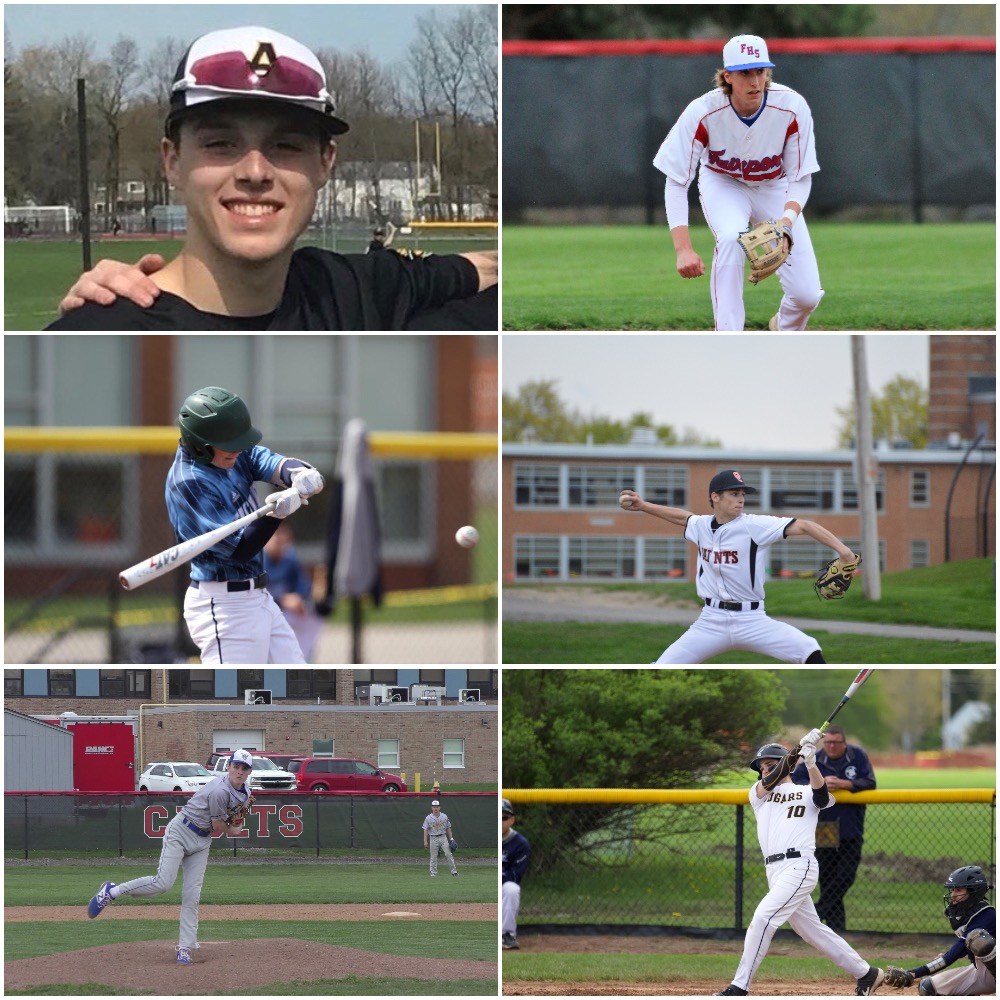 By CAITLIN McCLARE
Peyton Olinski posed a threat in the Fairport lineup throughout the week as he collected six hits, most for extra bases. Webster Schroeder's Jack Willard minimized the offense for two Monroe County squads in his undefeated week on the hill. Wes Colucci was virtually unstoppable at the plate in Churchville-Chili's win early this week and followed up with earning a win a few days later. Anthony Bonacci paced Greece Athena in the squad's three wins. Sal Tripi hit over .500 with some power to help Honeoye Falls-Lima go 4-1 this week. Keenan Calenzo contributed big in Eastridge's dominating wins.
For this, Monroe County recognized these six players as the Players of the Week (May 6-11) in their respective division.
Olinski finished his week 6-for-11 with six runs scored and two stolen bases. He started his week with a 3-for-4 day, including a solo shot, three runs, and one RBI, in the Red Raiders' 6-1 win over Victor. In the 4-3 loss at Churchville-Chili, he legged out a triple and placed another base hit, scoring two of Fairport's three runs to share Monroe County Division I Player of the Week. Fairport is scheduled to face Rush-Henrietta Tuesday at Finger Lakes CC, May 14 for a 6:30 PM start.

Willard earned two wins this week for Schroeder, throwing six dominant innings in each for a share of the Division I honor. Willard struck out six and allowed three hits, one earned run, and two walks in the Warriors' 6-3 win at Hilton. He threw 80 pitches, 50 for strikes. He took the hill on Friday and limited the crosstown rival Webster Thomas to two unearned runs. Willard tallied three strikeouts on his 85 pitches. He allowed five hits and walked four in the 11-2 victory. Up next, the Warriors will host Penfield on Wednesday for a divisional matchup starting at 5 PM.
Colucci collected four hits in Churchville-Chili's 11-5 win over Spencerport and was Division II Player of the Week. Those four hits were made up of three doubles and a triple. He accounted for six of the runs with four RBI and two runs scored. As if his day at the plate wasn't enough to stand out, he earned a save in his 1.2 innings of work on the mound. He then pitched a complete game against Fairport, picking up the win in seven with the final score 4-3. Colucci allowed three runs, one earned, and struck out two in 103 pitches. He also scored a crucial run to help himself. Churchville-Chili will travel to play Gates-Chili, Tuesday for a 4:30 PM start.
Bonacci posted a .444 batting average last week with four hits and two RBI to garner Monroe County Division III POTW. In Athena's undefeated week, Bonacci contributed with a combined three hits in two wins over Arcadia and drove in the go-ahead run with a hit in a2-1 win over Hilton. Athena hosts divisional rival Brighton on Tuesday, May 14, at 5 PM.
Sal Tripi boosted HFL in a 4-1 week with nine hits and nine RBI to earn a share of the Division IV recognition. The senior launched a grand slam and knocked in six runs for the Cougars on Wednesday's 29-0 rout of Greece Odyssey. In Saturday's doubleheader sweep of Brighton, Tripi collected five hits and two RBI.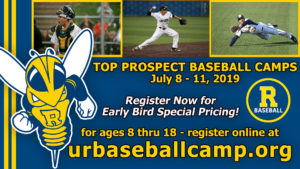 Calenzo collected nine hits and finished the week with a .750 on-base percentage. Eastridge outscored Greece Olympia 42-2 in two games this week and Calenzo made major contributions. In the 24-2 win to open week, he went 3-for-3 with a double, four runs, and one RBI. He didn't start in Wednesday's rematch, yet he ended up with two hits, three RBI, and one run in the few innings he was in. He led off for the Lancers in the final two games of the week and recorded four more hits. The closest game of the week was a 2-0 win over Brockport, where Calenzo scored one crucial run. HFL and Eastridge face off on Tuesday, May 14, at Eastridge High School. A 5 PM first pitch is scheduled.