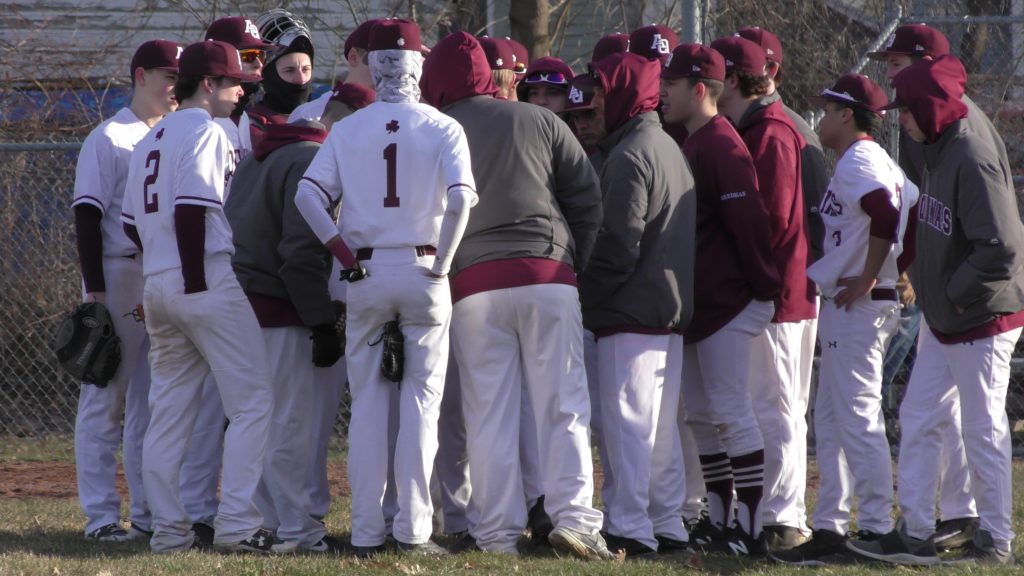 CANANDAIGUA 3
PITTSFORD MENDON 0
Dylan Mackenzie gave Canandaigua (No. 13 NYSSWA Class A) all the offense needed, striking a three-run home run in the top of the fifth inning, plating Sam Werth and Michael Sculli. Mackenzie finished the day 2-for-3 with three RBI, while Luke Pawlicki also went 2-for-3. Austin Miller and Sculli manned the mound for the Braves, combining for seven shutout innings, allowing six hits and one walk, and fanning seven. Miller earned the win and Sculli picked up the save. Andrew Bernacki ended the game as Mendon's lone player with multiple hits, going 2-for-3. Hudson Bockmier pitched a complete game for the Vikings, surrendering three runs on seven hits and three walks, while setting down five by strikeout.
GREECE ATHENA 2
HILTON 1
With one out and runners on first and second, Anthony Bonacci slapped a single into center, driving in the eventual game-winning run in Casey Saucke II as Greece Athena (No. 3 NYSSWA Class A) won its seventh straight game. Saucke  contributed the Trojans other RBI, plating Jorge Oropeza III. Ryan Dineen, Brandon Smith and Saucke  pitched for Athena (12-1), combining for one unearned run, three hits and one walk allowed, fanning six as a team. Nick Rago and Justin Kebel gave up two runs on three hits and four walks for Hilton, striking out six.
BRIGHTON 1
HONEOYE FALLS-LIMA 8       GAME ONE
Xavier Carbonel finished 2-for-3 with two RBI for HF-L, followed by Jake Fusare with two RBI and Sal Tripi with two hits and an RBI. Hayden Smith and Mitch Slymon each contributed two hits for HF-L. Smith threw a complete game on the mound, allowing one run on five hits and two walks, while setting down 10 by strikeout. Trent Wasserman knocked in Brighton's lone run, plating Jack Falter. Dan Long pitched a scoreless inning in relief for the Barons, surrendering one hit.
HONEOYE FALLS-LIMA  6
BRIGHTON  3    GAME TWO
Hayden Smith continued his day with two more RBI, while Sal Tripi went 3-for-3 with an RBI for HF-L. Cary VanNewkirk and Mitch Slymon added two more RBI, and Jon Sousa walked twice and scored each time. Tim Martin started on the mound for HF-L, tossing six innings and allowing three runs (two earned) on seven hits and one walk, fanning seven for the game. Jack Falter, Sam O'Hora and Trent Wasserman drove in runs for the Barons, with Matt Falter scoring twice and Ryan Watson scoring once. Max Press went 2-for-2 for the Barons. Watson pitched two scoreless innings in relief for Brighton, giving up one hit.
PENFIELD   4
CHURCHVILLE-CHILI   1
Gage Ziehl led Penfield with three hits and an RBI in three at bats. Peyton Pace added two hits and one run scored, while Nathan Sobko, Nick Ianniello and Connor Stuewe each contributed an RBI. Penfield scored all four runs early in the game, with one run in the second inning and three in the third. Danny Stapleton pitched a complete game for the Patriots, allowing one run on five hits and two walks, striking out two. Brandan King went 2-for-3 and drove in Churchville-Chili's lone run scored.

GREECE ARCADIA  8
GREECE OLYMPIA  1
Evan Caufield, Traverse MacNeal and Ben Bell had two hits apiece for Arcadia. MacNeal threw six innings for Arcadia, holding Olympia to two hits.
NE DOUGLASS  13
WILSON MAGNET  14        in 9
Max LaMorra delivered the game-winning hit to give Wilson Magnet its first win. READ MORE.
McQUAID JESUIT   11
CLARENCE  8    (9 innings)
Drew Bailey delivered a bases-loaded two-run double, scoring Jack Beauchamp and Ben Beauchamp, followed by a Ryan O'Mara single to plate Tyler Griggs in the top of the ninth inning to give McQuaid (No. 2 NYSSWA Class AA) the final margin of victory. Bailey finished 3-for-5 with four RBI, while Ben Beauchamp went a perfect 5-for-5 with two RBI. O'Mara drove in a pair in the game and Griggs knocked in two and scored three times. Zach Lee also picked up an RBI for the Knights. Hunter Walsh threw the final four innings for McQuaid, holding Clarence scoreless with two hits and a walk, while striking out seven. McQuaid remains undefeated at 15-0. Ben Jennings had an RBI and two hits for Clarence, and Mason Davis contributed two RBI. Jon Stevens and Matt Brown each scored twice.
AQUINAS   10
MIDLAKES   6
Jack Scanlon and Sam Leonardo knocked in two runs apiece for Aquinas, while Mike Alpeter scored a pair of runs. Scanlon and Alpeter both went 2-for-4. Aquinas took the lead for good in the fourth inning, plating five runs in the inning. Channing Owens earned the win for Aquinas, striking out six over five innings pitched. Devin Hicks led the Midlakes offense, going 3-for-4 with three RBI. Sam Day drove in two runs and Jordan Maher had two runs scored and two stolen bases. Cam Deisering fanned seven in five innings for Midlakes.
RED JACKET  25
NAPLES   4
Red Jacket had two hitters fall just short of the cycle, with Jarrett LeGault needing a triple and Seth Garlock coming up a home run away. Hunter Williams had four hits, including two doubles, and Travis Hill went 3-for-3. Mason Pollot started for Red Jacket, going five innings to earn the win. Ryan Lester finished 3-for-3 with an RBI for Naples, while Dylan Bozeman had two hits and an RBI. Nick Clearman and Nick Green each picked up a double.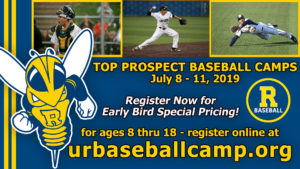 HARLEY-ALLENDALE-COLUMBIA   7
SOUTH SENECA  0
Alex Sassaman and Henry Nicosia each drove in two runs on two hits for HAC, while also both scoring twice. Spencer Dworkin added two RBI for HAC, while Max Brown had two runs scored. Nicosia tossed six-and-two-thirds scoreless innings on the mound, allowing two hits and six walks, striking out seven. Nicosia exited the game prior to the final batter after throwing 105 pitches. Spencer John went 2-for-3 at the plate for South Seneca, and struck out 11 in five innings on the mound.
CLYDE-SAVANNAH   0
GANANDA  10   (five innings)
Zach Valetta went 2-for-2 with three RBI and Tim McClare had two RBI on two hits in four at bats for Gananda. Patrick Walsh added three RBI for the Blue Panthers and Zach Ciprich picked up two hits and three runs scored. Luke Ciprich was also 2-for-3. Walsh started on the mound for Gananda, throwing four scoreless innings and allowing one hit and one walk, fanning 12. Valetta pitched an inning of relief, giving up two hits and striking out one.
LeROY   0
BATAVIA   8
LEROY   8
NOTRE DAME-BATAVIA   2
PERRY/MOUNT MORRIS   2
ALEXANDER   15
CANISTEO-GREENWOOD   8
ALFRED-ALMOND   4
SCIO  1
BELFAST   7
WEBSTER THOMAS
ITHACA (IV) PPD.
PENN YAN
MYNDERSE