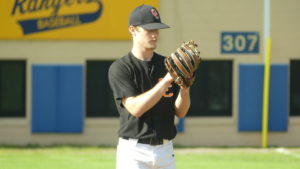 By JOHN LIKANJE
SPENCERPORT, N.Y. – Wes Colluci and Amaury Samalot sparked the Churchville-Chili Saints to an 11-5 win over division rival Spencerport in what the team called their most complete game of the season.
"We actually talked because we knew he (Spencerport Rangers starting pitcher Arielis Lora) was going to start today, so we talked about him," Saints head coach Guy Puglia said when explaining his team's approach. "He throws mainly fastballs, so sit on that fastball and don't get yourself out. Just take their time and hit the ball hard."
Samalot doubled to right field to lead off the second inning. The catcher advanced to third base on a passed ball and scored the first run of the game on a groundout from Joey Puglia.
"What I noticed early on was that the other pitcher was only throwing fastballs," Samalot said on his approach at the plate. "Most, if not all of the times, they were coming down and in and that's where I like it, so I just got up in the box and was ready for that fastball every time."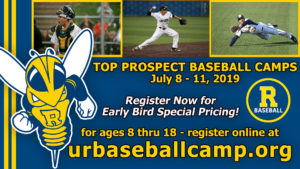 Colucci doubled down the left field line to score first baseman Gavin Palo as part of a three-run third inning. Colucci scored on Samalot's single to extend the lead to 4-0.
"With the second pitcher (Rangers reliever Joseph Cuddy), I noticed he had a curveball that usually started about waist-high and ended up down around the knees," Samalot explained. "I took a couple of steps forward and waited for that pitch that never came, but I was lucky enough to get the fastball early and get a hit off him."
In the fourth inning, Colucci legged out a two-out, bases-clearing triple off the right-field fence to give the Saints a commanding 7-0 advantage and break the game open.
"He (Lora) was throwing his fastball right down the middle and I think we just hit it," Colucci said.
For the game, Colucci was 4-for-5 at the plate. The shortstop doubled three times, tripled, drove in a team-high four runs and crossed the plate twice. Colucci closed the game on the mound with 1 2/3 innings and a pair of strikeouts.
"I was really looking at a fastball and just sitting back and waiting for it," the senior shortstop explained. "I think our team as a whole saw the ball very well and we just unloaded on them."
"The key to today's win was that our offense finally woke up and hit the ball," Puglia said. "We juggled up the lineup a little. We moved Wes up and he was a monster and crushed the ball."
Samalot went 3-for-5, connected for a hit in each of his first three at-bats and reached base four times. The senior catcher singled twice, doubled, drove in a run and crossed the plate twice as well.
"The times I didn't get a hit, I got ahead of myself and tried hitting the ball too hard and they were breaking balls, so I dipped and those didn't turn into hits," Samalot detailed. "But the balls that I barreled up in front, those were the hits that I got today."

"Our team as a whole has been struggling hitting the ball and Amaury came through today and showed his stuff," Puglia said about his senior catcher. "Good stroke, nice short compact swing, hit the ball hard."
Despite allowing four runs in the sixth, Ethan Putney hurled 5 1/3 innings on 68 pitches. After giving up a double to lead off the third frame, the senior right-hander retired nine consecutive batters. Putney struck out a batter in each of the first five innings and fanned six in total. The Saints starting pitcher got five outs in the air and five on the ground as well.
"I was feeling really loose," Putney explained. "My offense got it going early for me, so it made me relax real good and then I just trusted my defense and threw strikes."
"His curveball was moving very well and he was just overall confident since we had the lead and he just felt good to start today," Samalot said about his battery mate. "We mixed up, put in a changeup there and more two-seams. We saw that the umpire was calling those inside pitches. Once we got ahead, put that curveball on the outside corner and it was successful most of the time."
"He's our stud, he's our ace, he's our number one pitcher," Puglia said about his senior starter. "When he's out there, we can beat anybody. And that's what we expect of him to do: to dominate for us."
Brandon King singled twice, one which drove in senior left fielder Jaden Nelomes for a 9-0 lead in the fifth inning. For the game, King was 2-for-3 at the plate and made a pair of key, run-saving plays at third base to shut down a potential Rangers rally.
Joey Puglia went 1-for-3 with a pair of RBI as well.
The Rangers scored all five of their runs in the final two innings. Silas Egenlauf  singled to start a rally in the sixth in which the team sent nine men to the plate and scored four runs on four hits. With the bases juiced and nobody out, Mark Neu connected for a ground-rule double that snuck under the left field fence to put the Rangers on the board.
Cuddy struck out a pair of batters in 2 1/3 innings of relief.
Both teams will be back in action Tuesday at 4:30 PM. Churchville-Chili will play at Gates-Chili and Spencerport will host Webster Thomas.