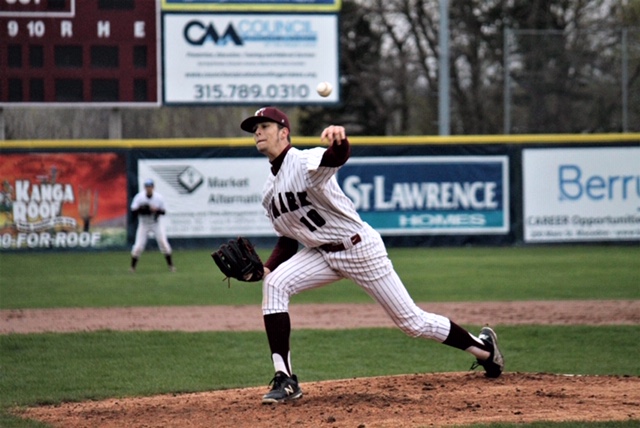 By BEN BLAKELY
NEWARK, N.Y. — Dylan Blanchard-Rieke recorded his first complete game of the season in a 2-1 win over Finger Lakes East rival Wayne Thursday at Colburn Park.
Throughout the evening, both starting pitchers dueled on the mound as Blanchard-Rieke and Wayne's ace Logan Holgado battled through the cold.
Blanchard-Rieke pitched lights out for the Reds, throwing a complete game with three hits and zero earned runs. He walked four and struck out seven Eagles.
Blanchard-Rieke felt good about his outing, even after a line drive hit him in his pitching leg early on. "Honestly, it felt really good, as I shook it off when I got hit with the line drive and made the play," he said. "I could not have gone seven innings if it was not for my defense."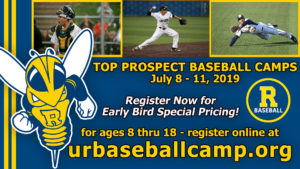 Reds head coach Mike McGavisk had high praise for his senior pitcher. "He has not recorded a fully complete game as we have been taking up his pitch count," McGavisk said. "He threw 98 pitches tonight and got over that hump."
Both offenses struggled to gain the upper hand.  Newark took a 1-0 lead on a bases-loaded sacrifice bunt by Liam Childs, which Blanchard-Rieke says they have constantly worked on.
"Sacrifice bunting is a huge thing that we always work on," he said. "It's an almost everyday occurrence in practice to get the bunts down and it was definitely a momentum shifter."
After Wayne tied the game in the top of the third, the Reds needed another momentum shift. They got their wish in the bottom of the fourth.
Two singles and an error gave Holgado the bases loaded with no outs. Holgado fired back, recording a fielder's-choice and a strikeout to push it to two outs. On the next pitch, Newark pushed a runner across after an errant throw by Holgado, giving the Reds a 2-1 lead that they kept.
McGavisk credited the grit of his team for pushing through in the victory. "We did not have a lot of offense, but that gives credit to the pitchers on the mound," he said. "The game went by quick and even the umpires complemented that it was a well-played baseball game."

Kyle Wood picked up a double and Daniel Wersinger scored both runs for the Reds. Liam Childs had the lone RBI of the evening for Newark.
On the flip side, Logan Holgado took the loss for the Eagles. The senior gave up three hits and two runs over 7.0 innings of work. He also struck out seven Reds.
Holgado led the Eagles offense with an RBI single and a walk. Josh Armstrong and Jacob Wallace picked up the other two hits for Wayne.