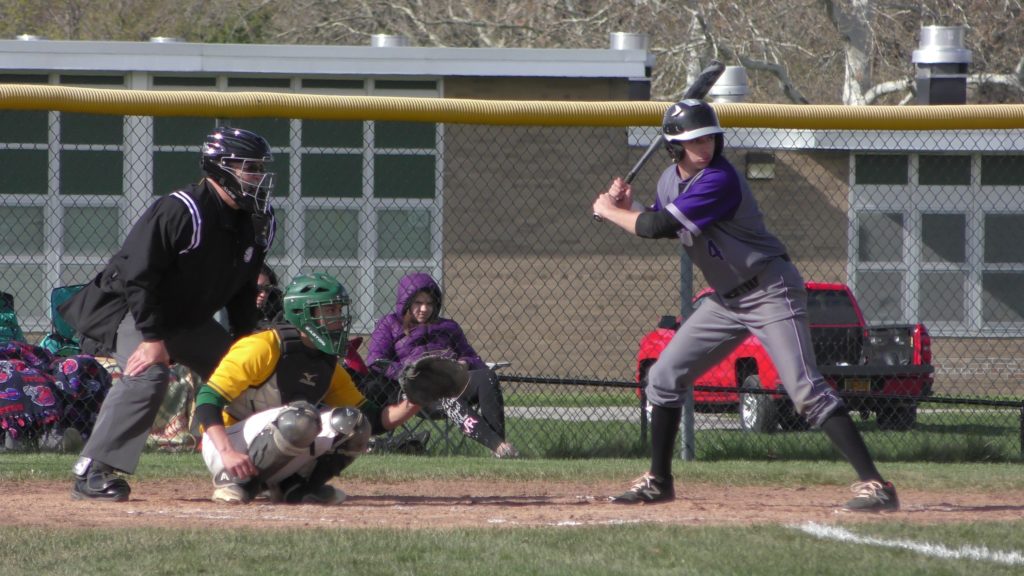 GREECE ODYSSEY 13
GREECE OLYMPIA 5
Jonah Holloway hurled five-plus innings, and Anthony Cenzi delivered back-to-back key hits for Greece Odyssey. READ MORE.
SPENCERPORT 5
WEBSTER THOMAS 0
Jason Nau, Arielis Lora and Kiernan Crowley combined on a 4-hit shutout. Nau started and struck out two over two innings of hitless work. Lora hurled the next three innings, and Crowley fanned two in two frames. Ned LaDuca finished 2-for-4 on the day including a bases-clearing two-out double that capped a four-run Spencerport fourth. Nau, Greg Ranieri and Colton VanBrederode all scored on the play. Nau drew a bases-loaded walk to start the scoring. Gino Pellett went 2-for-4 and scored on a Mark Neu two-out single in the sixth. Nathan Hueber was 2-for-4 for Spencerport. Lora had a hit in two at-bats. Jim Marasco led Webster Thomas going 2-for-3 with a walk. Sam DeGrace and Matt Stuewe also had a hit for Thomas. The Titans had won three straight coming into the game.
CANANDAIGUA ACADEMY 2
RUSH-HENRIETTA 4
Patrick Sherron and Cliff Genge kept the Canandaigua bats quiet, combining for a three-hit outing on the mound. Sherron put up zeros through the first five of his six innings. He struck out eight and walked two, allowing two hits and two runs, one earned. Genge relieved Sherron for the final inning and put up another zero for the Royal Comets. Jett Kopaleck and Sherron took advantage of two-out errors in the first to score the game's first two runs. Kopaleck finished with a team-leading two hits, one run, and Rush-Henrietta's only RBI. Frank McCabe scored in the fifth to extend the lead to 3-0, only to have that lead cut to 3-2 by the end of the inning. Canandaigua's Cooper Crunick reached on a dropped third strike, allowing Dylan Mackenzie to score from second. On the same play, Crunick made his way to third. Two pitches later, Joe Brinza (2-for-3) singled to left and Crunick scored. Sherron, however, halted the Braves' attempts to tie the game by working three consecutive outs via sac bunt, pop out, and ground out. Grant Rodriquez answered those runs with one more for R-H.

PITTSFORD SUTHERLAND 0
GREECE ATHENA 7
Junior Ryan Dineen struck out seven and allowed just one hit over six innings, and Athena (7-1) won its third straight. Anthony Bonacci finished 2-for-3 and drove in four runs including an RBI sacrifice fly in the first inning when the Trojans pushed across all the runs needed on the afternoon. Casey Saucke II doubled, scored three runs and went 3-for-4 on the day. The sophomore has nine hits in Athena's last three games. Jayson Russell drove in a run with a double in the first and scored two runs. Jorge Oropeza III collected two RBI. Jake Cerone had two hits in five at-bats. Zach Geist scored twice for the Trojans.  Saucke struck out the side in the seventh. Sutherland's Nick Provenzale and Tate Pierson had a hit apiece.
FAIRPORT 1
PENFIELD 4
Danny Stapleton allowed one run on five hits over six innings as Penfield improved to 6-2 overall and 2-2 in Monroe County Division I. Stapleton worked out of a bases-loaded jam in the first with a strike out and retired nine of the next 10 batters. He faced the minimum in the third, fourth and fifth innings. Nathan Sobko finished with two hits including a second-inning single when Penfield sent seven to the plate and scored three runs. Nick Ianiello led the frame with a double. Connor Stuewe and Collin Pichany drove in a run apiece in the stanza. Sobko scored twice in the game. Jack Josephson worked a scoreless seventh for the save. Fairport's Peyton Osinski singled and scored the lone Red Raider run in the sixth. Tyler Holmes, Tyler Staffieri and Will MacFarlane collected a single apiece for Fairport.
EASTRIDGE 3
BATAVIA 1
Eastridge scored three runs in the top of the first, and starting pitcher Tyler Rogers made it stick. Brendan Brown finished 2-for-4 including an RBI single in the first inning when the Lancers sent eight to the plate. Brown later scored on a Vincent Montana two-out double. Montana went 2-for-4 on the afternoon. Jayden Fayad and Shane Harisis both singled and scored a run apiece. Rogers struck out five and allowed one run on five hits and four walks over five innings. Kyle Egan struck out three over two scoreless innings of relief. Batavia's Andrew Francis and Sammy Sallome both finished 2-for-3 at the plate. Trevor Zewan was 2-for-3 with an RBI for the Blue Devils.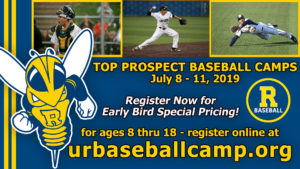 SCHOOL OF THE ARTS 4
LEADERSHIP 5
Justin Morales struck out eight and allowed one run on three hits and five walks over six innings as Leadership Academy improved to 4-4 on the season. Hylander Candelario drew two walks and scored the insurance run in the sixth. Victor Mercado added two hits for the Lions. Reece Correa lead the SOTA offense with a three-run double in the top of the seventh to close the gap one. Roman Rivera was able to hold on to get save for Leadership Academy.
FRANKLIN 8
MONROE 6 9 innings
Angel DeJesus delivered an RBI double and Luis Lopez a run-scoring single in a five-run ninth to cap a late-inning Franklin comeback. Trailing by one entering the seventh, Callan Reddington led with a single and later scored on a Jhansell Carreras sacrifice fly to send the game to extra innings. Greiram Ramos struck out seven over three and a third innings of relief to pick up the win.
LIVONIA 11
AQUINAS INSTITUTE 7
Noah Fasso doubled, tripled, went 4-for-5 and drove in six runs as Livonia improved to 10-0 on the season. AJ Davin went 2-for-3 with three walks. Alex Minnehan, Shawn Minnehan and Jake Smith all finished 2-for-4. Shawn Minnehan came on in relief in the fifth and retired all six batters he faced. Alex Minnehan struck out two in the seventh.
EAST ROCHESTER 1
WAYNE 0
John Krautwurst wore a pitch with the bases loaded in the top of the seventh inning to force in the game-winning run. Mario Vega singled, Austin Mack doubled, and Corwin Cleveland walked to load in the bases, all with two outs, and set the stage for the only run of the game. READ MORE.
WILLIAMSON 8
SODUS 1
Marty Williams struck out 15 without issuing a walk in a 2-hit outing for Williamson. Ryan Morse finished 2-for-4 with two RBI. Patsy Catalan had two hits and scored twice to lead the Marauders' offense. Ryan DeBadts drove in the lone Sodus run with a double.
GENESEO 1
LEROY 11
LeRoy scored five runs in the first, a lead it continued to add to throughout six innings. Andrew Tygart led the 10-run rout with a base hit and a double, three RBI, and one run scored. Austin Saeva and Giavanni Caccamise each knocked in two runs. Ryan Friend, Tim McMullen, Kenny Saunders, and Saeva earned a hit apiece. McMullen struck out six through six innings, allowing five hits and one earned run. Liam Miskell led Geneseo with two hits, including the one that knocked in Noah Reilly for his squad's only run.
MYNEDRSE 15
MARCUS WHITMAN 3
Jake Smith paced the Mynderse offense going 3-for-4 with a double, a walk, three runs scored, four stolen bases and an RBI. Malakai Taylor doubled, tripled, drove in three runs and scored once. Phil Jang went 3-for-4 with an RBI and two runs scored. Dylan Howell, Kyle Copper and Kyle Valastro had one hit apiece for Marcus Whitman.
HORNELL 2
DANSVILLE 3 10 innings
Hornell's Zach Miles struck out six over 6.1 innings of work and allowed an unearned run on two hits. Jonas Sciotti finished 2-for-3 with a walk and a run scored. Matt Oyer singled and scored the other Hornell run.